David Shrigley: Brain Activity, Hayward Gallery
David Shrigley: Brain Activity, Hayward Gallery
An exhibition contradicting the Shrigley default mode, which is entertainment rather than thought
Thursday, 02 February 2012
A slightly unfunnier Eddie Izzard: David Shrigley's 'Lost'
It has been nearly a century since modernism decreed that "art" is whatever is produced by an artist, and "an artist" is whoever claims to be one. Mostly I agree with this, and my eyeballs tend to roll back in my head when the conversation moves on to the "my three-year-old could do this" refrain. But I've got to say, with David Shrigley, a lot of me spent a lot of time in the Hayward thinking, "Um, is this art?"
I suppose the very fact that the work I was looking at made me think this way is a mark in its favour: it made me think, it made me consider what art is, or isn't. But what I ended up deciding was that while "funny" can be art (see Duchamp), or whimsy (Klee), or charm (Matisse), "cute" is not art. "Cute" doesn't go anywhere, and it doesn't say much. It just sits there, rather like a pet tortoise. Cute is, well, just cute.
Shrigley's subject is not small: it is social interaction, and communication, or lack of communication, as well as the sort of wry observations on the world that a slightly unfunnier Eddie Izzard would make, as with Lost (main picture, above). But what these pieces do is take the strange and the beautiful and make them cosy. It's a sort of anti-art. A photograph of an alley is rather beautiful, and technically very accomplished, with good strong composition, lovely renderings of texture and light. Then it is titled An Alley. And the only response seems to be, "Um, yeah. And?" There is a difference between showing us the world anew (what art does) and showing us the world we know (what entertainment does).
There is a lot of anthropomorphism in Shrigley's work: animals talk to us, or to each other, as in I'm Dead (pictured above right, image courtesy of Glasgow International Festival, photo, Ruth Clark). Or there is a drawing of vegetables with little feet, or a bunch of plastic blobs entitled The Contents of the Gap Between the Refrigerator and the Cooker with faces, or matchstick images with faces, or teeth with faces, a nail with a little face, even skull rings with cutesie-pie faces. What is the point? There doesn't seem to be one, except that these things are all vaguely head-shaped. Back to "Um, yeah. And?"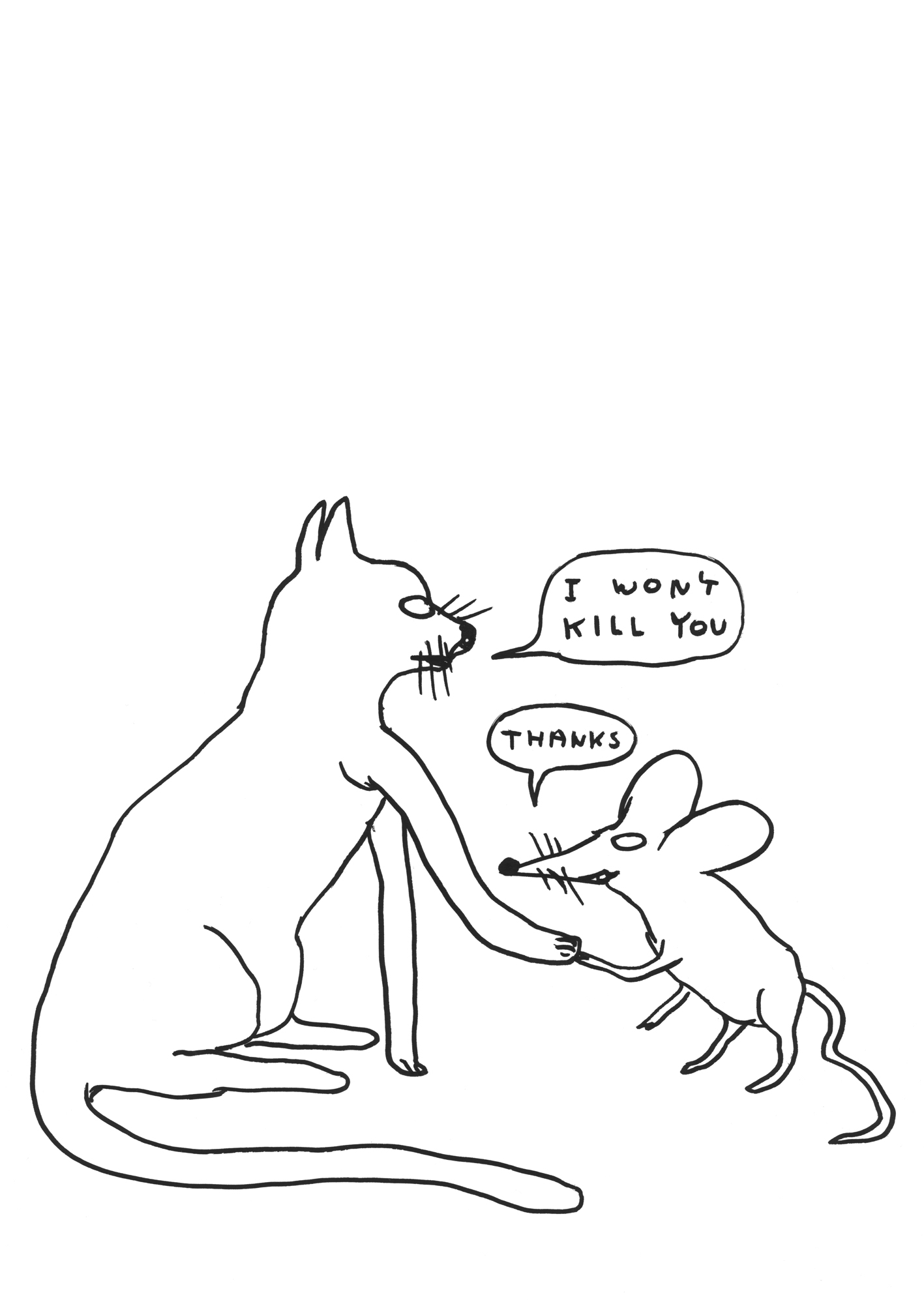 More images are journalism, notifications about the world we live in, rather than a way to consider the world more deeply: a photo of a river with a sign in it: "River for Sale". Um, yeah. Even more of the drawings are really postcards. I'd be delighted to receive the drawing (pictured left, Untitled, courtesy David Shrigley and Yvon Lambert) through my letter-box one morning, and I bet the Hayward's shop does a roaring trade in them. The show's title, Brain Activity, in reality contradicts the Shrigley default mode: if you don't want to have to think, but simply be painlessly amused for an hour, then this show is for you.
Yet some of the pieces do have a resonance, that built-in pause when you stop and think more about the world around you. A tombstone reading, "Bread Milk Cornflakes Baked Beans Tomatoes Aspirin Biscuits", is only superficially amusing; its grim take on consumption – ours, life's – is a useful corrective to the emotion-lite sketches elsewhere. In the same room, The Dead and the Dying, small ceramic figures in a vitrine, are equally interesting, and it is their non-faces, their very lack of anthropomorphism that makes them resonate.
A series of acrylics also puzzle: Shrigley's colours and brushstrokes are strong and fierce, while the subjects are whimbly-whambly tame (cute animals once again predominate). If only Shrigley didn't feel he had to be likeable, I think that the work he is very clearly capable of producing would, in fact, be art.
Watch New Friends, an animated film by David Shrigley
If only Shrigley didn't feel he had to be likeable
Explore topics
Share this article