Cézanne's Card Players, Courtauld Gallery |

reviews, news & interviews
Cézanne's Card Players, Courtauld Gallery
Cézanne's Card Players, Courtauld Gallery
Cézanne's small but monumental series of paintings examined in depth
'Card Players': 'Paintings that are remarkable for their sense of timelessness and simple but imposing monumentality'
Give me a small side order of Cézannes over a great feast of Gauguins any day.
This small, perfectly formed survey will surely be noted as one of the best exhibitions this year, the type of exhibition at which the Courtauld Gallery clearly excels: small, tightly focused, and exploring just one aspect of an artist's output in order to illuminate his practice as a whole.
This approach, though limited by resources, easily competes with that of the flashiest blockbuster. What's more, it's an approach that frequently outdoes the big tub-thumbing surveys. And given the paintings on view in this exhibition, this is certainly the case with Cézanne's Card Players.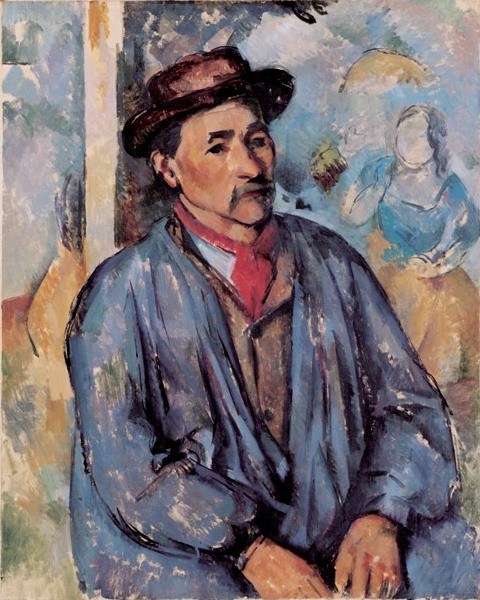 Along with a few supporting oil, watercolour and pencil sketches, Card Players boasts just a handful of finished paintings. They belong to Cézanne's series of canvases produced between 1890 and 1896 and dedicated to the depiction of rural farm workers playing cards around a rustic table. It also includes a few of these characters – individuals known to Cézanne as workers on his Provençal estate, Jas de Bouffan - in individual poses (pictured right, Man in a Blue Smock).
But though you might call Cézanne's Card Players genre paintings, these are most unlike the animated tavern scenes depicted in 17th-century Dutch and French painting. They are remarkable for their stillness, for their sense of timelessness and simple but imposing monumentality. They certainly epitomise Cezanne's aim to produce "something solid and endurable, like the art of the museums".
As such, his peasants are as sturdy and impressive as the aged trunk of an oak tree; so solid and stoically still in appearance that they look as if they might have been carved in wood, their sun-browned features given no more attention to detail or scrutiny than the bottle on the table, or the collar of a shirt. And each part of the painting, regardless of object, is given equal weight, offering a dazzling study of painterly, patchwork surface, but, in the case of the human subject, nothing in the way of psychological penetration. As such, eyes are often as dark and as blank and impenetrable as pebbles. Like the naturalistic novels of his childhood friend Emile Zola, Cézanne was not interested in depicting his sitters as individuals with throbbing, complex inner lives, but as types, responsive only to their immediate environment.
The first in the series of Card Players – though the exact chronology of the series is, in fact, disputed – is the canvas that is owned by the Metropolitan Museum of Art (main picture). It features four figures, three of which are seated, hunched over their game, with one figure standing, hovering over them in unresolved space. It's the first painting that confronts you, bang in the middle of the wall facing the gallery entrance. And the thing that strikes you first are the colours, the powdery blue of the backdrop, the tawny gold of a rumpled curtain, the deep blue of a smock and a set of overalls, the latter offset by the fierce red of a scarf. No justice can be done to them in reproduction, but the colours are utterly seductive. What's more there is little depth of field. And what's so strange about this painting, when you examine it closely, is that, although the figures all appear so sculpted, so solid, there is little sense of how the hovering figure relates to the seated figures – he appears to have no spatial relationship to the room. Is he backed right against the wall or standing right next to the seated figures? The wall seems to envelop him in a rather ambiguous - though certainly not displeasing - but rather tantalising way.
Whether Cézanne himself saw this as a problem is unclear, but the two later group paintings (pictured above left, the Courtauld-owned Card Players) appear to resolve this ambiguity. Tonality largely replaces colour and two figures are lost, so that we have only two remaining figures, hunched across each other at a table, each lost to the contemplation of their cards. What these paintings lose in colour, they appear to gain in uncluttered architectural monumentality, and to gain further that sense of the timeless that Cézanne strove to achieve. It is not only wonderful to be afforded the space to appreciate each of these great paintings carefully in turn, but to appreciate in such depth Cézanne's development over this one series.
Cézanne was not interested in depicting his sitters as individuals with throbbing, complex inner lives, but as types
Share this article