RED |

reviews, news & interviews
RED
RED
Witty and engaging action caper starring Bruce Willis as a retired CIA agent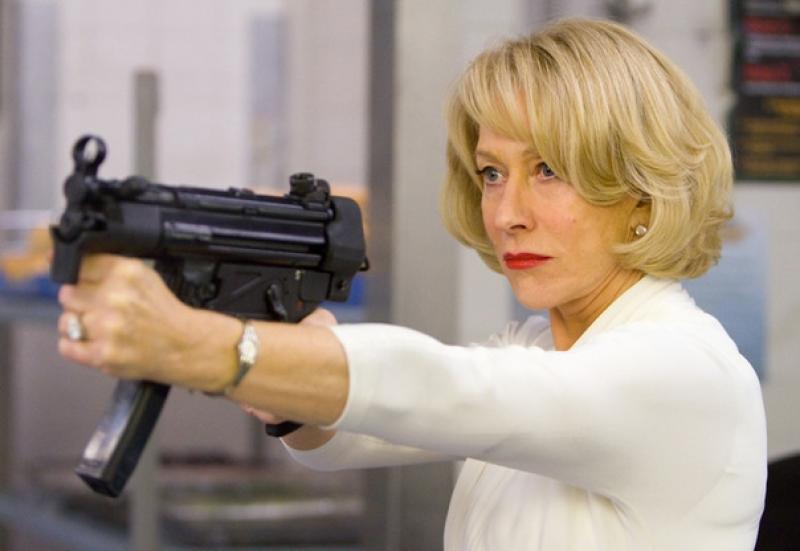 Helen Mirren: 'The best wet asset in the business' in 'RED'
RED has an interesting backstory: rather than being an adaptation of a novel, or the umpteenth reworking of a Hollywood formula, it has been adapted from the graphic novel of the same title by Warren Ellis, illustrated by Cully Hamner and published by the DC Comics stable. And its origins show in its slick editing, sly humour and original take on what is, let's face it, hardly a fresh format.
But where else can you see an action movie in which the youngest participant is well into his fifties?
Bruce Willis is Frank Moses, a former black-ops specialist with the CIA, who is now retired and living a quiet life in the suburbs. But then a hit squad tries to kill him (funny how these highly trained chaps with loads of guns can fire hundreds of rounds and miss the target, isn't it?) and he goes on the run, trying to find out what makes him the RED of the title - retired and extremely dangerous.

Frank enlists the help of former colleagues - his old buddy Joe (Morgan Freeman), now living in a retirement home, and Marvin (John Malkovich), a paranoid nut job; but you know the old saying - just because you're paranoid doesn't mean they're not out to get you. (Malkovich, Freeman and Willis pictured below.) Also caught up in this is pensions administrator Sarah (Mary-Louise Parker), for whom Willis has lately formed an affection through a series of flirty telephone conversations. She's about to find out that the romantic fantasies she reads aren't a patch on the real thing (well, the real thing as imagined in a movie).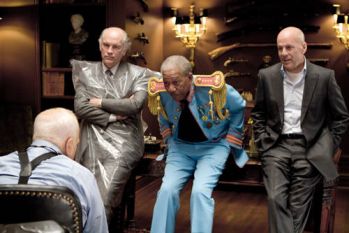 They have to dodge bullets across several states and along the way they meet old Cold War adversary Ivan (Brian Cox, sporting a moveable feast of a Russian accent), who once carried a torch for CIA agent Victoria (Helen Mirren). Mirren fans (and I am one of them) have to wait an hour into this movie before she makes an appearance, but it's worth it as her character is dripping with dry British humour. Victoria is now living in a spacious upstate mansion and is busy with baking and flower-arranging, but you just know she keeps her hand in: she's introduced as the "best wet asset in the business". What does that mean, Parker asks innocently? "I kill people, dear," Mirren sweetly replies.

After a few bluffs and wrong turns, and several shoot-outs, the denouement takes place in Washington DC, where, we have learned, this thing goes right to the White House and stems from an operation Frank and co were involved in some years ago in Guatemala. By now Sarah has been taken hostage and CIA agent Cooper (Karl Urban), a fiercely ambitious company man who has been given the task of killing Frank, has to work out who really are the good guys. Also making an appearance is Richard Dreyfuss as a wealthy businessman whose connections to Washington's movers and shakers makes him a target for just about everybody.

Directed at a pace by Robert Schwentke and beautifully shot by Florian Ballhaus, RED may have just a little too much whizz-bang firepower for some, but with nicely judged performances from all involved and a terrific script that allows them to send themselves up mercilessly, it's a thoroughly engaging caper from start to finish. And I know you're dying to ask: Bruce Willis does that trademark moue thing just once in 111 minutes.
RED is on nationwide UK release

Find Bruce Willis on Amazon
Watch the trailer for RED:
Mirren fans have to wait an hour into this movie before she makes an appearance, but it's worth it as her character is dripping with dry British humour
Explore topics
Share this article