Jason Byrne, Leicester Square Theatre |

reviews, news & interviews
Jason Byrne, Leicester Square Theatre
Jason Byrne, Leicester Square Theatre
The hyperactive Irish comic is all about having fun
Wednesday, 29 September 2010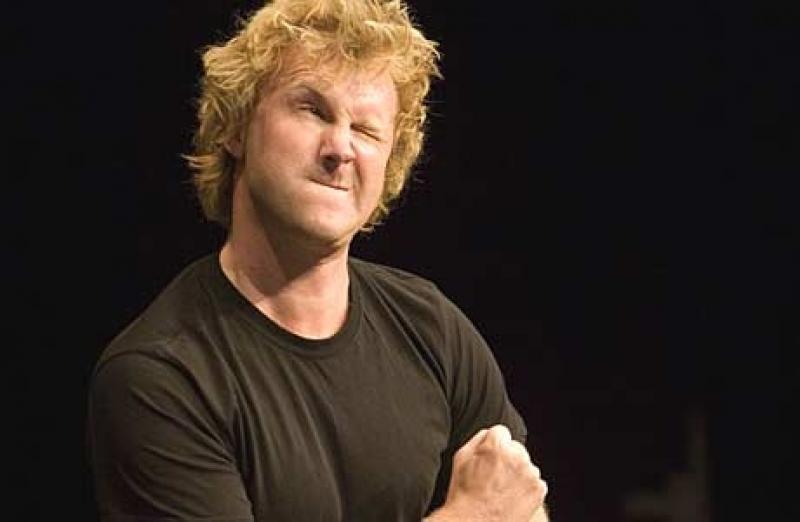 Jason Byrne: Giddy heights of improvised invention
It takes a very talented comic indeed to warm the main room at the Leicester Square Theatre, a venue that is situated beneath a Catholic church and which, vampire-like, can suck the life out of even the most buoyant of audiences. Fortunately, Jason Byrne has enough energy to wake the dead or, in this case, a few hundred damp souls who have come in from a rainy London town outside.
The Irish comic starts his show as he means to go on - with the gags coming apace and a delightfully surreal set-up that involves Davina McCall exercise steppers and skipping ropes. Byrne's greatest skill is riffing with the audience, and in this extended touring version of his Edinburgh Fringe show the first half is almost entirely him interacting with the front row and anyone daft enough to arrive late.
It's a given that any comic who talks to the crowd will say at some point, "You are the weirdest audience I've ever had," and indeed Byrne said it here, but with more veracity than most, as various oddballs - including a bunch of young Aussie blokes who were delightfully game and up for being mocked with strine stereotypes, before Byrne playfully admonished himself for getting "a little bit racist" - were uncovered in the theatre.
In the second, more structured half, Byrne relies on the tried-and-tested subjects of marriage, fatherhood and his own childhood. There's a lovely section where he shows pictures of the weird-looking, ginger-haired, squint-eyed kid that he once was, when he had a seeming deathwish for inventing dangerous games with his siblings and neighbourhood kids to make himself more popular, and a mum with a special talent for dressing him in very unflattering clothes. Byrne manages to turn some seemingly obvious material into hilarious flights of fancy about the pictures' deeper meanings, and gives it a poignancy too. Young people today, he says, with their delete-ready digital cameras, don't know they're born.
There's some delightful material about the pleasures of willy-waving, whatever age you are, and a slyly intelligent joke about paedophile priests - but Byrne doesn't go in for politics or hard-hitting commentary, still less cynicism. His brand of sweaty and hyperactive comedy, which has little narrative and few definite themes, is entirely about having fun. If you want to see a comic releasing his inner six-year-old while bringing out your own, then Byrne's your man.
He has in the past reached giddy heights of improvised invention, particularly on those nights when "there's a scatter of lunatics in the room" - but at times this show has a feel of a comic coasting along. Yet even a below-par Jason Byrne knocks spots off many other comics - and manages to lift the spirits in a soulless room.
There's some delightful material about the pleasures of willy-waving, whatever age you are
Explore topics
Share this article