The Secret in Their Eyes |

reviews, news & interviews
The Secret in Their Eyes
The Secret in Their Eyes
A gripping romantic thriller from Argentina deserved its Oscar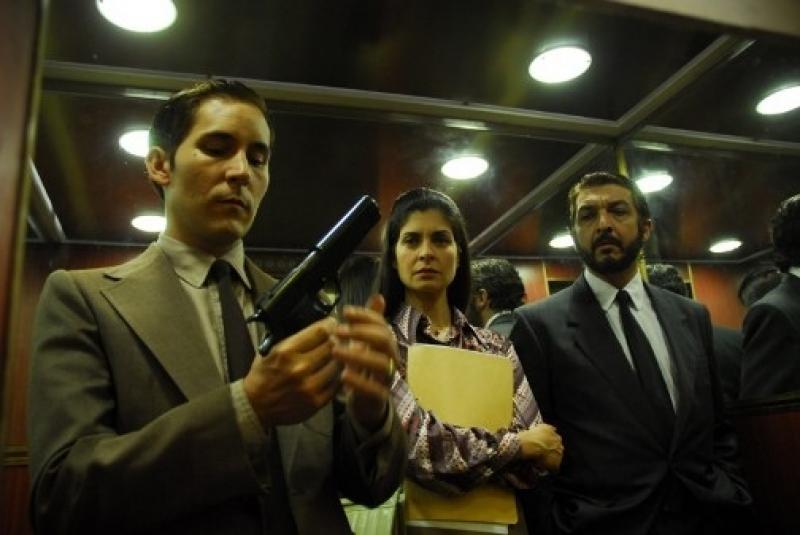 Not so secret: Soledad Villamil and Ricardo Darín come face to face with the junta
This is one of those films it's impossible to imagine being fashioned by an Anglo-Saxon sensibility. Part legal procedural, part autumnal romance, The Secrets in Their Eyes is an intriguing weave of tones and colours. It flirts at once with melodrama and slapstick while never finally deviating from a commitment to intense seriousness and emotional intelligence. No wonder it won this year's Academy Award for Best Foreign Film.
Adapted by Juan José Campanella from a novel by Edoardo Sacheri, El segreto de sus ojos is set across a 25-year period in which Argentina slipped into rule by military junta and then out again. The plot revolves around the raped and murdered corpse of a beautiful young woman. As her doting husband grieves, the investigating magistrate Esposito finds himself obsessing over the case. Why is not immediately clear. But a quarter of a century on, long since retired, he is still unable to thrust the image of the bloodied, mutilated body from his mind. In fact he's so fixated that he's fooling around with a novel inspired by the events.
It's up to us to decide if the double denouement is metatextual or for real
This is how we first meet him, scratching out paragraphs and tossing scrunched paper aside. Unable to settle on an ending for a narrative that in real life remains unresolved, he revisits his old female boss Irene for advice. As his novel reveals, he also has unfinished business with her. Thus we are tumbled back to the past and occasionally forth again into the present as the hunt for the killer unfolds.
He is duly brought in via a mixture of almost farcical rule-bending, shrewd forensic psychology and a skilfully shot chase through a football crowd which ends, surreally, out on the pitch. And yet, while this may be Argentina, The Secrets in Their Eyes is less interested in football or politics than subtler power games. In one of several grippingly written and acted face-offs, the accused under interrogation is lured into confession by a good old-fashioned challenge to his machismo by Irene.
And meanwhile a parallel story unfolds among the trio of investigators: the dogged Esposito, who is single, his colleague Sandoval whose boozing is killing his marriage, and the luminous young prosecutor Irene, engaged to married to a man, we learn, she has chosen for lack of better offers. It's a mark of the film's considerable storytelling skill that you take a while to twig that the man she's really waiting for is Esposito. Indeed it takes him a while too. What finally convinces him is exposure to the grieving widower, denied any form of closure or redemption thanks to the junta's slack attitude to justice and condemned to live every day with the ghost of stolen young love.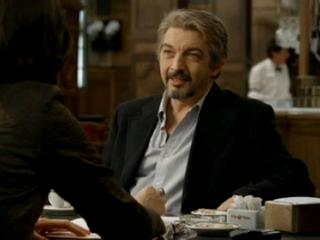 To see The Secrets in Their Eyes as yet another film about seizing the day would be to belittle it, although that's one of its climactic flavours. Here in the midst of a compelling portrait of criminal justice (complete with a terrifying wordless and almost motionless scene in a lift) is a melancholy reflection on the prison sentence that the life unlived can easily become. Campanella's sudden conclusion is as startling as anything in Almódovar, the strands which lead us there both rich and dense and light and sinuous. It's up to us to decide if the double denouement is metatextual or for real: are we watching the end of the actual story, or of Esposito's fictive reimagining?
And let's not forget the central performances. As Esposito and Irene, Ricardo Darín (pictured above) and Soledad Villamil both age more credibly than any actors I can remember. As the title hints, they both have beautiful photogenic eyes. While he's there Guillermo Francella, a leading comedian in Argentina, plays the old soak Sandoval as if he has wandered delightfully in from another movie.
There's even a cameo role - marvellous to relate - for the letter A, stuck in upper case on the prosecutor's old office typewriter, and then granted a key moment as the narrative moves into the light. Without wanting to invoke the (for some) dread words "magic realism", The Secrets in Their Eyes trades in that sort of Latin playfulness. In a film that has a thrilling approach both to crime and to the heart, to say any more would give too much away. Unfurl its secrets with your own eyes.
Watch the trailer:


Subscribe to theartsdesk.com
Thank you for continuing to read our work on theartsdesk.com. For unlimited access to every article in its entirety, including our archive of more than 10,000 pieces, we're asking for £3.95 per month or £30 per year. We feel it's a very good deal, and hope you do too.
To take an annual subscription now simply click here.
And if you're looking for that extra gift for a friend or family member, why not treat them to a theartsdesk.com gift subscription?