The X Factor: The Final, ITV1 - The Result |

reviews, news & interviews
The X Factor: The Final, ITV1 - The Result
The X Factor: The Final, ITV1 - The Result
An unorthodox girl band are crowned 2011 winners, but will they live up to their promise?
'X Factor' winners Little Mix: 'A fantastic pop proposition'
And we're done. As you'd expect for a grand final, everything was pumped up yet further. A guest spot by Coldplay came over like a Nazi rally styled by kindergarten teachers who once took an E, all rainbow squiggles and brain-obliterating strobes. The fact that the TV sound mix revealed Chris Martin's vocal weaknesses and the flimsiness of the songs beneath the band's bombast couldn't ruin the gloriously dumb spectacle.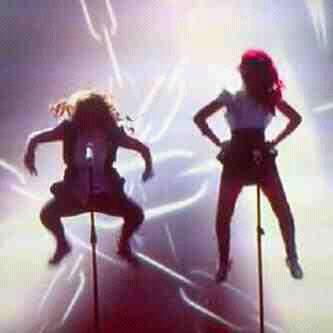 And talking of gloriously dumb, the "roving reporters in the crowd" Caroline Flack and previous X Factor runner-up Olly Murs really pushed the boat out to make Dermot O'Leary look like Jacob Bronowski – their gurning and leering at contestants' supporters truly made for some of the worst kind of television going. The judges added to the foolishness, Gary Barlow even almost managing to force a tear at one point, Kelly acting extremely drunk and Tulisa amping up her girl-power Great Dictator desk-thumping, air-punching crescendos to ludicrous proportions. And as for Little Mix being catapulted out of the stage like frogs in miniskirts (pictured above)... my mind is still boggling.
But aside from their spring-loaded entrance, the eventual win for Little Mix was, within the logic set of the show, and maybe even in proper pop terms, extremely well deserved. Marcus, for all his likeability and impressive high notes, is essentially a variety singer, all about the set pieces and happiest with massed dancers around him. His pencil moustache and constantly growing quiff just invite comparison with Little Richard and Jackie Wilson (the latter explicitly since his "Reet Petite" midway through the live shows), inevitably emphasising the blandness of his pastiche compared to their wildness. Like so many X Factor contestants, he is most likely destined for the West End stage.
Little Mix, on the other hand, are a fantastic pop proposition. They're less glam than Girls Aloud, less tough-looking than the original Sugababes, but absolutely fizzing with individuality and – crucially – throughout the competition they've been dressed as if for a night out clubbing, not for pole-dancing. They can sing but not overly so – even when hitting the big notes they rarely have that wincing "hear me SINGGGGGG" manner that blights so many performances on US pop shows, and indeed on The X Factor here in the past.
Watch the grand final's opening medley
Actually, they've been downright dodgy at points - their bizarre martial production of "You Got the Love" on Saturday was ropey (although a billion miles short of Florence Welch's brutal torture of the same song). But mostly they did justice to some good tunes and harmonised well, and in any case their imperfections are all part of their charm. Despite all my cynicism, I find myself extremely interested to hear what records they will come out with.
And if we forget all the totalitarian stagecraft of the show, the buffoonishly clumsy presentation, the cynicism of the emotional blackmail of the viewers to turn out their pockets and to keep texting donation to Simon Cowell's plastic surgery fund... sorry, to keep voting, that is what it's all about. Let's just hope they make some records better than the God-awful Damien Rice winner's song, though.
Aside from their spring-loaded entrance, the eventual win for Little Mix was extremely well deserved
Explore topics
Share this article