theartsdesk in Berlin: The European Film Awards 2011 |

reviews, news & interviews
theartsdesk in Berlin: The European Film Awards 2011
theartsdesk in Berlin: The European Film Awards 2011
Melancholia wins, but missing names and muddle mar the night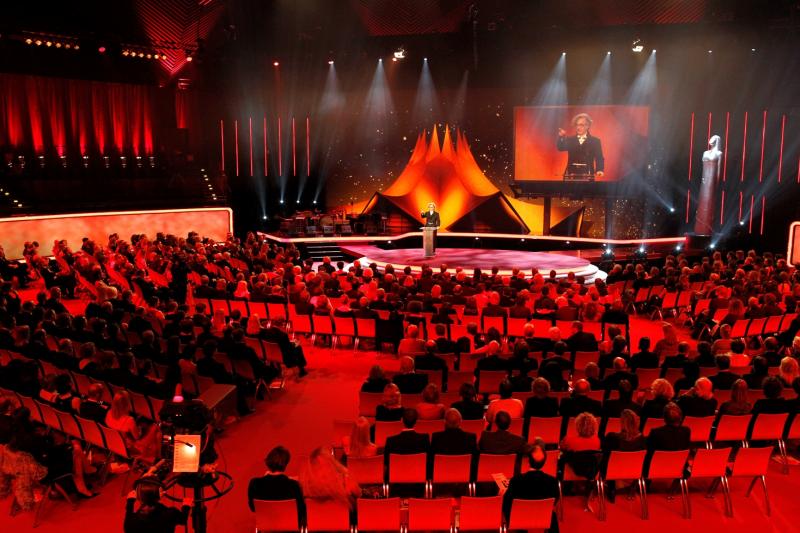 That empty feeling: unfilled seats and faltering conviction at the EFA
Melancholia and The King's Speech were the big winners at the European Film Awards in Berlin last night. Last year, Roman Polanski accepted The Ghost's numerous awards in Tallinn by Skype, self-exiled by his deeds (and the fear of being clapped in irons by the US if he travelled). It was Lars von Trier's words which kept him away as Melancholia won Best Film.
The furore at Cannes when, musing on his recently discovered German ancestry (having previously thought himself Jewish), he joked with trademark provocation that he was a "Nazi" has made the Dane take a vow of public silence, sending his wife to collect the statuette. It was a suitably anticlimactic finish to a disappointingly sloppy ceremony.
The European Film Awards sometimes unconvincingly aspires to be the continent's Oscars. But its real ideals are as much about Europe as cinema. The point was brought home by the opening speeches of European Film Academy president Wim Wenders and his fellow veteran of Seventies New German Cinema, Volker Schlöndorff. Wenders bounded up in a frock coat, flop of hair more absurdly pronounced than ever, and compared this Berlin gathering with Europe's wider worries. "Summits make us feel insecure, to say the least," he mused. "This one... represents a different kind of Europe, a more utopian one... not a Europe of bankers and politicians, but of citizens who love cinema." Schlöndorff, the director of the Nazi allegory The Tin Drum, hoped for a "happy ending" for the continent's troubles, while fearing "the horror movie – that Europe goes under, old nationalisms come back. Let's not even think about it".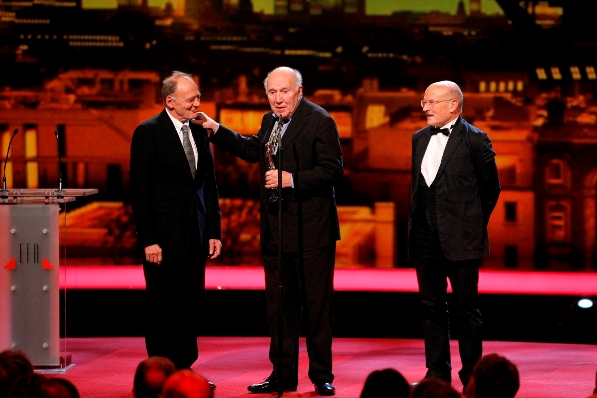 The great and the good: Bruno Ganz, Michel Piccoli and Volker Schlöndorff

Minister of State Bernd Neumann also looked back to "the unbearable division of Europe" which so recently scarred Berlin. He then made a telling contrast with Britain's culture-slashing Government, noting Germany had just voted for a 5.1 per cent increase in its cultural budget, the seventh successive raise. This was "not subsidisation, but an important investment in the future". His overlong, bilingual speech also pointed up Europe's pitfalls – an idealistic project hobbled by dry bureaucracy.
Regular EFA host Anke Engelke, a daringly funny German comedy star, was more entertaining, wearing a wedding dress as she entered in slow-motion, parodying Kirsten Dunst in Melancholia. She made some telling sallies – pondering burning directors as Advent candles, and the possible European co-production, Saving Private Banking. But she seemed more muted than usual, and called up the wrong actress to present the first award, a sign of blunders to come.
A special prize whipped up for the veteran French star Michel Piccoli when it was realised he'd be attending as a Best Actor nominee (for Nanni Moretti's We Have a Pope) was presented by the similarly legendary Swiss star Bruno Ganz and Schlöndorff, "for no deeper reason than love", the latter declared. Seeing these three on stage together was a moving lesson in European cinema's profoundly deep heritage. Piccoli's speech was one long, Sarkozy-baiting Gallic shrug, charming and funny.
Dane Susanne Bier won Best Director for In a Better World's stark investigation of violence and tolerance. Her countryman Mads Mikkelsen then picked up the fuzzily named European Achievement in World Cinema. It was presented to the Casino Royale star by the equally fine Swedish actor Stellan Skarsgård. Skarsgård gave a Best Man's speech, rich with ripe piss-taking and personal insight into how his friend finds "the irrational small detail", and the "energy" that pulses behind his "stoic facade". Mikkelsen (pictured above with Skarsgard) showed the EFA's worth to him by declaring: "I'd be a real damn liar if I didn't say I'm really, really proud today."
The Dardenne brothers picked up Best Screenwriter for The Kid With a Bike, and President Wim won Best Documentary for Pina. But when Tilda Swinton won Best Actress for We Need to Talk About Kevin and didn't turn up, with no explanation, and Colin Firth completed a brace of British achievement and absence as Best Actor for The King's Speech, there was plainly a problem. It suggested insufficient prestige to attract two big winners (both would have at least taped a message for the BAFTAs), and incompetence in not covering for their non-appearance.
Spain's Paz Vega blinded us to such faults for a moment, all super-charged glamour in a slinky black dress, as she presented the publicly voted People's Choice Award for The King's Speech to its director Tom Hooper. Typically, the Anglo-Australian was the first to mention the war, as he considered the "irony" of his Forties drama winning in a city which back then was a more malign European presence.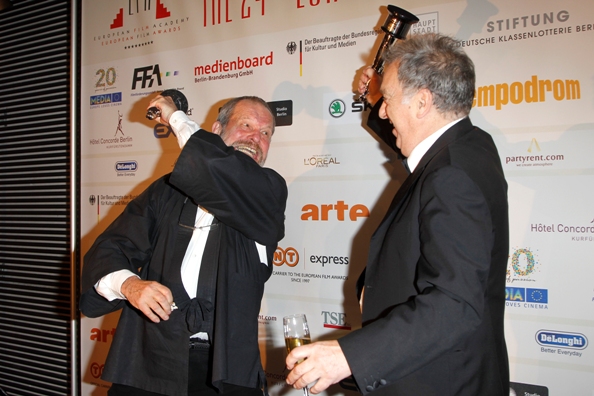 Terry Gilliam (pictured left with Stephen Frears) worried that "I seem to be working my career backwards" as a life in features was reduced to a win for Best Short Film, The Wholly Family, before this bear of a man galloped off stage. Another relatively minor award, the European Discovery prize for best debut to Belgium's Hans Van Nuffel for Oxygen, showed how important the EFA can be, away from blasé British stars. Nuffel was elated at the party afterwards, pondering not sleeping at all. Everyone present from Belgium felt their whole industry was vindicated.
Stephen Frears deservedly bagged the Lifetime Achievement award. The introductory clip-reel recalled his startling variety of fine films, from My Beautiful Launderette to The Queen, Dangerous Liaisons to The Grifters. He played the role of grumpy Briton abroad, declaring: "The truth is, I'm everything you dislike. I'm not an auteur... I make cheerful films, because I can't stand the misery any more." He'd never heard of European cinema growing up, he added, before recalling his mentors Lindsay Anderson and Karel Reisz, and confessing all the European films he eventually adored.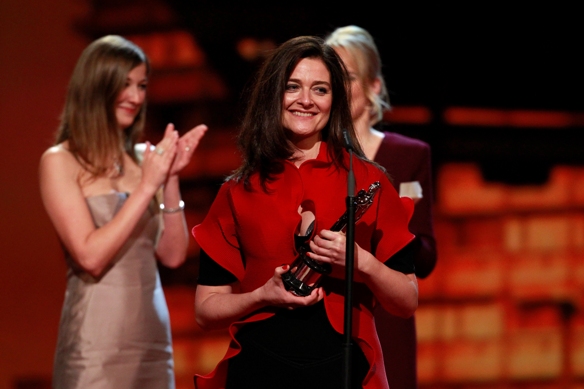 Amidst all this, a German actress presented three consecutive awards while repeatedly giggling and fluffing names. The ceremony's supposed climax, Best Film, was a similarly botched skit which didn't mention or show a frame of Melancholia. We had to deduce for ourselves that it was Von Trier's wife Bente Froge (pictured right) accepting the statuette. "I should say from Lars he has no message for you," she relayed. "He has decided to stop making statements. I don't know why. He asked for me that I should wave to you in a very kind and friendly way." Which at least gave gracious humour to a damp squib of an ending.
The sense that this year's awards were done carelessly and on the cheap was everywhere, from the small, bare, not quite full auditorium to the lack of the usual cultural activities for the visiting press. On Friday night, we did find ourselves in the Pan Am Lounge, a Sixties-vintage hang-out for US stewards and stewardesses letting their hair down in stopovers on the Cold War front line. Boxes containing private party-going essentials remain untouched since Pan Am's final 1991 flight from the city.
Mostly, though, we were left to explore this great city ourselves. I went to the expensive but bohemian Paris Bar, as I always do. An old black American jazz singer sat at the next table winding down from a gig in an immaculate suit, occasionally breaking into "The Camptown Races". He spoke American to an older Berlin woman in a beret, who only replied in Deutsch. I did my best to speak German to the waiters, who talked back in French – my own European co-production.
I was staying around the Kurfürstendamm, a more agreeable Oxford Street. But on a quiet side street, I found myself in a small garden, its leaves glistening in the night after day-long rain, which felt like a different, magical Berlin. Down some steps was a bookshop, where I bought a postcard showing a remarkable scene: a shattered, smoking church in the city after a 1944 air raid. Berliners watch with hands fatalistically behind their backs, contemplating as one that the war must be lost. Nearby today, you can see the Kaiser-Wilhelm church (pictured left), its steeple sheared off by an RAF bomb. Inside there are frescoes of Prussian imperialism, and nails from Coventry cathedral, which itself contains relics from its ruined Berlin sibling. Next door is a beautiful modern church of blue glass, a healing memorial to Nazi horror.
It was good to be back in the spiritual home of a united Europe, only recently made whole again itself. The European Film Awards are supposed to embody similar idealism. But the EFA needs to decide if it takes itself seriously, before it asks others to. This year the answer was "Nein."
An actress presented three awards while repeatedly giggling and fluffing names. The ceremony's supposed climax was a similarly botched skit
Share this article