Pina 3D/ Giselle 3D |

Dance reviews, news & interviews
Pina 3D/ Giselle 3D
Miraculous dance filming by Wenders, but gelatinous cult of personality spoils it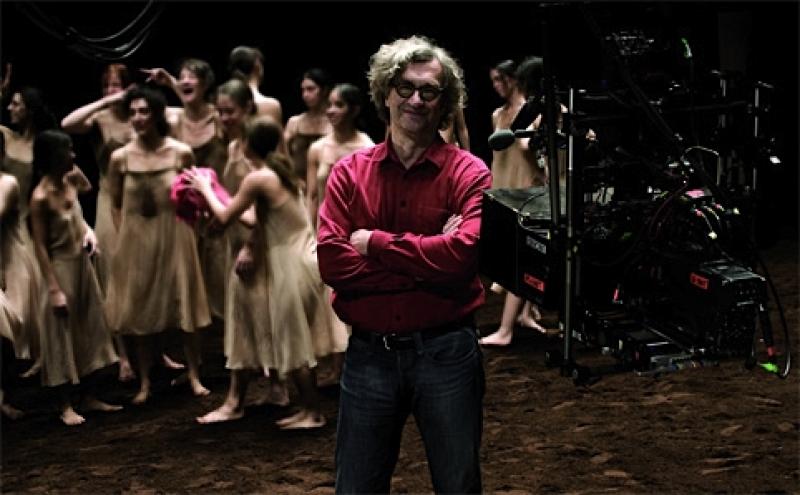 Wenders and Bausch's dancers for 'Rite of Spring': 'The dance shooting is what makes "Pina 3D" worth seeing twice over'
Pina Bausch decided: "Words can't do more than just evoke things - that's where dance comes in." Well, up to a point, Lord Copper. Only if they're bad words and good dance - bad writhing instead of, say, Shakespeare's words isn't much of a swap. But with Bausch, people tended to hang on every word, probably because so much of her dance was indeed pretty damn good, and it's so difficult to put into words just why that was.
Part of it was that it was a theatrical expression of adult instincts that we all share, rather than a school of dance that you had to know standards to access. Wim Wenders was one of many people who came to Bausch's work by responding to its emotional impact, without having any idea of her very well-informed academic training with Kurt Jooss, Cecchetti ballet style and Antony Tudor. Yet the film he's made strikes me as one for devotees only, brilliant in its dance shooting, but rather underlining the self-consciously cloistered worlds of modern dance and art-house movie-making.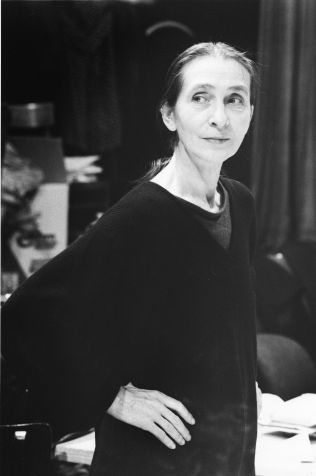 Bausch absorbed the effects and emotional nuances of ballet, and its reliance upon massed effects. At her best, in works like The Rite of Spring, Café Müller, Kontakthof, Nelken, she isolated a narrative visual context - realised by brilliant collaborators - and spun nuggets of movement into momentous chorus lines, or she'd find the tiny giveaway flinch in a rebellious individual and multiply it into a formidable crowd motif of conformity. This knowing conflict is what I found so disconcerting and strong about her best work, and why the aspects of cult built around her by her dancers - and magnified by Wenders in his devoted film - is odd, alien and repellent.
Whether this says more about her or her dancers and followers is hard to tell. I met her, and don't remember a would-be cult leader. I found a shy person who'd grown up with a feeling of being unnoticed, spare, in an unstable world, a quality that she used to develop a phenomenal watchfulness. (Bausch pictured right by Wilfried Krüger). She chose to be a theatrical director of body language, rather than a writer of dance as dance, and she expected her dancers to expose every last bit of their psyche for her to pick, shape and edit.
She also understood better than any other choreographer I've seen the power of ritual in joyfulness and in horror. She enjoyed the sexuality in violence, she enjoyed the comedy in discordant behaviour, she exploited with great intelligence the erotic need for sadism and masochism in many relationships, and she also loved the gorgeously sad visions of romantic ballet, the otherworldliness of which seems to me to infuse so much of her treatment of her female characters. Her imaginative and editing pencil was sharpened to a very fine point, and it's easy to see why she was a personal magnet. But it's a rather tragic revelation to be shown in this film how dependent upon her so many of her dancers were.
Watch the film's trailer
Wenders explains elsewhere on theartsdesk how he swiftly formed a shared aim with Bausch to shoot her work in performance in 3D. She died suddenly in 2009 as the project was in its early stages. The film that he resumed work on has changed drastically, of course, from the originally envisaged one. It has become a self-conscious epitaph, a formally structured memorial service, with her danceworks, her dancers' mourning, and Wenders' own desire to create elegiac content for the film jostling in a three-way weave.
Only the dance shooting is, to my mind, what makes Pina 3D worth seeing twice and three times. Wenders has with masterly skill applied the flighty marvel of 3D to two of Bausch's most unforgettable works, her Rite of Spring and Café Müller. His jump-cuts between old 2D film and new 3D re-shoots show how entirely different the atmospheres of each are, how differently you read them. For the experience that he offers in recording large chunks of those two works, see this film - this really does bring the third dimension of experience excitingly to your attention.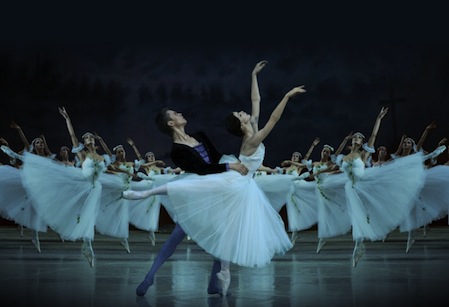 Watching the Mariinsky's cumbersome recent effort at Giselle in 3D, screened last month around Britain, or the hectic, over-busy mess that was the technique adopted for StreetDance 3D last year, indicated that 3D is far from a simple shooting technique to master in dance. The Russian Giselle died on the screen from its almost comically static cameras, making the principal dancers as dissociated from their scenic context as cartoons animated on a flat painting. The astonishment that is Natalia Osipova's performance as Giselle (pictured with Leonid Sarafanov and the Mariinsky corps de ballet) is diminished by the clumsiness of the direction, and ironically a 2D ver