Royal Manuscripts: The Genius of Illumination, British Library |

reviews, news & interviews
Royal Manuscripts: The Genius of Illumination, British Library
Royal Manuscripts: The Genius of Illumination, British Library
A glittering display of treasures brings the world of medieval kings alive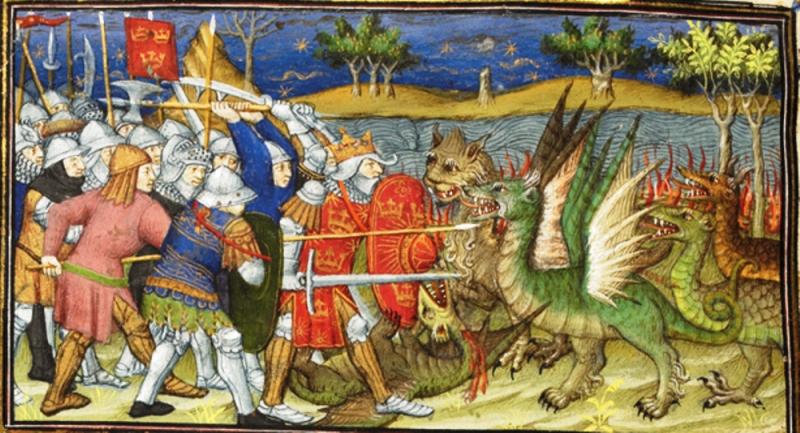 Alexander the Great fights dragons, detail from 'Le livre et la vraye hystoire du bon roy Alixandre' (c 1420-25)
In 1757, what had previously been the royal collection of manuscripts was handed over to the nascent British Museum. Edward IV, who started the collection in the 15th century, had created a collection of books designed to display the greater glory of God and (by extension) his chosen sovereigns and country: the Yorkist leader in the Wars of the Roses used these books, and the images they contained, to create a propaganda machine to suggest that God was on his side. Today the struggles of history are for the most part left to specialists, but the gorgeous propaganda machine is accessible to all in jewel-like images.
The illuminations he commissioned were from craftsmen of the first rank, and they cover not only history and religion, in chronicles and Bibles and psalters, but show revealing glimpses of courtly life of the period. The Treasury of History, a history chronicle, shows a tiny moated castle and surrounding lands (complete with duck paddling in the moat), and as such is one of the very earliest secular landscape images in Western art. Jean de Wavrin's magnificent Chronicle of English History shows John of Gaunt dining in one drawing: not only a record of this great nobleman's meeting with the King of Portugal, but also, for us, a record of how basic living conditions were even for the mighty – the grandees are eating off rather ordinary trenchers, and it is clear from the place settings that forks have yet to be in daily use. It also has wonderful details: beefy cooks serve up the food through a hatch, and a courtier in the corner plucks at his pointy shoes to make the tips stand up more. (Pictured below, from the same manuscript, the author presents his chronicle to Edward IV.)
Some of the illustrations are more like paintings than illustrations. In a 1411 Bible Historiale, possibly commissioned by the same Duc de Berri whose Très riches heures is so famous, God creating the heavens and the earth shows a figure that is almost Renaissance-like in its stature. And this interweaving between the page and painting, although only a minor element of the show in terms of quantity, reverberates throughout. Seeing a portrait of Elizabeth I after George Gower (c 1600) in the context of manuscript illumination enables the modern viewer to "read" the pictorial surface patterns in a new way.
And although the close links between the rulers of France and England are well known historically, the dense mesh of inter-relationships is given visual reality by the sheer number of French manuscripts owned by English kings, or of depictions of English history that encompass French rulers and the ruled. The First Earl of Shrewsbury's 1444-45 wedding present to Marguerite d'Anjou gives a joint French and English genealogy, as well as a picture of the presentation of the gift itself from Earl to Queen (detail, pictured below left).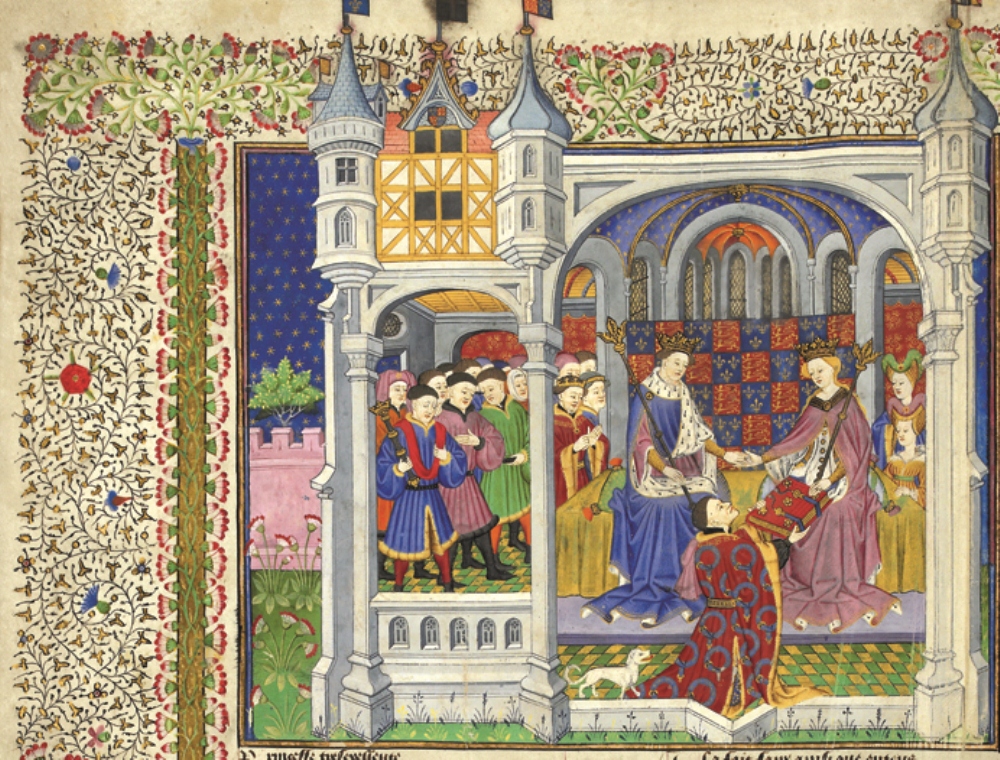 The exhibition is breathtaking in scope and scale, with manuscripts seeming to stretch away into infinity – Bibles, histories, psalters, bestiaries, tales of mythological heroes and classical history, maps of journeys to the Holy Land or books of Canon law, horoscopes, conduct books and more. Interspersed with these are computer screens which explain to viewers to stop and explore specific points of detail, or stylistic elements. The British Library has been at the forefront of excellent digital programming, and here it shows its skill once again.
If there is a niggle it is that the exhibition is focused on the illustrations almost to the exclusion of history. Some of the captions are woolly. The one that says flatly that Edward IV's "two young sons… died in the Tower of London after his death" is a woeful "princes in the Tower" rehash with no basis in historical certainty. (A later caption, more sensibly, adds the word "presumed".) Nearby, an account book recording how much Edward spent on his books is displayed, but there is no transcription of the information, even though details of what the illuminations cost, or what materials were used in the bindings, would be fascinating.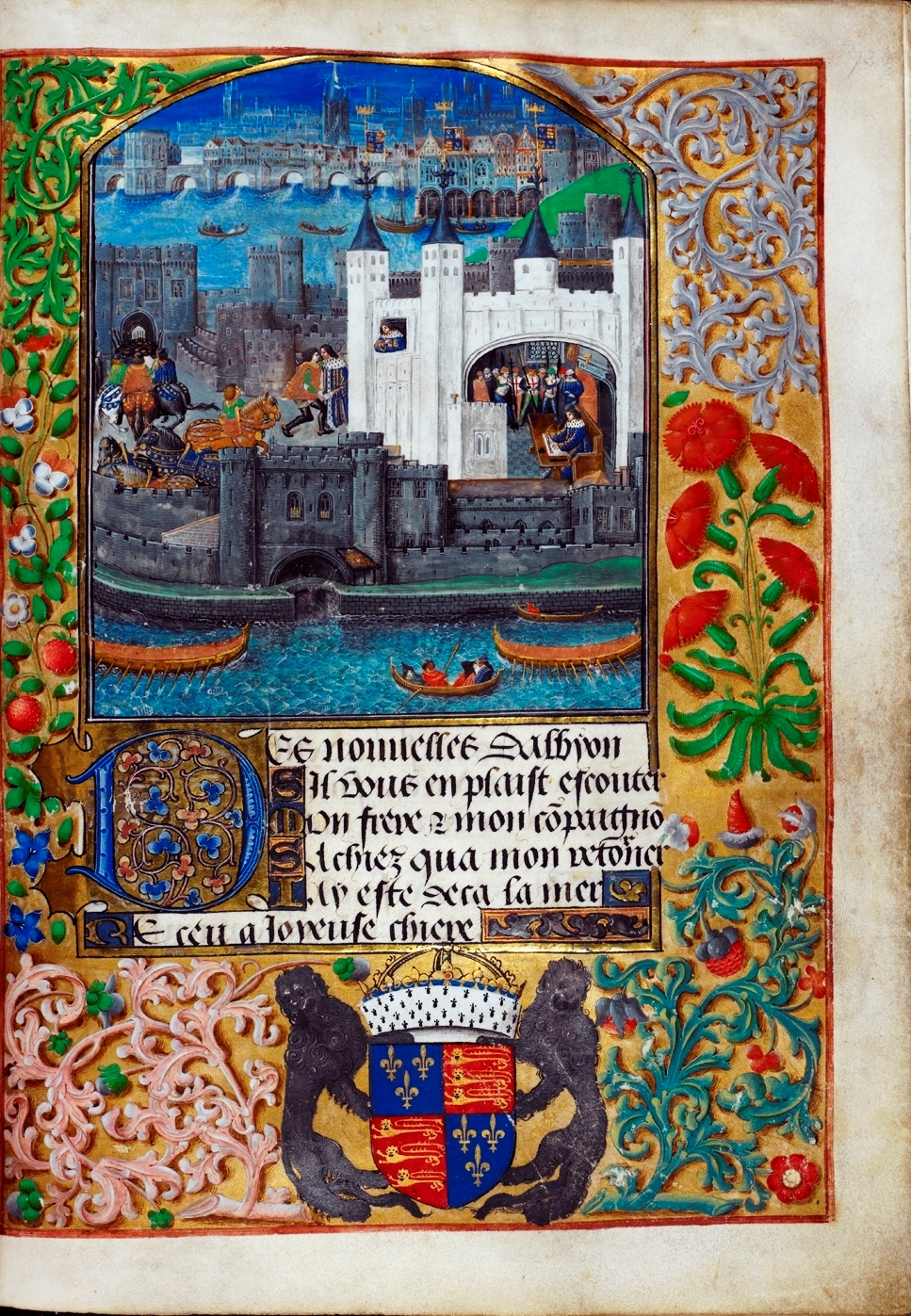 A case in point is a book from 1492-1500, which includes illustrations of the imprisonment of Charles d'Orléans in the Tower of London. (He was captured at Agincourt in 1415, and held for more than a quarter of a century.) The book (pictured above), the caption says, also includes his poems, but we are given no examples, despite him writing some of the most beautiful verse of the time. (Le temps a laissé son manteau was set to music by many, including Debussy, and is famous enough that it returns nearly three-quarters of a million Google hits: citing it would not have been difficult.)
Despite these lacks, the show is a window into a world that is all too rarely seen, these gorgeously illustrated books needing to be stored in the dark for preservation purposes. Royal Manuscripts will display 150-plus for four months. Everyone who can should hustle down to the British Library to have a look before they are wrapped up once more. A genuine treasure.
A window into a world that is all too rarely seen
Explore topics
Share this article
Subscribe to theartsdesk.com
Thank you for continuing to read our work on theartsdesk.com. For unlimited access to every article in its entirety, including our archive of more than 10,000 pieces, we're asking for £3.95 per month or £30 per year. We feel it's a very good deal, and hope you do too.
To take an annual subscription now simply click here.
And if you're looking for that extra gift for a friend or family member, why not treat them to a theartsdesk.com gift subscription?