theartsdesk in Buxton: The Buxton Festival |

reviews, news & interviews
theartsdesk in Buxton: The Buxton Festival
theartsdesk in Buxton: The Buxton Festival
An ambitious mix of opera, music and literature in glorious surroundings
Baritone Jonathan Lemalu rides into town in Buxton Festival's production of Cornelius's 'The Barber of Baghdad'
As I alight from the train at Macclesfield and scramble into the back of the taxi which will take me on the 20-minute journey across the Pennines to Buxton and its eponymous festival, the driver announces with grim satisfaction, "I am now going to take you on one of the most dangerous roads in Britain."
Certainly, as we drive along the A537, I can see how the sharp bends we frequently encounter have earned the Cat and Fiddle, as the A537 is commonly known, this reputation but I'm too busy drooling at the impossibly green countryside stretching out on either side of the road to care, and by the time we roll up in front of the hotel - The Old Hall, reputed to be the oldest in England - I'm already wondering how I might conceivably move to Buxton.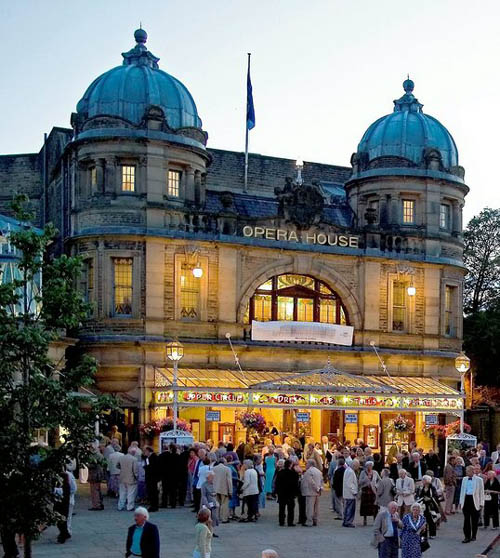 Situated on the River Wye, 300 metres above sea level, Buxton nestles like a cup in the surrounding hills of the Peak District. The presence of warm springs has brought visitors to the town ever since the Middle Ages, when it was a place of pilgrimage, but it wasn't until 1780, when the 5th Duke of Devonshire started to build the Crescent, an unashamed rival to the crescents of Bath and one of the first "resort" hotels in the world, that Buxton really took off as a fashionable watering-hole. The town continued to prosper until the First World War, when the spa industry went into a gradual decline and Buxton became something of a backwater – that is, until the festival came along.

The starting point for the festival was, of course, the Buxton Opera House (pictured above), which was built in 1903 and designed by the celebrated theatre architect Frank Matcham, who was responsible for building more than 200 theatres in Britain, including the Hackney Empire and the London Palladium. Initially the Opera House received touring theatre companies but in 1927 it was converted into a cinema. Lillian Baylis, the manager of the Old Vic and Sadler's Wells, did her best to preserve some vestige of its theatrical heritage by staging festivals featuring starry line-ups such as Sybil Thorndike and Alec Guinness but after the war, apart from the odd amateur production or pantomime, the building was used chiefly as a cinema until it closed in 1976 amid wide speculation that it would never reopen.

Fortunately, far from being abandoned, it underwent extensive restoration during which Malcolm Fraser, a lecturer in opera at the Royal Northern College of Music, recognised its potential as a venue for an opera festival. The first Buxton Festival opened on 6 July 1979 with a production of Donizetti's Lucia di Lammermoor. It was the first full-scale production that the opera had had in this country, which immediately set the festival's precedent of presenting unusual or rarely performed pieces.

"Our priority is to give our audiences a good night in the theatre, but we also have to choose pieces that will fit the Opera House, which seats 900 and is quite intimate," says Andrew Greenwood, the festival's current artistic director. "The early 19th-century repertoire fits the place like a glove – Donizetti's sense of drama, for example, works extremely well in the intimacy of the Opera House. Comedies also do very well because there is such good contact between the audience and the stage. Last year we did an English translation of Messager's Véronique, which turned out to be a delightful show because the audience was so close to the performers that they could see and hear every little nuance in the sung and spoken text."

In addition to the operas, there are talks from directors and conductors, concerts and recitals, but there is more to the festival than just music. Operas are notoriously expensive to produce and in 2001 the festival's then chairman, Roy Hattersley, had the canny idea of running a series of daytime literary talks, which not only bring a different audience to the festival but also generate some much-needed extra income. These quickly became an integral part of the festival attracting a diverse range of authors which this year includes Prue Leith and Melvyn Bragg, although the biggest-selling event in this series to date was last year's appearance by David Cameron, who, it is rumoured Mr Hattersley pointed out, "hasn't even written a book".

So, having taken in a few of the local sights, including St Anne's Well, where I sample some Buxton spring water straight from its source, I head off to hear historian Miranda Carter talk about her latest book, The Three Emperors, which charts the relationship of three Royal cousins: George V, Wilhelm II, the last Kaiser and Nicholas II, the last Tsar. Carter is a witty and entertaining speaker and her talk also sheds light on other familiar figures such as Queen Victoria - a bigoted bully - and Edward VII who, it turns out, despite his reputation as a playboy, had a gift for international diplomacy.

A glass of champagne in my hand, I marvel at my good fortune to find myself in such a civilised and beautiful part of the world

My visit to Buxton has coincided with a spell of good weather - apparently it usually pours with rain for the duration of the festival - and the evening is spectacularly balmy. Standing outside the Opera House before the festival's flagship production of Cornelius's The Barber of Baghdad, a glass of champagne in my hand, I marvel at my good fortune to find myself in such a civilised and beautiful part of the world. My reverie is broken by a fanfare, the traditional summons to the opera, and we all troop in to take our seats.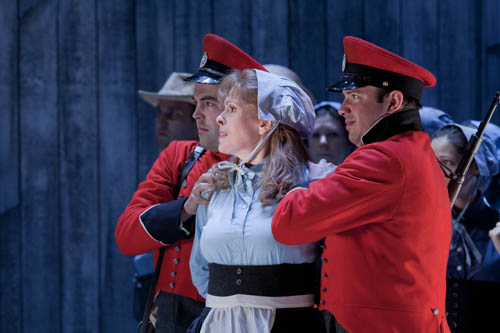 Sometimes the reason a work is rarely performed is because, frankly, it has limited appeal and I can't help but feel that The Barber of Baghdad falls into that category. Based on a story from the Arabian Nights and supposedly a comedy (and in fairness, a lot of people around me were chortling away) the antics on stage simply left me cold. However, my sumptuous surroundings - the elaborate friezes, the ornate mouldings dripping with gold leaf and the sheer Edwardian fabulousness of it all – more than compensated for this disappointment and my only regret is that I didn't have enough time to take in another production, such as Verdi's Luisa Miller (pictured left, Susannah Glanville as Luisa photographed by Bob Workman) or Bernstein's Trouble in Tahiti.

Very occasionally the festival will host an event at a venue outside Buxton and the next morning I took a taxi to Chatsworth House, home to the Duke and Duchess of Devonshire, to hear a Bach cello recital by Tim Hugh. This grandest of houses, rammed with Rembrandts and Caravaggios and set in over 35,000 acres of rolling parkland, also boasts a small theatre, rarely open to the public, and it was a privilege to attend this intimate concert of Bach's familiar and well-known cello suites, performed so tenderly by Hugh.

The Buxton Festival is nothing if not ambitious and is clearly set to go from strength to strength. Next year sees the opening of a new arts centre in the Pavilion Gardens, which will give the festival more flexibility and the opportunity to stage smaller studio pieces. And while, encouragingly, half the audience comes from over 50 miles away, it is hoped that plans to renovate the Crescent, which is currently - shamefully - derelict, and restore it to its former glory as a five-star hotel and spa centre will attract the high rollers of the opera world, making the festival a truly international event.

Greenwood's plans for next year include a production of Ambroise Thomas's Mignon to mark his 200th birthday; Donizetti's Maria di Rohan and a staging Handel's oratoria, Saul. Sadly, it will be Greenwood's last as artistic director, but I don't doubt him when he says he intends to go out with a bang. And although I think it extremely unlikely that I will be moving to Buxton, I can't wait to go back next year.
The audience was so close to the performers that they could see and hear every little nuance in the sung and spoken text
Explore topics
Share this article