DVD: Worth the Risk? |

reviews, news & interviews
DVD: Worth the Risk?
DVD: Worth the Risk?
The Government tries to help save us from ourselves
Tuesday, 01 November 2011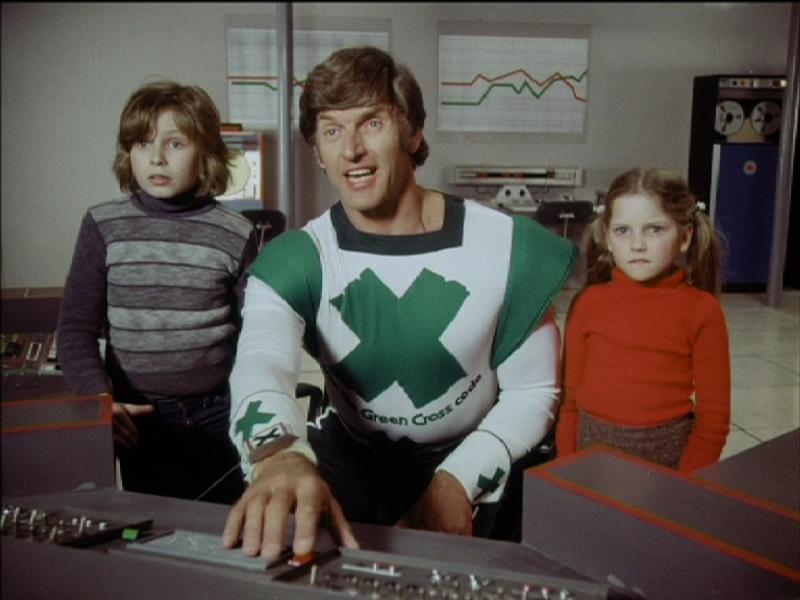 Dave 'Darth Vader' Prowse as the Green Cross Code Man: 'Always use the Green Cross Code, because I won't be there when you cross the road'
Risks are everywhere. Crossing the road, cycling, not handling food properly, leaving a car boot unlocked, grain pits, night-time darkness – they all bring risks. Thankfully, government agency The Central Office of Information helped make us aware of the hazards. This two-DVD set – the sixth in the BFI's collection of COI films – is mind-boggling company. Dealing with the multifarious risks seen here would leave no time to get into danger. You'd have to live in a bubble.
The most familiar shorts feature Dave "Darth Vader" Prowse as the Green Cross Code Man, helping kids cross roads safely. He's approachable, but stern and didactic. Just what kids need. Roads are a perennial. New risks are taken on as they arrive: skateboarding, chlamydia, bag thieves at the disco.
But awareness alone might not be enough - you also need to learn new things. Tufty and his furry friends go on holiday and learn not to enter the sea without being able to swim, not to bury broken glass on a beach and to cross the road safely to get to the ice-cream van. An extraordinary 25-minute soap-opera-style film from 1971 addresses the arrival of decimalisation and the end of pounds, shillings and pence. Granny just can't get it. Nor can mum and the family's daughter. Luckily, decimal-inculcated son and practical-minded dad are on hand to advise. Equally memorable is 1949's horrifying Another Case of Poisoning, a 19-minute warts and more examination of the sources of food poisonings. David Lynch came up on theartsdesk yesterday, and Another Case of Poisoning could play alongside his Eraserhead.
Many of these risks are potential. The Hole in the Ground from 1962 addresses the nuclear threat in the Cold War era. That was a might-be, but what's truly terrifying are the short films made for early-1970s Northern Ireland. The car bomb that a mother with her ice-cream-eating kid notices too late was part of everyday life. Sometimes, no matter how aware you are, risk can't be eliminated.
Watch the chlamydia awareness film from 2000
New risks are taken on as they arrive: skateboarding, chlamydia, bag thieves at the disco
rating
Share this article