Classical CDs Weekly: Ravel, Sibelius, Dudamel |

reviews, news & interviews
Classical CDs Weekly: Ravel, Sibelius, Dudamel
Classical CDs Weekly: Ravel, Sibelius, Dudamel
Famous symphonies in piano reductions, French violin music and a dynamic Venezuelan in Sweden
Saturday, 08 October 2011
It's Sibelius, but not as we know it, thanks to Henri Sigfridsson
Ravel: Complete Music for Violin and Piano Alina Ibragimova, Cédric Tiberghien (Hyperion)
Ravel's output for violin and piano clocks in at around 50 minutes, so there's a generous bonus on this CD in the shape of Guillaume Lekeu's Violin Sonata. Lekeu, a pupil of Cesar Franck, died in 1894 aged 24 and his sonata was written for the great Eugene Ysaÿe. For Lekeu, good music was all about feeling, not charm. He was so highly strung that hearing the prelude to Wagner's Tristan at Bayreuth caused him to faint and be carried unconscious from the theatre. His sonata is an accomplished piece, with a beautifully sustained slow movement and a euphoric finale. It feels grounded in the late 19th century – skip forward to the mature Ravel works on this disc and we're in another world. The young Russian violinist Alina Ibragimova gives us a more human Ravel than we're used to, making this coolest of French composers speak to us with warmth and humour.
Ibragimova's Tzigane is one of the best on disc – the fireworks are astonishing, but there's a lot of impish fun as well. It's followed here by the brief, tender Berceuse sur le nom de Gabriel Fauré, its musical material drawn from the letters spelling out the older composer's name. Ibragimova is happiest in the mature Sonata No 2, where the central Blues movement really struts and glitters. Every slide and smear is perfectly realised, aided by Cédric Tiberghien's steel-plated accompaniment. The Perpetuum mobile exhilarates and disturbs. We also get the surviving movement of Ravel's posthumously published 1897 Violin Sonata – attractive, limpid music, but not as distinctive as the later works.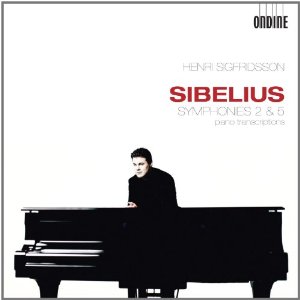 Sibelius: Symphonies 2 & 5 (piano transcriptions) Henri Sigfridsson (Ondine)
The idea of playing Sibelius symphonies on piano doesn't sound promising. This was a composer who boasted that his music arrived in his head fully realised, and that the very process of orchestration was unknown to him. Try to recall a typical passage of mature Sibelius and you think of string tremolandi, endless bass pedals, brassy crescendi emerging imperceptibly from the shadows. A dodgy piano realisation could sound like the accompaniment to a fat man tying a girl to a railway line. Against all expectations, these renditions of the two most popular Sibelius symphonies succeed pretty convincingly. The Second is played in a transcription by the young Finnish pianist Henri Sigfridsson on this well-recorded disc. The contrapuntal textures in the faster movements aren't compromised, and Sigfridsson is able to crank up the Italianate Romanticism in a way that most conductors can't – the opening movement feels rhapsodic and improvisatory, and the Scherzo plays as a giddy toccata. Only the closing minutes of the symphony fall a bit flat – and you feel for Sigfridsson's left hand, pounding away at those pedal Ds.
The Fifth Symphony is played in an arrangement originally made in 1922 by the composer's friend Karl Ekman, with additional material added by Sigfridsson. Inevitably there's a lot of basso rumbling, but Sigfridsson's control of dynamic and colour never lets things get boring. You can really hear the extraterrestrial strangeness of the harmonies in the passage linking the two halves of the first movement, and the rush towards the end of the same movement is thrilling. The slow movement becomes sparer and more oblique, and the Allegro molto's hammer blows bring the piece to a staggering, shocking close. This piece depends so much on orchestral timbre – horn calls, murky bassoon solos. The piano version offers us an intriguing monochrome alternative. Sigfridsson's real achievement in both symphonies is to send us running back to the originals, reeling at how strange and distinctive these works are. Fascinating stuff, and nice cover art too.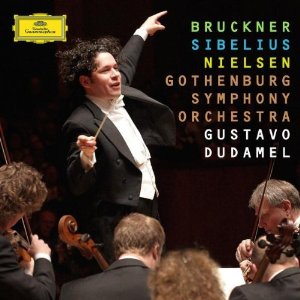 Bruckner, Sibelius, Nielsen Gothenburg Symphony Orchestra/Gustavo Dudamel (DG)
Gustavo Dudamel became the Gothenburg Symphony Orchestra's music director in 2007, having first conducted them in 2005 as a last-minute replacement for an indisposed Neeme Järvi. These live performances were taped between 2008 and 2010. They're great – volatile and passionate, wondrously played by a classy, dark-toned European orchestra. The recordings are also very, very good – a relief after the dry, congested sound of several of Dudamel's recent Venezuelan discs. Dudamel's expansive Sibelius Second Symphony opens sounding baggy and loose-limbed, but he builds the tension cannily. None of the symphonies in this set can't have been familiar to him, and there's a joyous sense of discovery, of what it must feel like to hear this music for the first time. Nielsen's wonderful, trail-blazing Fifth Symphony is impulsive, probing and slightly mischievous – the side drum cadenza is suitably unhinged, and the manic final minutes convey exhaustion as well as exultation. Nielsen's Fourth follows. The drama always feels a bit overwrought in this piece – there are thrilling, uncompromising moments, but the music always feels as if it's trying too hard to say something important. Still, Dudamel's duelling timpani sound fantastic, and he doesn't slow down too much in the final minutes.
There's also an exciting, dark-toned performance of Bruckner's Ninth Symphony. Dudamel's opening hits the right balance between drama and awe. Hearing the Gothenburg brass belt out those blaring discords near the first movement's close could give grief to those listening through headphones, but Dudamel makes amends by phrasing the cantabile string melodies with such tenderness and affection. The Adagio's slowly shifting harmonies sound like grumbling tectonic plates. It's really affecting – the final pages radiant and unearthly. Each of these performances is worth sampling, with the Sibelius and Nielsen among the most uplifting readings out there.
Sigfridsson's real achievement is to send us running back to the originals, reeling at how strange and distinctive these works are
Explore topics
Share this article