Phaedra's Love, Arcola Theatre |

reviews, news & interviews
Phaedra's Love, Arcola Theatre
Phaedra's Love, Arcola Theatre
Sarah Kane's bleakly funny play about spoilt, vicious royals is unconvincingly acted
Saturday, 01 October 2011
Toys for the boys: Nicholas Shaw in 'Phaedra's Love'
It's a strange fact that very few plays look at the subject of contemporary British royalty. The past yes, but today very seldom. A notable exception is 1990s playwright Sarah Kane's visceral account of a fictional royal family in her 1996 play, Phaedra's Love, a spirited revival of which opened last night at the Arcola Theatre. As you'd expect from this playwright, it is a gruelling evening of joyless sex and horrific violence. But it is also bleakly funny.
Set in today's Britain, the play is a radical updating of Seneca's Phaedra play. Kane's version is not a translation, but a completely new version, its title a pun referring to both Phaedra's feelings and the object of her love, her stepson Hippolytus. The opening focuses on Hippolytus, seeing him as a depressed and narcissistic member of a dysfunctional royal family. In Phaedra's words, he is "moody, cynical, bitter, fat, decadent, spoilt".
Despite this, she feels an intense and irrational desire for him. On his birthday, she gives him a blow job. But he rejects her, telling her that he's had sex with her daughter Strophe. In the next scene, Strophe informs Hippolytus that Phaedra has hung herself, leaving a note accusing Hippolytus of rape, and that a vengeful mob is rioting in the streets. The accusation of rape is not literally true, but it's the only way that Phaedra can make sense of her humiliation.
Gradually, over another handful of quick scenes, Hippolytus surrenders to his fate. A lot of the humour that emerges from this disturbing story, which ends in more violation and dismemberment, comes from Kane's punchy text, and her acerbic mixes of political satire and metaphysical jokes, and of intense feeling and excruciating viciousness. You can see why, back in the 1990s, I called her an in-yer-face playwright. Now, of course, what strikes me more is the pared-down crispness of much of her writing, and the subversiveness of her attitude to ancient Greek tragedy: instead of keeping the wildness off stage, she brings it on stage right in front of our eyes.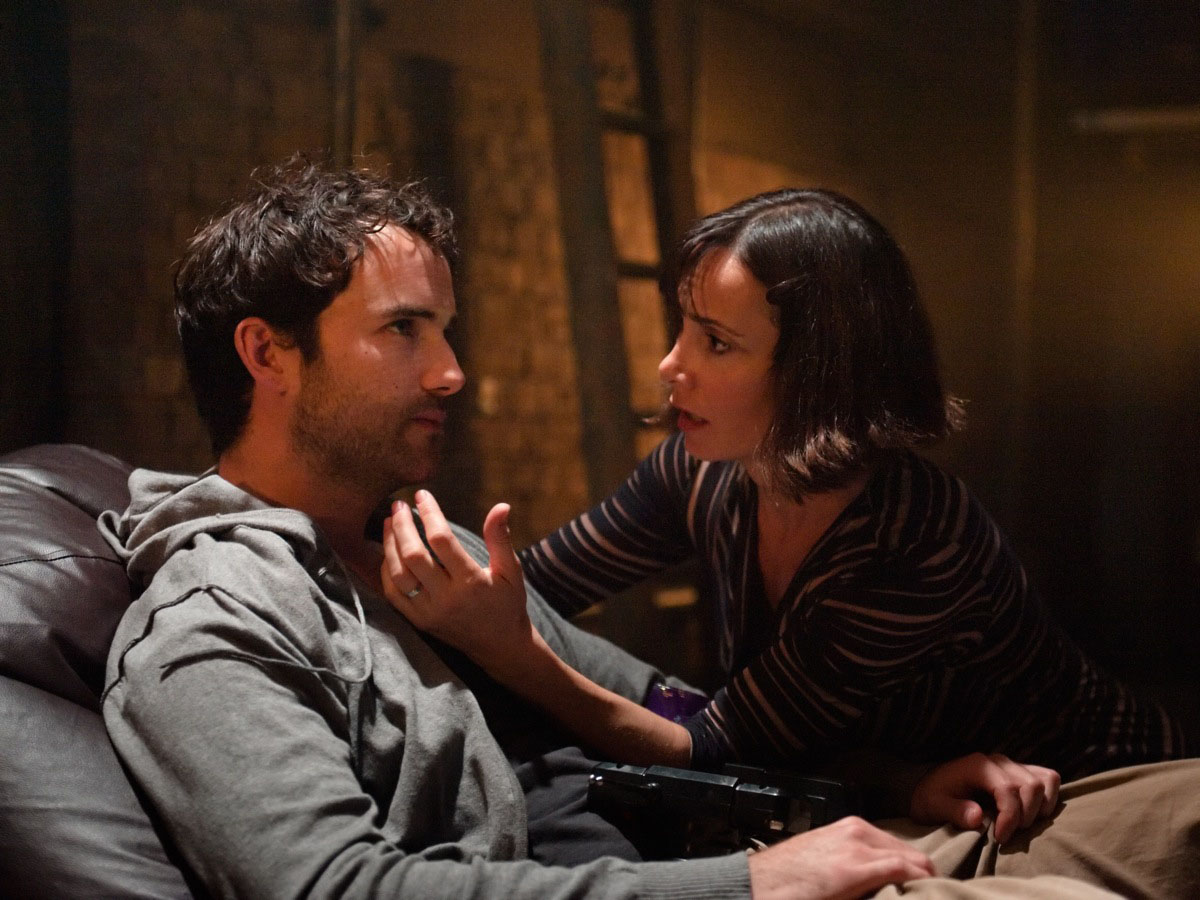 This revival, directed by Bronwen Carr, underlines the play's topicality by using projections which remind us of this summer's riots, Princess Diana and a more recent royal wedding. This is fair enough, but the real problem lies with the acting. Kane's text is difficult in its bare frightfulness, and Joanna Roth (pictured above right with Nicholas Shaw as Hippolytus) as Phaedra is rarely fully convincing. Instead, she burns in the key of h: hysterical, hyperventilating and histrionic.
OK, royals - so like us and yet so unlike us - are hard to get right, but Nicholas Shaw's Hippolytus is simply too detached and cold, giving little indication of the character's dirty charm. As Strophe, Emma Keele is earnest and passionate, and the tender scene when she is alone with Hippolytus ends on a touching embrace. One actor, Rupert Holliday Evans, plays all the other parts (Theseus, Priest and Doctor).
Best of all, however, is the fierce climax of this 70-minute story, when Carr fills the claustrophobic, dusty space with a large, noisy crowd which demonstrates, riots and performs unspeakable acts of brutality. An uncomfortable evening, during which the characters more than once call out to God and are answered only by silence, turns into an appalling image of social collapse. Suddenly, the play comes to life. But by then it's just a bit too late.
Phaedra's Love is at the Arcola Theatre until 22 October
On his birthday she gives him a blow job. But he rejects her, telling her that he's had sex with her daughter
rating
Share this article