Top Hat, The Lowry, Salford |

reviews, news & interviews
Top Hat, The Lowry, Salford
Top Hat, The Lowry, Salford
The first ever stage version bulks up with yet more classic songs from Irving Berlin
Wednesday, 28 September 2011
Top hats: the staging captures the glamour and glitz of the Thirties
The only time I saw Ginger Rogers in the flesh was by chance in a book store on New York's Fifth Avenue. She was doing a book signing (Ginger: My Story – a good read) and was well past her dancing years, but she still had a certain allure. And somehow, looking at this legend, the years rolled back and I could visualise her again dancing with Fred Astaire in the best of their 10 musicals together, Top Hat, the hit 1935 RKO movie.
It took just over two months to make and grossed more than $3 million. "They're dancing cheek to cheek again!" blazed the publicity poster at the time.
Summer Strallen and Tom Chambers (pictured below) strive to make their own magic in this first stage version. As it happens, they are round about the same ages, 25 and 34 respectively, as Ginger and Fred were when they made the picture. And they can dance. And they do – cheek to cheek.
The story starts when American tap dancer Jerry Travers (Chambers), in London for a West End show, dances with a hat rack – deft, daft and delightful – in his hotel room, disturbing model girl Dale Tremont (Strallen) in the room below. He's sharing with his very English producer, Horace Hardwick, which leads to the central joke of mistaken identity, which is strung out for a couple of hours. Dale comes up to the room to confront Jerry (who she thinks is Horace), he falls for her – and there ensues a romantic pursuit to Venice. Phew! Got it?
It's a silly, frivolous, uplifting tale. They just don't make them like this anymore, do they? Well, yes, they do - this adaptation has more Berlin songs than the five in the movie. In addition to "Cheek to Cheek", "Isn't it a Lovely Day" and the signature number, "Top Hat, White Tie and Tails", producer Kenny Wax has carefully chosen another 10 numbers from the back catalogue. (Considering he could neither read nor write music, Berlin's ability to come up with a treasure house of unforgettable songs – more than 1200 in his 101 years – is astonishing.) They here include "Let's Face the Music and Dance", "I'm Putting All My Eggs in One Basket" and "Gentlemen Prefer Blondes".
However, the show, which runs for two hours 45 minutes, takes some time to get up a head of steam. There is a captivating scene when Jerry and Dale get round to dancing together for "Isn't It a Lovely Day", beautifully realised in a rainy Hyde Park. Apart from that and Chambers's earlier impressive tap, the first hour is pretty slow until they bring on the girls in "Gentlemen Prefer Blondes". The second half is another matter, opening colourfully on the Venice Lido, with everyone dancing the Piccolino. Then it really lifts off as the story develops.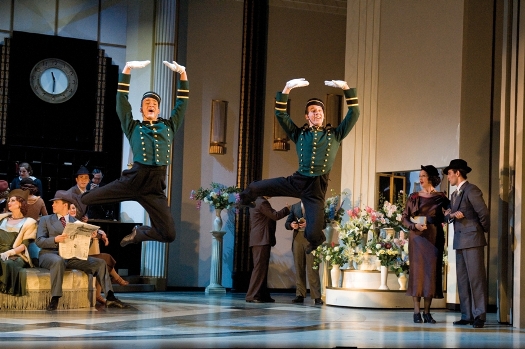 The original script has been smartly adapted for the stage by Matthew White, who also directs, and Howard Jaques. There's plenty of cute dialogue, with some funny lines: "I did well out of my first divorce," goes one: "I got custody of his money."
There's a 30-strong cast and a 16-piece orchestra, spiritedly directed by Dan Jackson. The staging captures the glamour and glitz of the Thirties, with lots of Art Deco hotel rooms and seamless transition from location to location. Designers Hildegard Bechtler (sets) and Jon Morrell (costumes) recreate in fine detail those heady days. So, it looks good and it sounds good. The ensemble numbers, especially dancing the Piccolino on the Venice Lido and together-tapping "Top Hat, White Tie and Tails", are terrific, as you might expect with Bill Deamer as choreographer.
At the centre of it all, of course, are Chambers and Strallen. Surprisingly, they only dance together three times. They do it very well, without taking your breath away. Chambers is an excellent tapper and in their key number - "Cheek to Cheek", featuring that white-feathered gown - he propels her into deeper and deeper backbends. You can tell he once won Strictly Come Dancing. Strallen, a leggy and accomplished stage presence, makes the most of her stunning faux-seductive "Wild About Now" routine.
Much of the all-round appeal of the show lies in some strong character roles. Vivien Parry and Martin Ball show wonderful style and comic timing as Madge and Horace Hardwick, with their knowing rendition of "Outside of That, I Love You". Stephen Boswell makes the most of the part of Bates, Hardwick's not-so-stupid manservant, and Ricardo Alfonso is impressively apoplectic as Beddini, Dale's emotional Italian designer.
Bringing the movie to the stage is a personal triumph for Wax, who sufficiently impressed both Irving Berlin's three daughters and RKO Pictures that they gave him the go-ahead against other bidders. The result is flowing, fun-filled, colourful, eye-catching and, of course, ear-pleasing. And yet somehow, despite all the positives, it just doesn't have that special bit of magic.
Watch the trailer for Top Hat
It's a silly, frivolous, uplifting tale. They just don't make them like this anymore, do they?
rating
Explore topics
Share this article