Exile on Main Street |

reviews, news & interviews
Exile on Main Street
Exile on Main Street
Rediscovered additional tracks fail to improve the Stones' masterpiece. How surprising!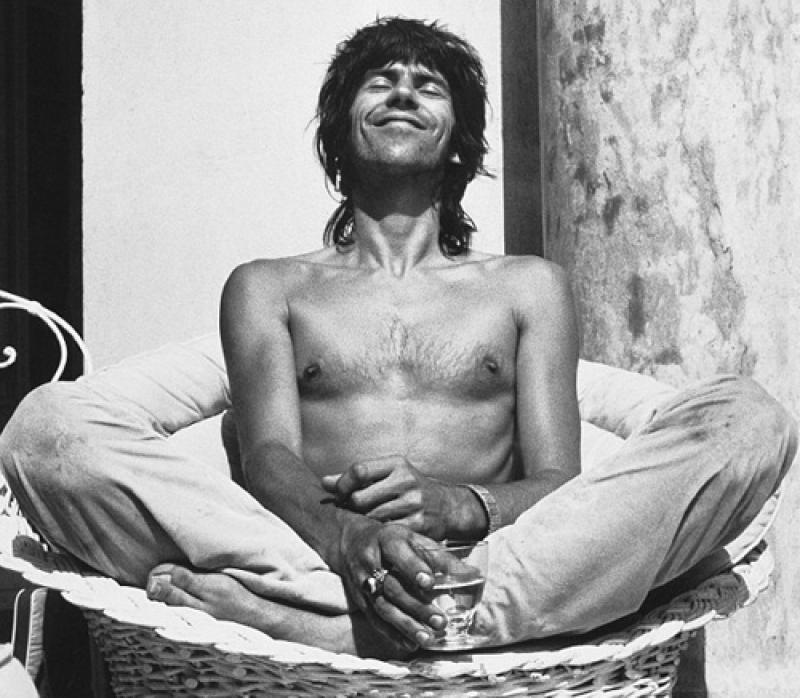 Keith Richards basks in the Riviera sun while making 'Exile on Main Street'
The Rolling Stones' Exile on Main Street is such a quintessential rock epic that it ought to be added to the list of things they throw in for free on Desert Island Discs. Defying the old adage that all double albums would be vastly improved by being boiled down into a single one, Exile is such an astounding feast of blues, gospel, boogie, country and flat-out rock that it feels as if it ought to have been a triple album instead.
And guess what - now it is, thanks to Polydor's new reissue which arrives with an extra disc of
Exile
-related material mysteriously lifted from the vaults 38 years after the album's original release.
However, spinning through the "new" tracks, another ancient adage springs to mind, which is, "If it ain't broke, don't fix it". The mythic voodoo surrounding the creation of Exile is so powerful, with its strange tales of debauchery and outlaw living on the French Riviera amid a blizzard of cocaine and opiates from several continents, that it was never going to be possible to prise it open again and make retrospective modifications. The album flies in all its ragged glory over a poignant moment in the history of the Stones, after they'd been forced to leave England by harassment from the police and the tax authorities. It was goodbye to that Stones-in-London era of Mick and Keith living in Cheyne Walk and the band playing in Hyde Park, and hello to the international high-life Stones, a transformation epitomised by Mick Jagger's celeb-studded wedding to Bianca Perez Moreno de Macias (from Nicaragua) in St Tropez in 1971. Exile, whose basic tracks were recorded in the dank basement of Keith Richards' rented villa in Villefranche-sur-Mer, felt like Keith's angry riposte to Jagger's growing infatuation with Eurotrash and minor royalty, a primitive howl from Route 66 and the Mississippi delta.
The Stones never sounded like this before or since, and most of the extra tracks on the reissue don't either. Mick Jagger has described how much of the material has been rebuilt or tarted up in the recording studio, so they're wrapped in a 21st-century sheen which instantly sets them apart from the enigmatic sonic murk which enshrouded the original album. "So Divine (Aladdin Story)" has a guitar figure nicked from "Paint it Black", then meanders off into a vaguely Middle-Eastern groove over which Jagger sneers at some luckless female acquaintance ("I've got better things to do than be your slave"). Jagger claims that "Plundered my Soul" and "Following the River" were pretty much intact and needed little work, but they feel as if they've arrived from some anonymous clearing house of Stones material of no fixed identity. "Following the River", in particular, is so syrupy and overwrought that they should have palmed it off on Celine Dion.
Of most interest are the alternative versions of original Exile tracks. The swinging, raunchy take of "Loving Cup" has a muscular heft to it which might have made it a viable contender for the album. "Soul Survivor", on the other hand, has a largely intact backing track but a nonsensical droning vocal by Keith, which was presumably just a rough guide for Jagger to replace afterwards. And "Good Time Woman" was an early version of "Tumbling Dice" before they slowed it down, added Keith's sublime guitar intro and wallpapered it with gospel singers.
It's intriguing stuff if you're a Stones fan, but it isn't going to change your opinion of Exile on Main Street. Jagger's mercantile brain has been at work, since this Exile-plus neatly coincides with Stephen Kijak's new documentary, Stones in Exile, while Radio Two broadcasts Exile of the Stones on Wednesday 19 May. As usual, Keith Richards purports to wash his hands of such disreputable considerations. "My point of view on the new stuff is that I didn't want to repaint the smile on the Mona Lisa," he deadpanned.
The album flies in all its ragged glory over a poignant moment in the history of the Stones
Share this article