Ghost Stories, Lyric Hammersmith |

reviews, news & interviews
Ghost Stories, Lyric Hammersmith
Ghost Stories, Lyric Hammersmith
The prickling pleasures of fear from a master of suspense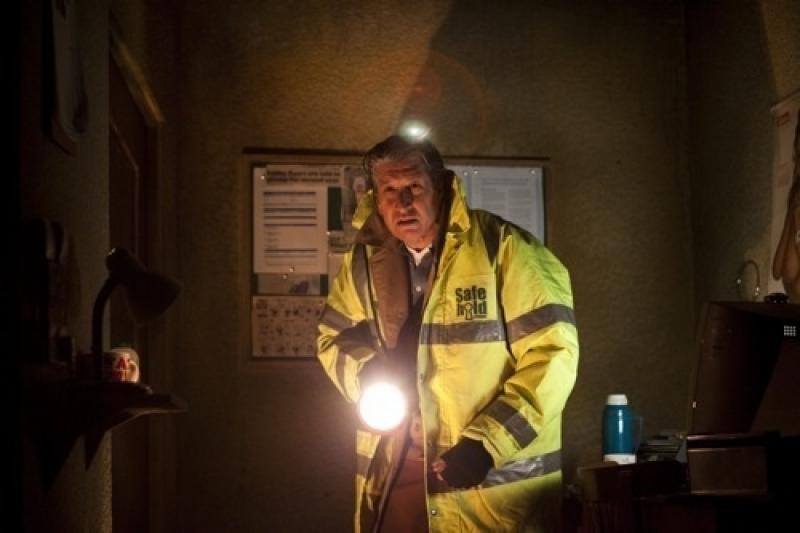 Don't look now... David Cardy in Ghost Stories
"There is no hell, there is no heaven. This, this is real, this is now, and here is where matters." So Professor Philip Goodman, sceptical expert in parapsychology and debunker of superstition, assures us. Except that what we are watching isn't real, it's theatre. The Professor is actually Andy Nyman, creative partner of celebrated trickster and mentalist Derren Brown and co-author of Ghost Stories with Jeremy Dyson of comic grotesques The League of Gentlemen.
And whether, within the dramatic construct, the character Goodman will live up to his name and prove himself to be, indeed, a good man, is one of the many discoveries an audience, perched in delicious discomfort on the edge of their seats, can look forward to making over the course of the ensuing hour and a half.
The production, directed by Nyman, Dyson and Sean Holmes, and designed by Jon Bausor with special effects by Scott Penrose, is a shivery treat. Black-and-yellow hazard tape, swathes of tarpaulin, monstrous shadows and strings of flickering bulbs lend the theatre an air of derelict neglect.
Onstage, Nyman – his manner and gestures strongly reminiscent of Brown's – delivers a lecture on the paranormal, in the course of which he presents three disturbing tales, all of them reaching their blood-curdling crisis point at 3.45am. There's the unsettling encounter of a Hitchcock-obsessed nightwatchman (David Cardy); a student whose car breaks down in a foggy forest (Ryan Gage); and a business executive (Nicholas Burns) whose plans for a perfect family life with his wife and new baby take a sinister turn.
Along the way, there's all manner of cunning visual chicanery to wring shrieks from the susceptible; to describe any of it would call down the curse of the creators, and of any horror fans looking forward to experiencing the shock-fest for themselves, but suffice to say it's ingenious. Film buffs will spot references to creepy classics such as Dead of Night (1945) and Night of the Demon (1957), and there's clever reference to Japanese horror movies too, notably The Ring series.
The interplay of the prickling pleasure of fear with metatheatrical games and overlapping, intersecting notions of reality, fantasy, dreams and delusion elevates the evening above the cheap thrills of the fairground ghost train and gives it a genuine power to disturb. But above all it's horrible fun, performed with chilling relish. Are there such things as ghosts, or are they illusory imps conjured by tormented imaginations? Do our misdeeds leave behind toxic traces that inevitably return to haunt us? Submit to this dark delight – and then you decide.
Explore topics
Share this article