theartsdesk on Vinyl 55: Peaky Blinders, Graham Coxon, 2 Tone, Redrago, Gary Numan, The Clash and more |

reviews, news & interviews
theartsdesk on Vinyl 55: Peaky Blinders, Graham Coxon, 2 Tone, Redrago, Gary Numan, The Clash and more
theartsdesk on Vinyl 55: Peaky Blinders, Graham Coxon, 2 Tone, Redrago, Gary Numan, The Clash and more
Lots of good records for bad times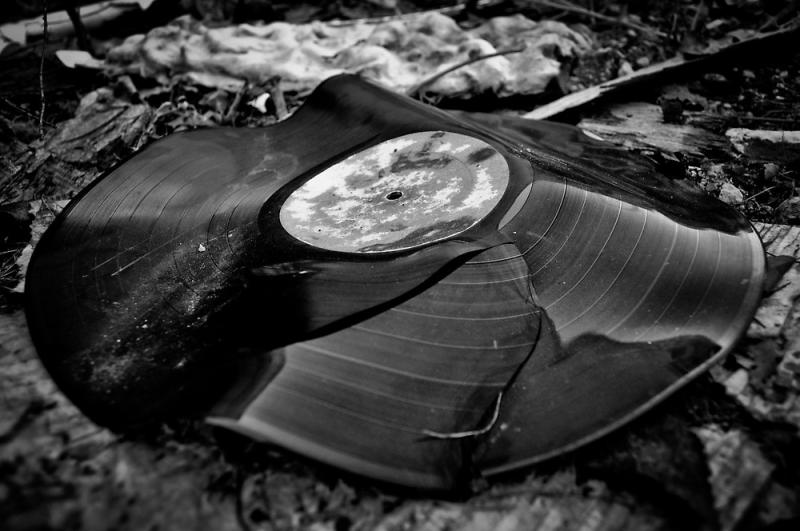 Britain is unpleasant to look at right now, ugly and foolish, so why not lock down with some tuneage. Below is the best plastic that's hit theartsdesk on Vinyl over the last month, all genres, all the time. Watch out for the forthcoming Christmas Special where we'll endeavour to find the seasonal good cheer we're not currently feeling.
VINYL OF THE MONTH
Kimyan Law Yonda (Blu Mar Ten Music)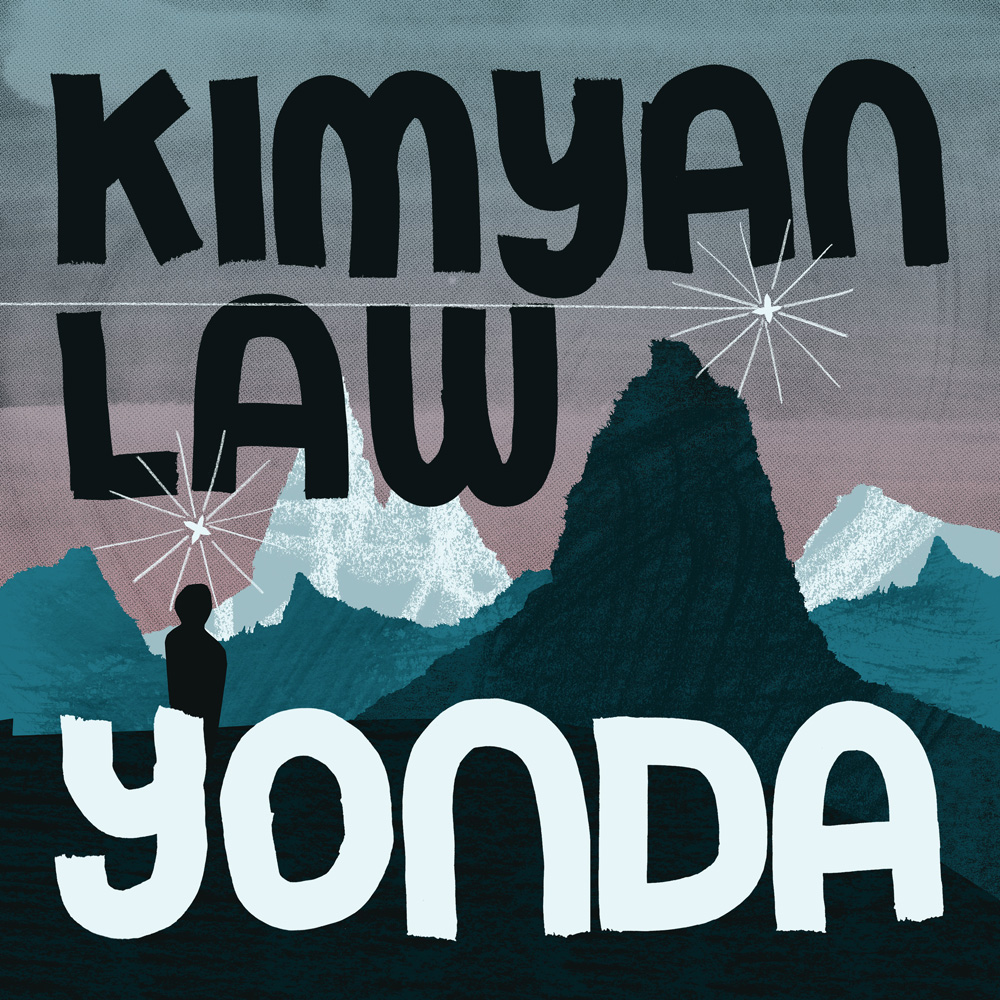 It's true to say that theartsdesk on Vinyl prizes originality over familiarity. One of our mottos is that comfort is the enemy of creativity. Kimyan Law – AKA Nico Mpunga – is the Vienna-based son of a Congolese father and an Austrian mother and his debut album is certainly original, but it is also brilliantly approachable. Arriving on three records in primary art gatefold, the music on board is a fantastically invigorating mash-up of delicate, musical electronica, tribalistic percussion, drum & bass flavours (check the ravey "Seven Ant Foley") and abstract interludes. It's primarily instrumental and atmospheric but also contains a couple of sweet songs featuring Eliane Sutter. There's material here for the dancefloor and for the brain and for quiet Sunday evenings. The whole thing is a gorgeously produced odyssey through sound cut deep and rich to plastic. Comes with art insert.
Graham Coxon The End of the F**king World EP (Netflix/Chennal 4)
A 12" containing two songs from the second – and, I hope, final – series of Channel 4's sharply plotted, beautifully shot drama about two dry-as-fuck and accidentally murderous younglings always on the run from something (usually themselves!). Graham Coxon has soundtracked both seasons. On bright transparent scarlet vinyl, the A-side, "She Knows", is like a really good grungey Blur song , a threatening guitar groove builds and builds, playing off against a contagious vocal melody, underpinned by a sad piano. It has an epic feel without ever using the obvious production tricks that usually entails. On the flip, "A Better Beginning" heads into the territory that Alex Turner so enjoys on his Last Shadow Puppets fare and the recent Arctic Monkeys album, which is to say expansively cinematic and Sixties with a touch of lounge. Sawed string stabs rise as Coxon adopts a swaying croon against flamenco guitar flourishes. Both sides make catchy and convincing guitar pop records. There is no available image of the cover so, instead, above is a nice picture of the two leads, Alex Lawther and Jessica Barden.
Redrago Redrago (Life and Death)
Much written about already by dance and electronic media, theartsdesk on Vinyl is behind the curve here. Eclectic Italian alternative music biz player and DJ Manfredi Romano – AKA DJ Tennis – has got together with Israeli production unit Red Axes and the results are relentlessly upbeat and more-ish, but never cheesy. All three have a background in edgier forms of rock music and this may play into the vibe here. Redrago's music is playful, exceedingly contagious, with elements of house, techno and Eighties electro-pop, as well as a refusal to be cordoned off into predictable contemporary dancefloor styles. Like the music, the vinyl does not conform and is a colour-blob splattered window pane. If you need invigorating, this will put pep in your step.
Various Vault of Horror presents The Gates of Hell Trilogy Boxset (Demon)
Where Italian horror film director Dario Argento has gradually been accepted by serious film critics as an auteur of note, his peer Lucio Fulci, who died in 1996, has been relegated to a cult figure. His greatest fame derives from having three films on Britain's notorious video nasty list of the early Eighties (films that were banned as the home video market blossomed). Two of them were part of his Gates of Hell trilogy, here celebrated with a grimy-coloured vinyl boxset which comes with great ghoulish gatefold illustrations by Graham Humphreys and booklet notes by Italo-horror expert Alan Jones. The films in questions are City of the Living Dead (1980), The Beyond (1981) and The House by the Cemetery (1981). The first two are soundtracked by Fabio Frizzi and have a funky small ensemble jazz jam charm, although The Beyond is more ambitious, boasting strident cod-operatic sequences and striking flute melodies. Overall, they are pitched midway between classic Italian giallo soundtracks and a desire for Eighties groove. Walter Rizzati & Alessandro Blonksteiner's soundtrack to The House by the Cemetery, however, is more horror film-sounding, bubbling with terror-around-the-corner threat and laced with an enjoyable dose of retro synthesizer action. In the end, this box is aimed at a niche of cult horror enthusiasts but is serves them well: a thoughtfully presented and colourful package.
El Khat Saadia Jefferson (Batov) + Various Kinshasa 1978 (Crammed Discs)
Two albums that energetically reconstitute global roots sounds for the modern dancefloor. El Khat are an Israeli band of Iraqi, Polish, Moroccan and Yemeni origin. They take their name from the speedy psychoactive shrub which is chewed socially in parts of Africa and the Middle East. It sounds as if said leaf may have been an influence on their lively debut album. El Khat's M.O. is to attack Yemeni folk songs with a verve and originality that startles, pulling the music to pieces, awakening the core rhythms and rendering them ripe for fresh dancing. Arabic horn motifs and unfamiliar plucked instrumentation swerves about, organ stabs add rhythm'n'blues heft. This is a tasty reimagining that screams for wider recognition and, it is to be hoped, multiple invitations to attend
summer 2020's festival circuit. Kinshasa 1978 is a more straightforward remix project (although "straightforward" is probably not really the apt word). The vinyl consists of four cuts by Congolese artists Konono N°1, Sankayi, Orchestre Bambala and Orchestre Bana Luya that were recorded back in 1978 and have now been remixed by DJ-producer Martin Meissonnier. A selection of the original '78 recordings were released in 1986 as Zaire: Musiques Urbaines à Kinshasa but the music here has not been heard before. A CD is enclosed of the originals but the vinyl amplifies the urgent, psychedelic, Congotronic aspects. Side A's 15 minute acidic brain-fry "Il Ne Faut Pas Intervenir" by Sankayi and the techno-mantric fervour of "Roots of K" by Konono N°1 are the key cuts but the whole thing is a treat. Comes in art inner sleeve.
Gary Numan Replicas – The First Recordings + The Pleasure Principle – The First Recordings (Beggars Banquet)
Two double sets that dig up the earliest versions of songs from two classic albums. Both take the raw recordings that Numan and his bands made in 1978 and 1979 respectively, and throw in sessions for John Peel's BBC radio show from the same period. The mastering to vinyl is impeccable, loud and detailed, and because these takes are rawer than the finished versions, what really hits home is an earthy, human, band-in-studio quality missing from the final albums. This isn't to say they're better - the whole point of Replicas and, especially, The Pleasure Principle, was that they revelled in the cold and robotic – but all these years later, for those who enjoy this music, its pleasing to hear versions that are warmer and, in some cases, even emanating a certain punky funk. The Replicas set is especially enjoyable as Numan had clearly not decided quite how up-front he was going to place his trademark synthesizer sound, thus, while "Are 'Friends' Electric?" pales beside the final version, other songs such as "The Machmen" and the title track have a different kind of bite. Comes on maya blue (Replicas) and orange (The Pleasure Principle) vinyl.
Smoke Fairies Out of the Woods/Disconnect (Year Seven)
A few years ago Chichester alt-folk-indie duo Smoke Fairies gave us one of this century's decent Christmas albums (albeit it was more a solstice album really). It was and is a thing of loveliness. If you haven't heard it, go and locate a listen while December lasts. Their latest release, however, is a great-looking 7" picture-disc, on appropriate dark forest green with Rorschach-style dragon fly imagery by Manchester artist Daren Newman. "Out of the Woods" is another wintery song imprinted into solid riffage, while "Disconnect is a bluesy rocker. Both songs have a touch of grunge, but are also British-sounding and set apart by delicious sweet vocals that have an innate mournful gloom. A promising taste of forthcoming album Darkness Brings the Wonder Home.
Alex Epton 3OHA OST (SA)
Clayton Vomero's film 3OHA (pronounced "Zona") sounds fascinating, an art film documentary that dissects how ex-Soviet territories have fared trying to adopt consumer capitalism and what the results of that have meant to them, their well-being and their psyches. New York producer Alex Epton, once a member of Spank Rock, has created a range of music that's dynamic and, in places, suitably sinister. Strings are present but there is nothing lush or honeyed about this, with distorted, alien-sounding voices even chiming in. Vaguely redolent of Aphex Twin in places, it's a twisty, interesting album wherein Epton sort of steps into the mighty shoes of Soviet-era synth don and Andrei Tarkovsky associate Eduard Artemyev. Comes on film still gatefold.
The Clash London Calling (Columbia) + Various 2 Tone 7" Treasures Boxset (Chrysalis)
There's a sticker on the cover of London Calling suggesting this is "one of the greatest albums of all time" and, for once, it's telling the truth. I am not sure the mastering stands up to that on my old version (which is itself a reissue but from the early Eighties), but to try and make up for that they've created packaging that separates Ray Lowry's "London Calling" graphic in pink and green onto a transparent slip case which slides off to reveal Pennie Smith's iconic photo in all its black'n'white glory. Some people moan about The Clash because they liked posing. Bollocks to that. They can pose all they want if it sounds this good. While it's emblematic of its time (1979), the ceaseless pile-up of dynamic songs that roar and bound has not dated a jot, the same applies to Strummer's raging voice, the reggae tint, the rhythmic boom, Mick Jones riffs, and the rest. "Guns of Brixton", "Lost in the Supermarket", "Spanish Bombs" "Revolution Rock", "Wrong 'Em Boyo", and, of course, the title track. If you don't own it – in any version you can find – then your home is bereft. The only release this month that could be reviewed alongside London Calling is a collection of 12 7"s chosen by Jerry Dammers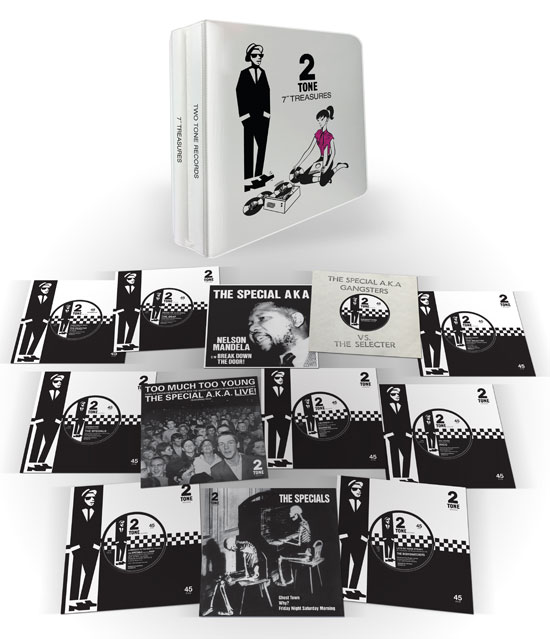 from his 2 Tone label. Arriving in puffy white retro plastic book-style packaging, the singles are accompanied by a miniature slip-mat and a card signed by Dammers. The run is limited to 2000. Most people who love this music will have all these tunes, especially since the majority have remained famous and well-loved. The possible exceptions, in terms of profile, are the late Jamaican trombone player Rico's jolly "Sea Cruise" and all-female band The Bodysnatchers' raucous "Let's Do Rock Steady". The rest of them, well they're all gold: The Specials' "Ghost Town", "Gangsters", "A Message to You Rudy", "Too Much Too Young", "Stereotype", "International Jet Set", and "Nelson Mandela", not forgetting the stunning, bleak kitchen sink drama of the B-side "Friday Night, Saturday Morning". Madness's first single is on board, the euphoric double-header of "The Prince" and "Madness", and the greatest hits of the The Beat and The Selecter too. Although much of it is overplayed compared to The Clash album, it's still a peerless set of songs.
Pamela Sue Mann Break (Maniac Squat)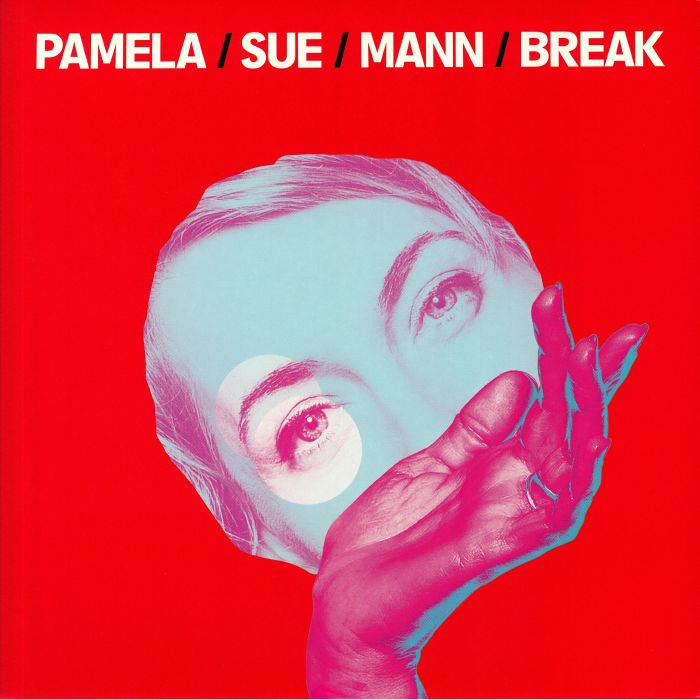 Pamela Sue Mann is that rarest of creatures, an un-Googleable singer. There are links to nothing much, occasional music, but no real info out there. Five Google pages in we find an album review from 2007 that says she is a resident of New York State, that she once toured with Suzanne Vega, and that she was at that time married to one of David Bowie's favoured guitarists, Gerry Leonard. The same review speaks of a body critical opinion about her work, yet there is no evidence of any releases on Discogs. It's all most mysterious. Such a lack of info is no hindrance to listening, of course, and Break, which comes in art/lyric gatefold, is made up of delicately formed quiet electro-pop with an occasional almost classical piano underpinning. Mann's voice is girly to the point of twee but it works against the sparse backing, and she drawls and whispers too, as if she's seen way too much. One could imagine some of this album popping up in one of David Lynch's projects. It has that queasy outsider-pop quality he loves. Comes on vinyl of precipitated cerulean blue.
Various Peaky Blinders: The Official Soundtrack (BBC/UMC)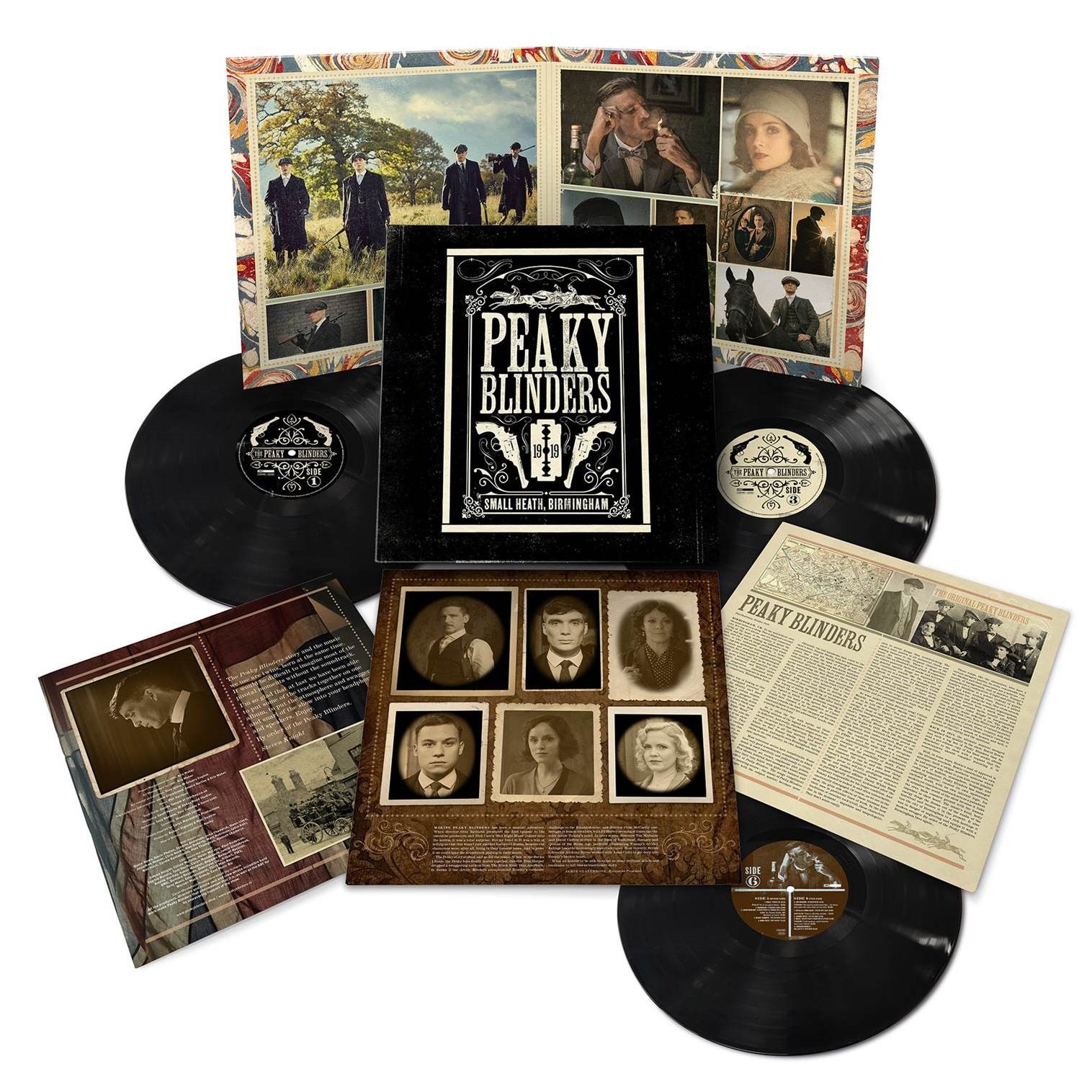 This writer has never watched Peaky Blinders but the soundtrack, while single-minded in its musical direction, has a determined, dark bluesy edginess that rocks. The creators of this vinyl package also understand their audience, since it's presented with a persuasive sepia-toned thematic that I assume emulates the show's appeal. On three records in gatefold, with a mass of sleeve notes, photos and visual details, drop the needle anywhere and you will likely hear a grinding guitar riff bridging the territory between alt-rock, blues and indie. The theme song, Nick Cave &n the Bad Seeds' "Red Right Hand" is a good indicator of what's to found further in, which is to say meaty songs by artists such as The White Stripes, Royal Blood, PJ Harvey, Anna Calvi, Richard Hawley, Queens of the Stone Age, Black Rebel Motorcycle club… are you getting the picture yet? To change it up a little Laura Marling is present with her galloping acoustic guitar-led take on Bob Dylan's "A Hard Rain's A Gonna Fall", as is David Bowie's with his spooked death staredown, "Lazarus". The whole is in-filled with vocal samples and sequences from the programme.
Osian Rhys Autumn Shades of Gold (Backwater) + David Thomas Broughton Complete Guide to Insufficiency (Song, By Toad) + Robb Johnson Eurotopia (Irregular) + David Ellis Misty Heights (Ellisland)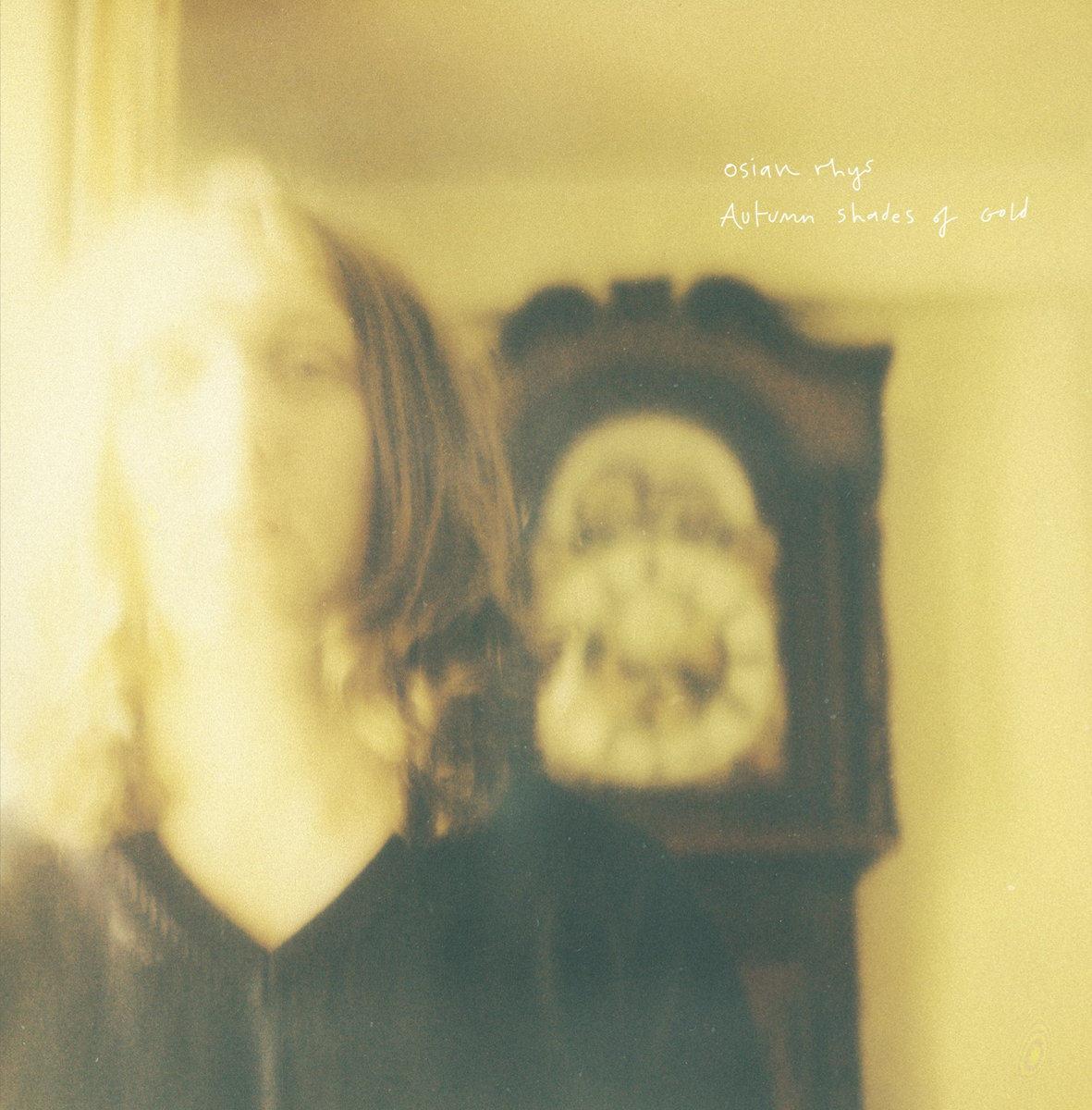 Four singer-songwriters who step outside the predictable and offer an original take on that overplayed style. Osian Rhys is a Welsh language activist, poet and singer whose almost ecclesiastical strummed folk is mesmerically languid. Produced by acclaimed studio sort Richard Woodcraft, this four track 10" appears to be Rhys's second EP; the first appeared seven years ago. Imagine Hosier's gospel singer-songwriter schtick dialled back from 100 to about 5, and fed Bon Iver juice and you'd be halfway there. The gauzily diaphanous waltz-time "The Ballad of Mr Withers" leads but the strongest song may well turn out to be the beautifully sad "Long Time Gone". Unafraid of strings or smeared delicacy, it's a convincing mini-set. The lovely Song, By Toad label, home to all manner of off-piste alt-folk goodness, offers a re-release – and the first
time on vinyl – for David Thomas Broughton's debut EP from 2005. Recorded pretty much live in Wrangthorn Church Hall in Leeds, Broughton's simple but effective pieces are enhanced by crudely effective techniques such as looping vocals through his guitar pickup. The five songs stand as a testament to lo-fi when it's done with imagination. The songs have a rough charm that holds up a decade-and-a-half on. Robb Johnson is a great example of the fact sung music is not necessarily being about the quality of the voice, as has become
de rigeur in our misguided post-X Factor universe. Melismatically, solipsistically emoting is essentially meaningless when there's no substance. Robb Johnson has fired out tens of under-the-radar albums across three decades, most full of poetry, wit and socio-political suss, but his voice is the half of it. It's a tool that half-speaks, nasal and untutored, but it doesn't matter, he has the songs and a literate mind. Thus it is with his latest Eurotopia, a vinyl only acoustic take on a CD set that was performed with a band. The focus is wry satire and politically aware pith, rooted in history and our own times, taking in a range of musical styles that's more cabaret/burlesque than folk, but the juicier for it.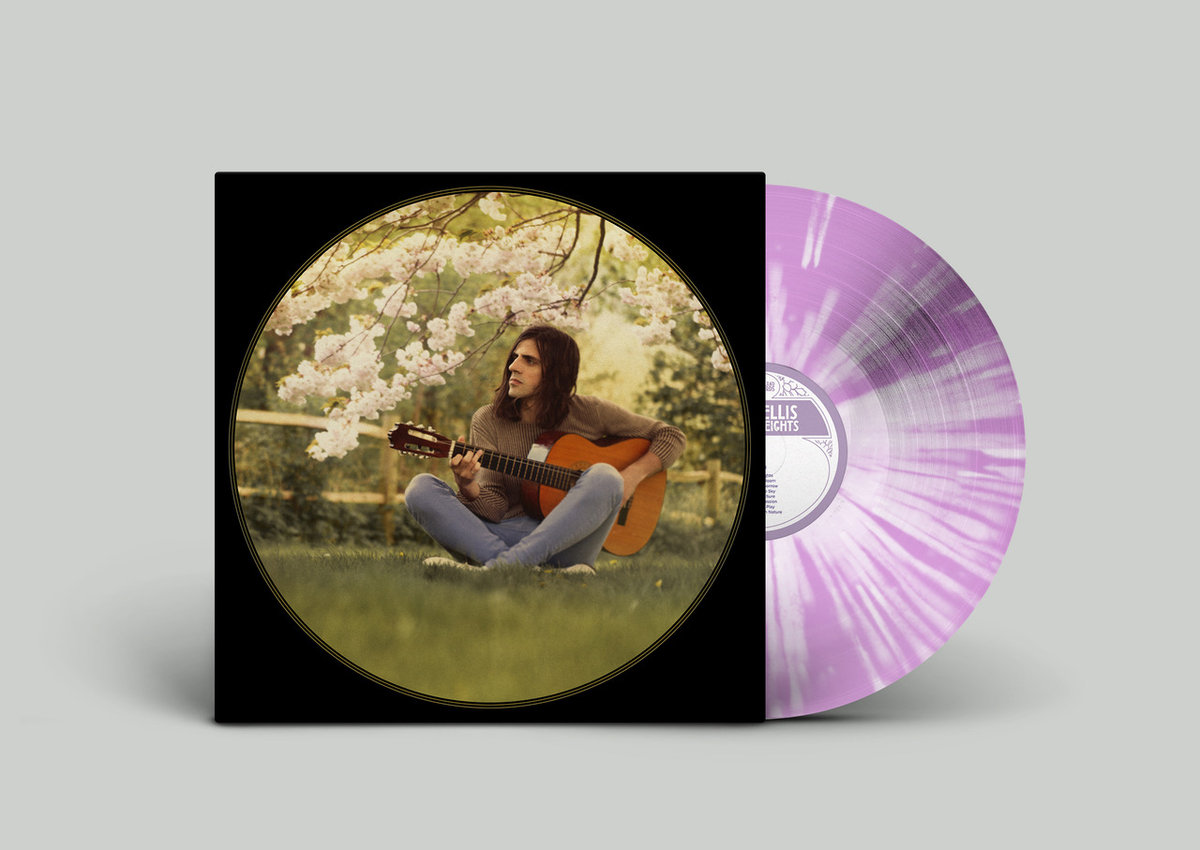 By contrast to all the above, David Ellis is a singer-songwriter of a more familiar type, cross-legged on the front of his album, his long brown hair in curtains. The artwork could easily derive from 1970, and so could the music. Misty Heights is likeable, nonetheless. Accompanied by strings, percussion, backing vocals, even a flute, Ellis's songs might not break new ground but they're convincingly catchy, with indie-pop melodies that hold up. Comes on milky amethyst-coloured vinyl.
Not the Nine O'Clock News Not All the Albums Again Boxset (Demon)
Someone asked me recently why vinyl comedy albums existed. It's hard now, if you're not old enough to remember, to imagine a world where the only way to recreate favourite TV comedy sketches, was to buy them, visual-free, imprinted onto plastic discs. Harder still to envisage people sitting beside their record players laughing. It does sound bizarre. But early teenage me sat at a friend's house listening to these albums based on the alt-comedy TV sensation of the very early Eighties. In fact, that was where I learnt what the word "cunnilingus" meant, as my friend explained to me the central gag of the song "(The Memory) Kinda Lingers." Two of the three albums in this boxset – Not the Nine O'Clock News and Hedgehog Sandwich - reached No. 5 in the charts, while the third is now presented as a double with the live set Not in Front of the Audience. Much of their appeal was based on topical satire, smutty of-its-time rudery and spot-on parody songs. Based on contemporaneous trends in pop – such as punk, ABBA, Altered Images, synth-pop, etc – they are now cultural curios, while the key laugh from "I Like Trucking" – very popular in school playgrounds at the time – was that "truck" sounds like "fuck". Meanwhile, much of the humour might be better absorbed via YouTube. The once famous Gerald the Gorilla sketch features the late Mel Smith as an anthropology professor on a TV talk show introducing a gorilla he has taught to speak English. The comedy derives from the bickering between he and Rowan Atkinson, badly costumed as the pompously articulate gorilla, yet the visuals now seem inherent to the sketch. Nevertheless, the exchange "When I caught Gerald in '68 he was completely wild." "Wild, I was absolutely livid" is still a cracker. Rowan Atkinson, sexologist Pamela Stephenson and cuddly middle-of-the-road TV presenter Griff Rhys Jones, as well as Smith, were all catapulted to fame by Not the Nine O'Clock News, but, while it's rich in nostalgia, the past, on this occasion, does seem to be a whole other lost world. Comes with a booklet and on wild multi-coloured vinyl of various hues,
ALSO WORTHY OF MENTION
Lapalux Amnioverse (Brainfeeder): Anyone who needs lessons in cutting music to vinyl should turn to Ninja Tune (who oversee Brainfeeder's UK operations). The label always fires out plastic that's ultra-phat. Such is the case with the latest from UK electronica bod Lapalux, his fourth album. I have missed a memo. Last time I looked Lapalux was dealing in his unique take in alt-R&B flavours, surfing the area between Frank Ocean and Neon Indian, but things have dramatically changed. Amnioverse, which comes on vinyl the mixed palette of a skeletal goth attacked with garish blusher, is a gatefold double that melds sequences of ambient wash with sudden explosions of rattling rhythm in line with Warp Records' more caustic acts. Regular whispery vocals from Lilia add an approachable human dimension. Unsettled, its techno edged bely its flights of ethereality. Comes with a pink and atmospheric 12" x 12" 28 page art photo booklet.
Cold in Berlin Rituals of Surrender (New Heavy Sounds): New Heavy Sounds is one of my favourite UK labels. But I'm finding their latest signing Cold In Berlin hard going. You know that thing where you want to like it because you feel invested but it's just not happening? That. They sound like Siouxsie Sioux, early in her career and in a dark mood, fronting a sludge metal band. New Heavy Sounds love sludge metal and female vocalists, which is all to the good, but this one's combination of stridency and lethargic pace isn't grabbing me. Comes on-arterial blood-colcoured vinyl.
Some Bodies Sunscreen (Funnel): For a moment this ancient raver thought this was the return of Sunscreem, the early 1990s Essex crusty-pop-dance unit. Nope, that would just be a misspelling of the album title - this band is Bristol five-piece Some Bodies who major in indie that aspires secretly to John Barry is terms of pace and melody. Lyrically chewy, they're too classy to be called "soft rock" but their music is mostly mellow and sweet, like Sixties film themes that have been eaten alive by the Flaming Lips. Comes in photo/lyric inner sleeve.
Warmduscher Tainted Lunch (Leaf): Last year theartsdesk on Vinyl positively reviewed Warmduscher's last album. We didn't go overboard, but the weird thing is that album has hung around the record decks more regularly and for longer than most of the other stuff reviewed that month. Strange game, this reviewing business. You can like music as you hear it but it's harder to predict its staying power. Such ramblings aside, the London band clearly have friends in high places. Their third album has Lord Ignatius Pop himself growl-poeting on the opening track. Overall it's less bluesy, faster and crunchier than its predecessor (it also features old school hip hop don Kool Keith). Kitsch yet raw, smart yet goofy, it even has a touch of Alabama 3's punk post-modernism about it (although none of their country aspirations). An album with zip. Comes in photo-info inner sleeve.
Various Kamaal Williams: DJ-Kicks (!K7) + Various Beats: Original Motion Picture Soundtrack ((Republic of Music): A couple of dance music compilations that solidly nail it. First off is jazz keyboard player and producer Kamaal Williams whose two record set in gatefold for the esteemed DJ-Kicks series runs the gamut from his own percussive Henry Wu persona to the deliciously stripped down funky house of Wbeeza's "He's So Crazy". More than just dancefloor tools, it's a set that engages, closing with his own "Shinjuku", a short piece of piano-led ambience. Beats, on the other hand, collects together cuts from the soundtrack to Brian Welsh's gritty, recent, black'n'white flick based around the Scottish rave scene as the Criminal Justice Bill hits in the mid-Nineties. It's rammed with 24 carat classics such as Plastikman's percussive brain-frazzler "Spastik", Orbital's "Belfast", N-Joi's "Anthem" and early Detroit techno, alongside less likely tunes such as the Eighties gospel-disco of the Joubert Singers' "Stand on the World" and the noisy no-wave funk of Liquid Liquid's "Optimo". Both these compilations are well worth owning.
Lester Tipton/Edward Hamilton & the Arabians Things Don't Change/Baby Don't You Weep (Deptford Northern Soul Club): Deptford Northern Soul Club are primarily known for their nights at the Moth Club and Bunker Club in London and at YES in Manchester. My copy of this 7" single arrived with their glossy, well-written fanzine which is interview-filled and digs down into their scene in an original and welcoming manner (Northern Soul can be off-puttingly elitiist). The single is a repress of two extremely rare cuts, the Lester Tipton one coming out of Detroit in 1966 (original, copies exchange hands for $5000) and the flip from the following year from a solo member of The Falcons. To my non-Northern Soul-obsessive ears the Tipton cut sounds very raw indeed, like it was recorded for wax cylinder – which may well be its appeal - but Edward Hamilton & the Arabian's "Baby Don't You Weep" is a lush, cuddly, bouncin' ride rich in upbeat soul.
Giant Swan Giant Swan (Keck): Bristol duo Giant Swan have developed an underground rep for live shows that strobe and assault and their debut album certainly sounds that way too. It's not that it's all bangers; their's is a world where On-U Sound's most experimental abrasiveness shakes hands with old school industrialism in the shadow of Belgian techno. Thus some tracks are the sound of factories, loaded with ear-grabbing slivers of vocal sample, but elsewhere, for those who want to dance, defiantly noisy belters such as "YFPHNT" strut their stuff.
Joris Voorn \\\\ (Spectrum/BMG) + Antenna Quiet fx (World of Paint): 42 year old Dutch superstar DJ Joris Voorn has created an album it's hard to dislike. It's warm and friendly and varied. Forward-propelled 4/4 throb is built into vast productions that encompass both big room drive and MDMA-imitative hunks of melody. Over four sides on double, it's gorgeously mastered to vinyl, roomy and bassy, and the first record is a joy. The second sprinkles on a little too much parmesan for these ears: the Underworld hook-up is OK but the breakbeaty HAELOS one less so. Overall, though, an enjoyable listen. At the other end of the dance world fame spectrum is new arrival Antenna, an Amsterdam-based Ukrainian DJ-producer. His debut album has colder production than Voorn's but is still a friendly proposition. It's more analogue-sounding and, in essence, more innovatively constructed. He lets glitches and background buzz appear through his electro soundscapes. It's a double that comes with a rectangle die-cut into the outer sleeve and includes a large landscape poster that combines forested rusticity with computer manipulation and a sense of the uncanny.
Bjarki Happy Earthday Boxset + Psychotic Window (!K7) + Daedelus End of Empire Boxset (Brainfeeder): Icelandic producer Bjarki released Happy Earthday back in February but it's now arrived at theartsdesk on Vinyl in boxset form (originally limited to 200) alongside his new album Psychotic Window. He has said that these albums close a chapter in his life. What chapter that is remains unclear but there have been references to both depression and leaving an extended childhood state behind. They are, indeed, sombre albums, both loosely falling under the IDM heading, listening music that's almost gothic in places, but, especially on Happy Earthday, reverberates with hints at his homeland. To these ears they're interesting rather than more-ish, clattering along with minor key motifs clicking up through cracks in the sound. Happy Earthday is a triple and Psychotic Window a double. For those who find Bjarki too approachable, there's always the latest triple-set from perennial alt-hop hop experimentalist Daedelus, collecting together this year's The Bittereinders with its predecessors in his End of Empire trilogy, Righteous Fists of Harmony (2010) and The Light Brigade (2014). Mastered loudly, the initial set is a collation of global sounds, injected with his wilfully cacophonic beats, but by the time we reach The Bittereinders there is drone and distortion taking over, the whole unsettled and deliberately vanguard in its approach. It does, indeed, sound like the sonic representation of some sort of collapse and, as such, is a fractured listen.
My Bus Our Life in the Desert (Onomatopoeia): Early 1990s Belfast dream-popsters Butterfly Child (Joe Cassidy) and Papa Sprain (Gary McKendry) were signed to AR Kane's label H.ark! and their work has since become desirable to cultists of the period's psychedelic underworld. Before that they were school pals and a bedroom unit called My Bus. Together they effectively resurrect this project with a set of songs that sound like early Love & Rockets filtered through Krautrock and widescreen production. Our Life in the Desert is an effective, woozy set of songs that's also surprisingly contagious. Comes in map art/lyric inner sleeve.
David Norland Glam Tear Stain (Denovali): This month's dose of "modern classical", the misnomer for a vast area of music that bridges traditional auditorium orchestra fare, film music and electronica, the most successful of which is hugely popular (prime exemplar Max Richter recently reached a billion streams!). The debut album from LA-based Brit TV/film composer David Norland is a lush – but not over-fruity – collection base around elegant piano, thick emotive strings and an icing of studio atmospherics. The tone is melancholic but not depressive and, as with much music of this type, it's probably perfect to work to. Music to take a moment out of life's bustle with.
Xoliso Shingwanyana (BBE/Sharp-Flat) + London Afrobeat Collective Humans (London Afrobeat prodictions) + Zap Mama Adventures in Afropea (Crammed Discs): Three Afro-centric releases of different flavours. First off, the Xoliso album hasn't been on vinyl in 45 years. When it appeared in 1974 it marked a Pretorian foray combining African Sounds with jazz and hints of psychedelic rock. It's unexpected when the tribalistic twelve-and-a-half minute title track gives way to a straightforward late-Sixties style rock song, but once the ears have adjusted – and it took theartsdesk on Vinyl three listens to "get it" – there's much to be enjoyed. Limited edition of 500. The nine-piece London Afrobeat Collective have a band name that tells you all you need to know. They are a lethal party unit who, in a more contemporary manner (obviously) than Xoliso, combine rockin' grooves with Afrobeat urgency. The album has petrol in the tank and is likeable but also feels like an addendum to their live persona, a memento from the merch stall to celebrate good times with a band who know how to raise the roof. The lyrics have socio-political slant – "Power to the Women" is a grand shout-along – but the wordage never stands in the way of foot-moving rhythms. Finally Zap Mama is an acapella album originally released in 1991. It was made by five women whose origins are a mixture of African and European and recorded in their home town of Brussels. Rhythmic but also deliciously harmonised, it is much more casually listenable that most acapella albums. This may be because it isn't about one voice ramming home, but based instead on a part-song gumbo that's aided by minimal percussion, clapping, whistles and so forth. It is a thing of joy, mastered with crystal clarity, and comes in info inner sleeve.
Numb Mob Where to Build In Stone OST (Numb Mob) + Rocky Valente Rebirth EP (Elevate Music): Two 12" singles of very different stripes. Where to Build in Stone is a 24 minute film by director and cameraman Joseph Bird. It represents an artistically rendered vision of Hull's daily life (with one minute for every hour). The three tracks are sweeping and expectedly soundscapey, slowly floating about the area between jazz and classic minimalism. There are three cuts, of which the Philip Glass-ish "Land of Green Ginger" is the most characterful and interesting, although "Bullnose" has a Vangeli-ish charm too. Amsterdam-based Portuguese DJ-producer Rocky Valente drops a gatefold double set of four tracks, all of them on the techno spectrum. While these are sturdy DJ tools, they are not just stark percussive exercises in drum power. There are also trance melodic underpinnings. These are not overplayed and are accompanied here and there by vocal snippets, notably an effective, soulful sample on "Under the Radar". All four tracks have dancefloor gumption and the whole set boast 3.00 AM foot-moving power. To add to the fun, they come on transparent green and pale pink vinyl.
We welcome any and all vinyl for review. Please hit thomash.green@theartsdesk.com for a postal address.
They can pose all they want if it sounds this good
Share this article