theartsdesk on Vinyl 33: Pet Shop Boys, AK/DK, Ian Dury, Grateful Dead and more |

reviews, news & interviews
theartsdesk on Vinyl 33: Pet Shop Boys, AK/DK, Ian Dury, Grateful Dead and more
theartsdesk on Vinyl 33: Pet Shop Boys, AK/DK, Ian Dury, Grateful Dead and more
The widest-ranging record reviews available on this planet
Round sounds
The autumnal release deluge is upon us. Vinyl's thriving and writhing. Raise a glass to it. Do it. However, records that, in another month, would have been reviewed here, music that would have been in the ALSO WORTHY OF MENTION section, has been unfairly passed over.
Thus
theartsdesk on Vinyl
didn't have space for the likes of Sixties-flavoured popsters The Dials, lone Nine Inch Nail Alessando Cortini, "space mermaid" Johanna Glaza, Dutch-Belgian jazz trio De Beren Gieren, London electro noiseniks Fever Dream, Spanish rhythm'n'blues maestro Julián Maeso, retro soul revivalists D'troit Soul Sound System, singer-songwriter Carmen Villain, Belgian alt-funkers BRZZVLL, prog-pop behemoth Steven Wilson, Aussie odd-popsters KLLO, rising US R&B star Khalid, Vampire Weekend producer Rostam, Swedish trumpeter Goran Kajfeš and his Subtropic Orchestra, Norwegian black metallers Mork, Helen Marnie out of Ladytron, and Montreal alt-soul original Un Blonde. Only fair to give 'em a shout. But now, in the most extensive monthly reviews section on the planet, here's what actually made it in…
VINYL OF THE MONTH
AK/DK Patterns/Harmonics (Little Miss Echo)
Appearing on white vinyl that's as clean as the music isn't, the second album from south coast drum'n'synth duo is enormous. To put it crudely, it's the sound of Suicide having a frantic psychedelic freak-out, but the icing on the cake is that many of the songs (such as "Lagom", "Modulate to Accumulate" and the glam-stomping "Words For Sale") are also connected to their makers' pop sense, with melodies and choruses fighting it out to be heard amid the concentrated synthesizer attack. AK/DK have it both ways: there's the precision of programmed electronics but fused with a sweaty rock'n'roll humanity, and when it all seems about to blow a fuse, moments of delicious calm such as "Modulahhh" arrive to save the day. With multifarious frequencies impressively pressed and captured on vinyl, Patterns/Harmonics is one of the year's most vital albums.
Pet Shop Boys Yes + Elysium (Parlophone)
Some years ago, at least a decade, Pet Shop Boys released their Parlophone back-catalogue on CD with loads of extras. And when Pet Shop Boys do extras, they really go to town. As a fan, theartsdesk on Vinyl was in Pet Shop Heaven. Now they continue the mission with 2009's Yes and 2012's Elysium. So, the CDs are what you need so why are we even mentioning it? Because the albums have also been released on plastic in top hi-fidelity editions, no stinting. Yes is a mixed bag, produced by Xenomania, who were then the pop production team du jour, riding vast success with Girls Aloud and others. It's not PSB's finest hour, most of the songs are somewhat flaccid, although the single "Love etc" is still a decent romp. Elysium, however, produced by Kanye West cohort Andrew Dawson is one of PSB's more fascinating outings. It's the sound of band heading out of a comfort zone they'd successfully return to on their next albums and, when it succeeds, it's spectacular. It has utter misfires, such as the musical theatre-like "Hold On" and "Give It a Go", but it also features classics such as "Your Early Stuff", "Ego Music" and "Memory of the Future". If you're a fan and don't know it, check it out. Well worthwhile. Both albums come with picture inner sleeves and Elysium is on gatefold.
Fabrizio Rat The Pianist (Blackstrobe)
Here's a curious one, a classical pianist making techno while retaining avant-garde John Cage-style "prepared piano" at the heart of the music, some of the time. Raised in Turin and now based in Paris, Fabrizio Rat is as at home hitting dancefloors with the acid attack of "Lupu" or "Pollini" as he is settling into a more muffled groove, where the treated piano is more evident, on pieces such as "Gould". While there are certain sonic similarities, Rat's work is mostly very different from German piano experimentalist Haushka, who focuses on a less dancefloor direction. Rat has it both ways but, while the bangin' stuff is 3.00 AM off-ya-head fun, the dubbier, piano-centric numbers are the more original option.
Geinoh Yamashirogumi Akira – Symphonic Suite (Milan)
The soundtrack to the groundbreaking cyberpunk anime Akira now becomes available for the first time in three decades. Up until now it had been exchanging hands online for hundreds of quid. Geinoh Yamashirogumi is the name of a collective put together by Japanese professor Tsutomu Ōhashi. For the purposes of this and other projects Ōhashi went under the name Shoji Yamashiro. Consisting of many people from all walks of creative life, Geinoh Yamashirogumi, who major in folk forms via contemporary technology, were commissioned by Ōhashi to put this soundtrack together, overseen, tweaked and managed by him, before the film had even been made. Akira was then built around it. Over two discs in colourful gatefold with inner sleeves featuring images from the film, the music has a unique appeal in its own right. Utilizing at-the-time cutting edge synthesizer and computer technology, the soundtrack draws heavily from the music of Japanese Noh theatre, as well as kodo and other drum traditions of the region, mixing in a strong hint of Philip Glass serialism for good measure. Ōhashi was and is an expert on human brains and this music supposedly "invokes a hypersonic effect", giving feelings of relaxation. Whether this is the case or not, it's fine and original, mastered brilliantly and taking the listener off on a highly original far eastern odyssey.
Ian Dury New Boots And Panties – Deluxe Edition (Demon)
Putting New Boots And Panties on 40 years after its release, what strikes is how far ahead of the game Dury was. He defined a whole strand of post-punk vocal styling that flavoured pop for years, from Madness to Jilted John and well beyond. Even the likes of Blur and The Libertines owe him a debt. It's not just his sexy, smirking geezer vocals, but the rich poetry of the everyday that he evokes with such ease. "Wake Up and Make Love to Me" is one of the only portraits in all rock and pop of the joys of sex in a longterm relationship, capturing the easy comfort of it rather than the raw one night stand thrills, as per pop's de rigeur usual treatment. His sketches of ""Billericay Dickie", "Clever Trevor", "My Old Man" and the rest remain as potent as ever. This new Deluxe Edition comes in gatefold full of old news clippings relating to Dury, in great photo/lyric/art inner sleeves and on bright off-lime'n'orange swirl vinyl. There's a second disk of Dury and the Blockheads live in London and it's well worth owning too (NB. New Boots and Panties was titled for Dury shortly before the Blockheads properly coalesced). This second disc is a really clear recording that encapsulates his cheeky music hall punk persona. After listening to it, the second thing that hits a 2017 listener is that the modern trend towards male emotion always being expressed using vulnerable feminised voices is utterly feeble. Dury demonstrates that hardly even being able to sing is no hindrance to creating music and lyrics that have emotional reach way beyond the predictable whimperings of James Bay, Jack Garratt et al.
Dave Clarke The Desecration of Desire (Skint)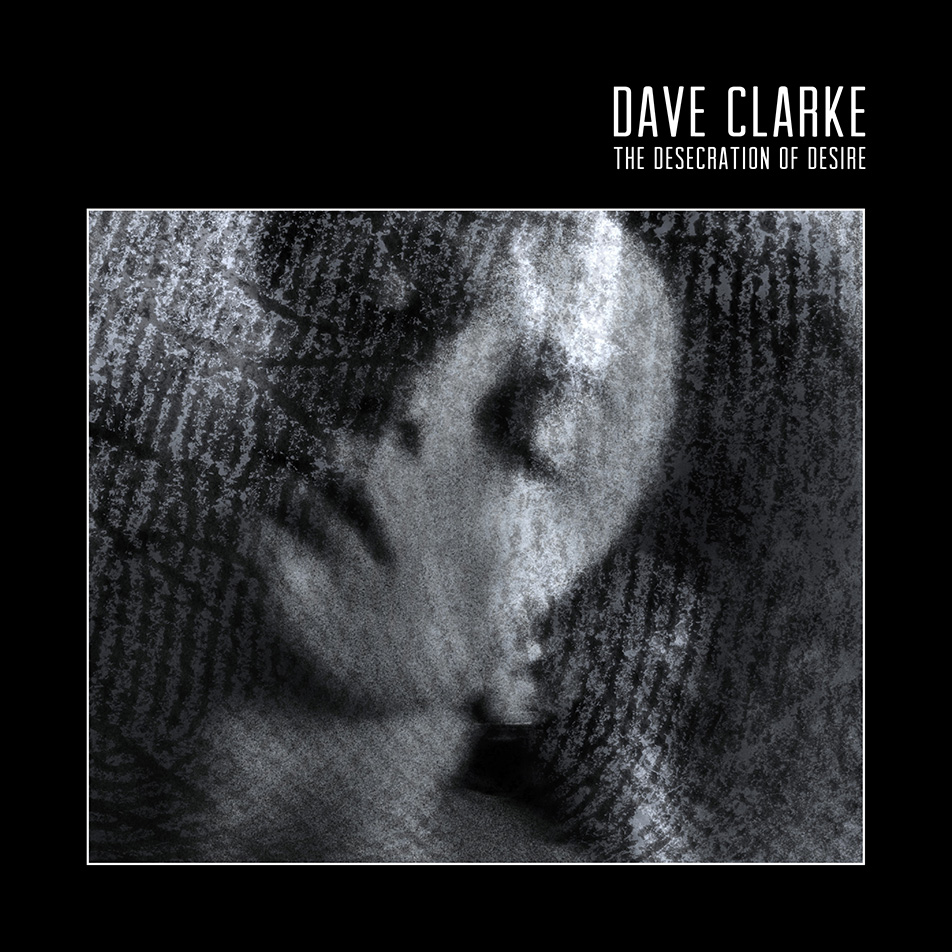 The Brit-born, Holland-dwelling techno giant Dave Clarke's music lives in the dark, it thrives on it. He hasn't put out a studio album in 17 years, but he returns in imperial gothic style with The Desecration of Desire, right down to cover art that could be for prime Eighties gloom-mongerers such as Bauhaus or Clan of Xymox. The gatefold features lyrics, a photo of Clarke crossing an Amsterdam road, bearded, booted, in shades, and a message from him explaining why he's been away so long and how the album came about. In art-image gatefold on plum-coloured vinyl, there's only one actual jackin' techno cut on board but it's an album with techno spirit down to its sternly propulsive foundations. These are songs! This is Clarke's doomed stentorian version of pop, filtered through punk and new wave ideals in a multiplicity of flavours. Paris-based New Yorker Louisahhh covers Department S's 1980 hit, "Is Vic There", Mark Lanegan makes a couple of growling appearances, and other collaborators include Gazelle Twin, Anika and Mt. Sims. The tone is ruin, lost love and industrial apocalypse, the music heavy with machinery, yet Clarke makes it all seem strangely appealing. If ever an album could cross him over to the crowds of, say, Download Festival, this is it. Dave Clarke's music is heavy as fuck. It stomps the competition. Welcome back.
SINGLES and EPs - Ryder the Eagle The Ride of Love EP (Ryder the Eagle) + The Lovely Eggs I Shouldn't Have Said That (Egg) + Fuzzy Jones Blue Jean (Fuzzy Jones Music) + Charlotte Carpenter Shelter EP (Let It Go) + DJJ Yn Y Ty (FCR) + Cottam I Can't Carry On (FCR)
Ryder the Eagle's EP (pictured left) arrives with a photo-copied handwritten letter wherein he describes himself as "a dirty crooner, restless biker and a dedicated lover" and ends, "I'm Ryder the Eagle and I don't know who I am. But I'll keep singing. I'll keep singing. I'll never stop." Nor should he. On the basis of these tracks this guy deserves superstardom. Somewhere between Serge Gainsbourg, Mika, Harry Nilsson and David Bowie, Ryder the Eagle majors in baroque orchestral easy-listening pop'n'roll. On songs such as "Die On My Bike", "Skinny Mothefucker" and "It's All About the Music", he has a fab way with his lyric/tune match, and these five tracks on 12" have more going for them than many acts' entire careers. I smell charisma.
Married-to-each-other Lancastrian two-piece punkers The Lovely Eggs' two-tracker comes on a black'n'white 7", the white a flared paint-spill encroachment of the usual vinyl black. It's a short punky frolic that does nothing new but sounds like it'd be a blast in a backwoods micro-venue with them falling into the crowd regularly. Leeds' Fuzzy Jones is a self-described "Queen of Junk Shop Folk". Her latest 7", produced by Monty Python associate Neil Innes, sounds like it's popped in from the early Seventies era when newly electric folk artists were exploring both LSD and soul music. On a head-nodding organ-chug of a rhythm and with easy, breathy vocals, "Blue Jean" is catchy as hell, and the b-side "Perfume" is pretty fine too. One to watch. Northampton singer Charlotte Carpenter drops a four track 10" and comes on a like a female Richard Hawley, laying down twangy, rock-flavoured singer-songwriting. "Hey Mr Cowboy", especially, is just gagging to be used as the end theme for a Netflix series set in some dusty American hinterland where everyone's up to no good. Finally, onto two dance 12"s. Welsh Producer DJJ is drawing plaudits for the way he's gone back to the roots of house, added a snifter of techno bang and Daft Punk-ish filter-disco, then rendered the whole thing
crudely lo-fi, with none of the polish this kind of music would usually have. Indeed, his kick drums have more in common with an electro-punk band sticking two fingers up to convention. The lead track, "I Keep Trying To Convince Myself" can keep trying to convince me because it hasn't so far. I'm not persuaded his rough edges work in this context, but elsewhere, when he tones down the all-faders-up approach, he musters decent DJs tools, especially the title track. Also appearing on Fat Cat Records' new FCR imprint is a deep-tech outing from Preston's Cottam. It's head-nod stuff, the A-side original featuring an effect that sounds like warped church bells while Detroit producer Todd Modes retains the stately mood on his flipside remix. Both versions are thoughtful rather than dynamic, but they have a certain modernist jazz cool.
Snapped Ankles Come Play The Trees (Leaf)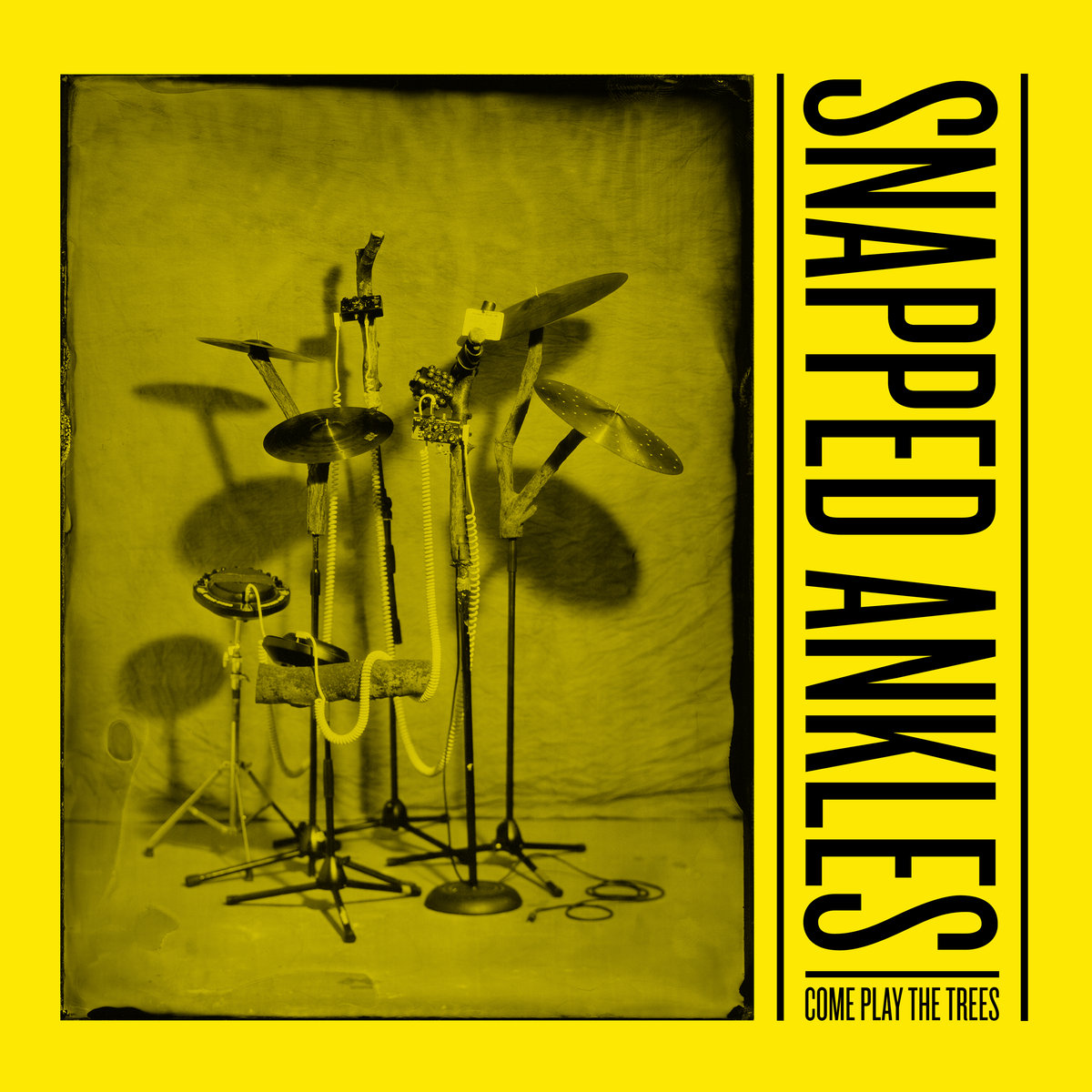 Sometimes a press release makes a band sound so, so, so up theartsdesk on Vinyl's strasse that the music has a job living up to it: "This is what dance music will sound like when computers finally fail us. Log synths, bass guitar and sticks on taut animal skin coalesce to form fearsome primal rhythms." That basically sounds like best music ever. I was frothing at the mouth to get this one out of its yellow art-imaged inner sleeve and onto the turntable. London band Snapped Ankles, however, are good rather than the best thing EVAHHHHHHH (although they sound like they'd be truly amazing live). Their sound is tribal-driven but fed through a murky lo-fo indie filter rather than cleanly produced. It's like a fusion of Goat, New Fast Automatic Daffodils and early Liars – which is really no bad place to be. In fact, once you get used to the idea they're driving on the mucky punk wagon, songs such as "I Want My Minutes Back" really worm into the brain. They also dress like hairy triffid plant-people, which has to be to their advantage.
Radio Moscow New Beginnings (Century Media) + Miraculous Mule Two Ton Testimony (Muletone) + upcdownc I, Awake (upcdownc)
And, lo, in the time that was called the late 1960s electric blues did carnally know psychedelia and begat rock music. Hairy multitudes for time eternal understood that God had now written his law in stone, hewn forever, to be obeyed. So it is that in 2017 theartsdesk on Vinyl is still receiving heavy rock of a type perfected somewhere between Blue Cheer and Led Zeppelin almost 50 years ago. That sounds belittling. It isn't intended as such for these three albums show there's spirited life in the old dog yet. Most derivative is Iowan trio Radio Moscow who channel the spirit of the Allman Brothers on their fifth album to down'n'funky effect, a squawling looseness amping their fret-harassing to somewhere more hippy than metal.
Well-mastered to vinyl New Beginnings comes with a Hendix plays Winterland–style 24" x 24" poster and a 12" x 12" photo/lyric insert. Grizzled London scuzz veterans Miraculous Mule are a punkier proposition. They've more of Jon Spencer Blues Explosion or The Jim Jones Revue about them. In a fair world songs such as the apoplectic "Shave 'Em Dry" and poppy "Sound of the Summer" would put Miraculous Mule up there with The Black Keys. Their fifth album is a blistering treat and comes in picture gatefold. Kentish outfit upcdownc's album also arrives on gatefold but, other than that, occupies a completely different space.
If Radio Moscow reanimate the original blues-rock formula and Miraculous Mule take it to the London pub-punk circuit, upcdownc move it onward into the sonic vanguard, self-confessedly learning their way at the knee of Swans' recent run of apocalyptic post-blues albums. Instrumental, atmospheric, with synth interludes and hints of both doom metal and Mogwai, blues-rock is still deep in upcdownc's DNA. My buy of these three would be Miraculous Mule, but if you like it avant-proggier or more like the original Seventies deal, you'll likely veer towards one of the other two.
Hannah Peel Mary Casio: Journey to Cassiopeia (My Own Pleasure)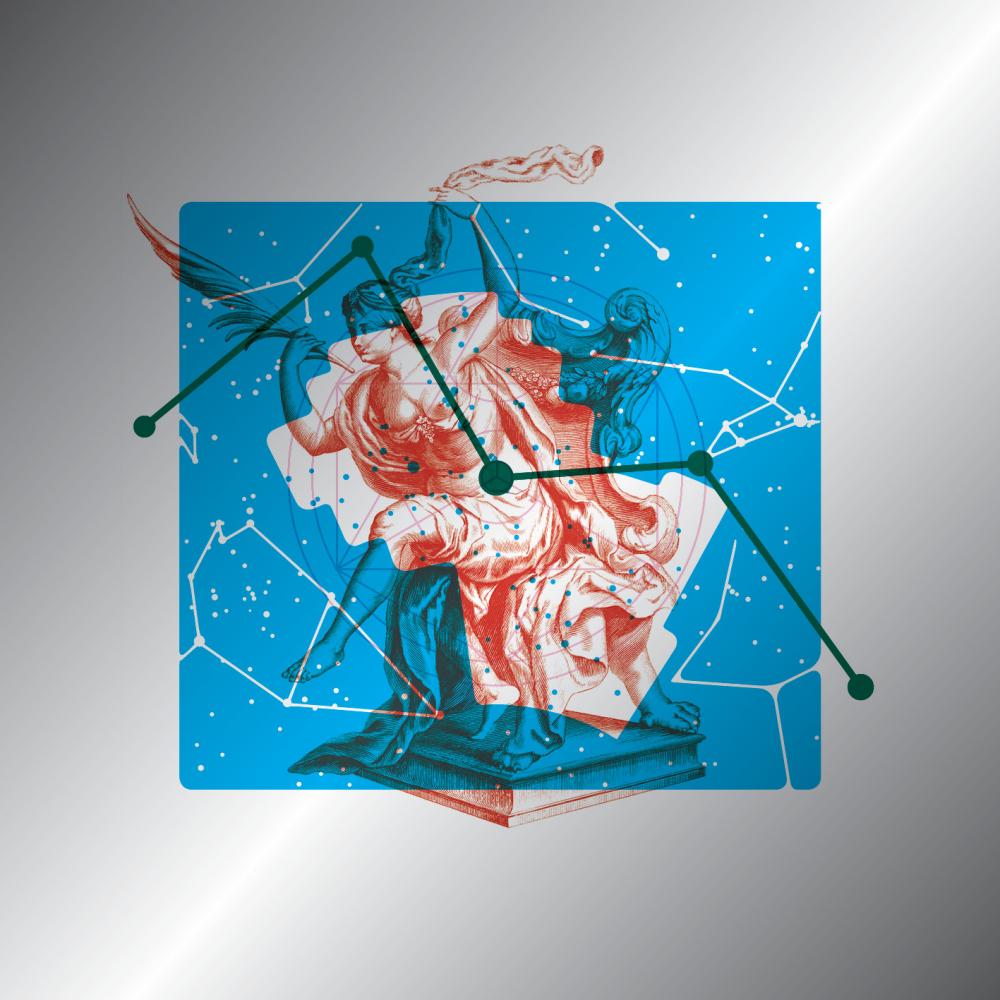 You couldn't make Hannah Peel up. On her concept album Mary Casio: Journey to Cassiopeia, she's made it her mission to fuse analogue synthesizers with a traditional colliery brass band, and take us all off to outer space via inner space. The message is made clear on the mirrored silver cover and gatefold sleeve art by Grammy Award-winning Bowie collaborator Jonathan Bambrook, featuring stylized religious iconography, cellular activity, astronomical imagery and skewed swirls of brass instrumentation, alongside a quotation from the Italian quantum physicist Carlo Rovelli: "We have a hundred billion neurons in our brains, as many as there are stars in a galaxy" (although I added the comma). Peel's is a dignified, stately sound, the brass meshing perfectly with the washes of synth, building towards resolution over as long as it takes, hints of modern classical fighting it out with 1990s ambient stoner bubbling. The theme behind Mary Casio is an old Barnsley lady dreaming of going to the galactic constellation of Cassiopeia. Whether you buy into that or not, this is a trip worth taking.
Various Tru Thoughts 18th Birthday (Tru Thoughts)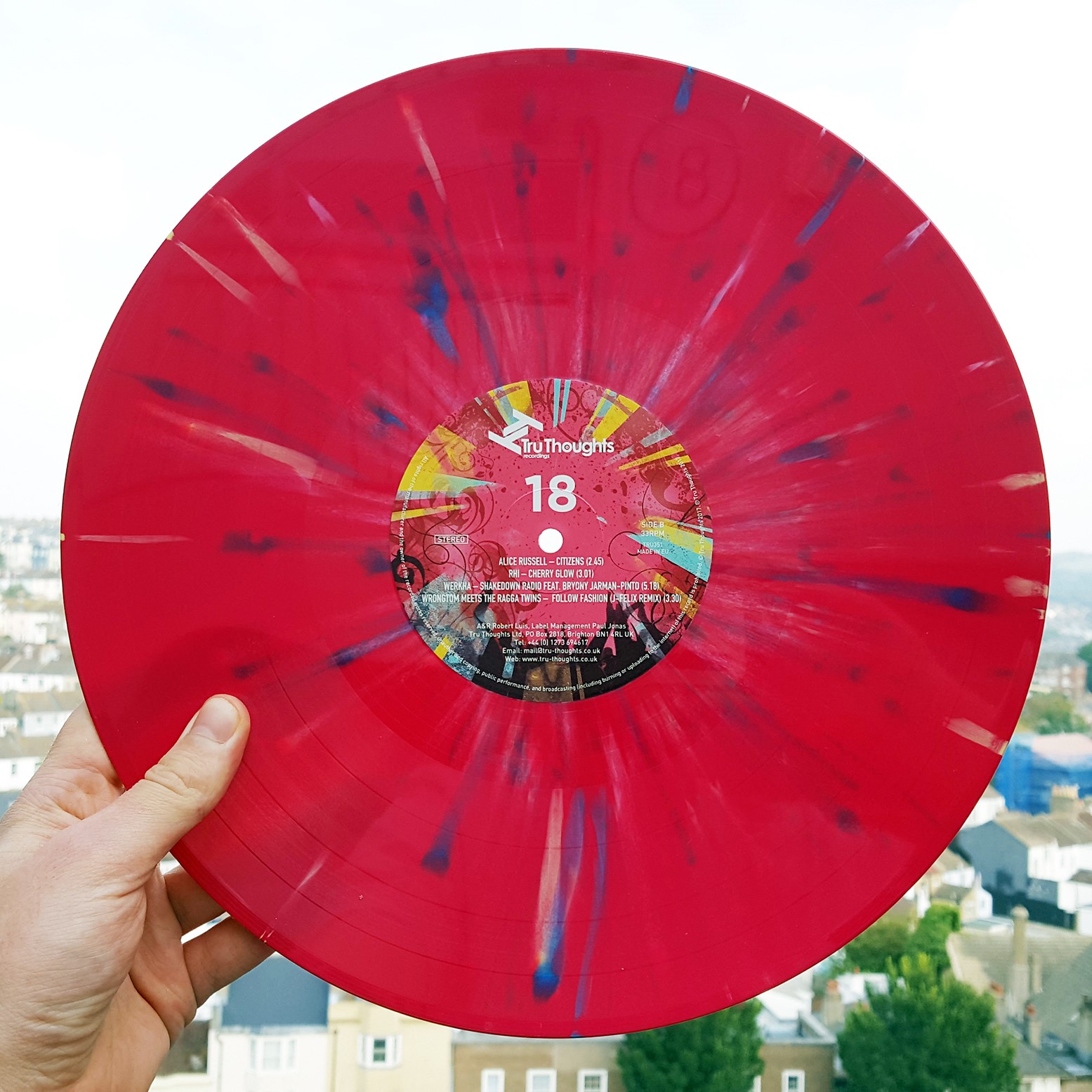 Brighton label Tru Thoughts recently reached its 18th birthday – HAPPY BIRTHDAY! – and celebrated with a big party at the Roundhouse featuring tons of their artists and DJs. VIP ticket-holders received a limited edition 12" EP full of exclusive tracks. On a garish splatter of pink vinyl, some of these seven track lovelies have crept out into the marketplace and are worth seeking out. Opening with a smart dub-grooved Quantic demo from 2000, side A is the punchier, also featuring a tasty cut-up mix of Hot 8 Brass Band by Brighton home studio bod Alphabets Heaven and a Diemantle remix of UK hip hop dons Sleepin' Giantz. On the flip, things get mellow with vocalists Alice Russell, Rhi and Bryony (the latter fronting an easy drum & bass-flavoured tune from Werkha), before concluding with a jolly remix of Wrongtom vs Ragga Twins by ace party DJ J-Felix. Like the label itself, the EP is an appealing fusion of jazzual soulfulness, hip hop vibes and snappy technological suss.
Alison Moyet Alf + Raindancing + Hoodoo + Essex (BMG)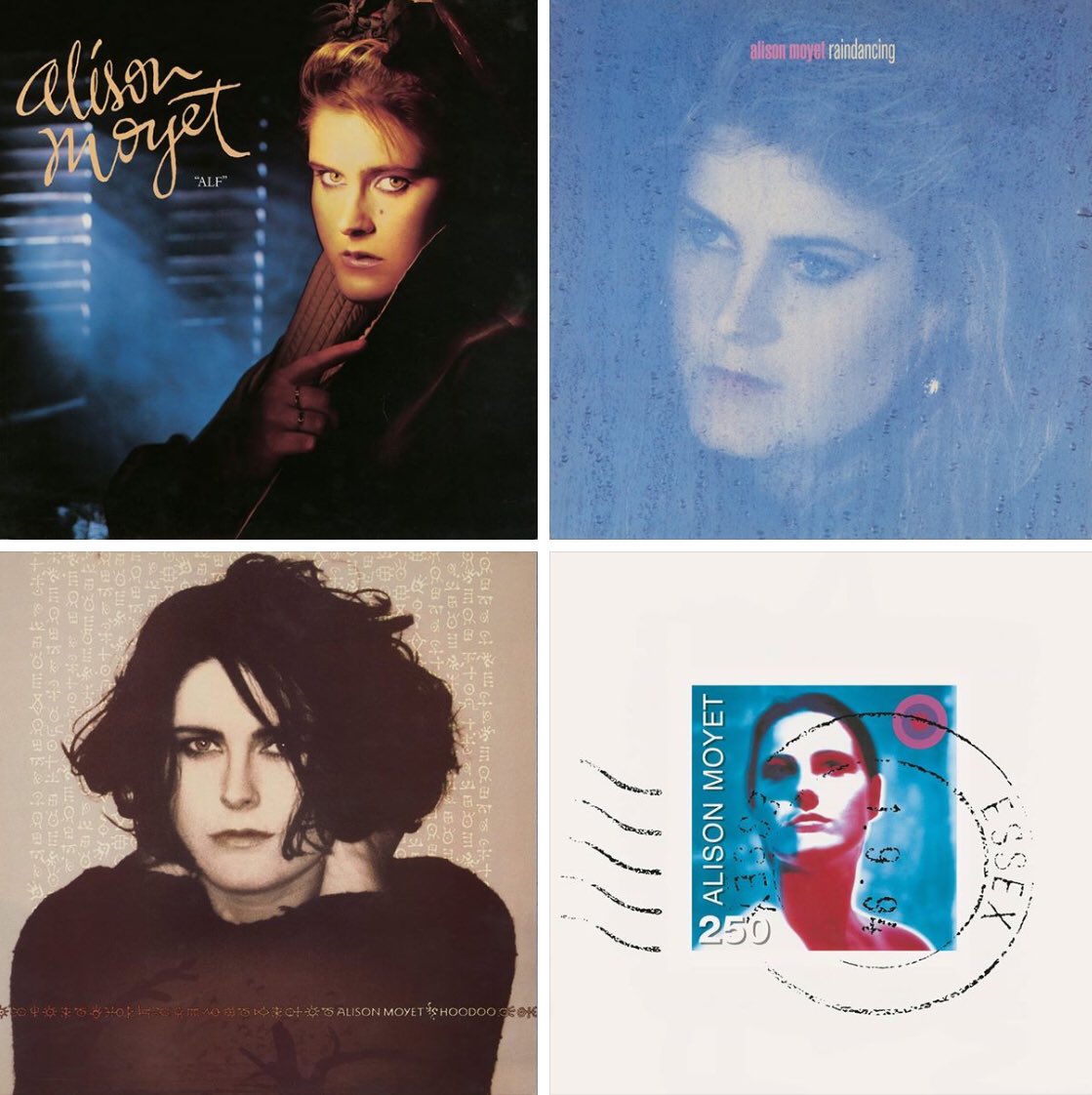 Alison Moyet's recent Other album woke theartsdesk on Vinyl up to her capabilities, over 30 years after the rest of the world discovered her. 1984's Alf, her first solo outing, reminds why I steered clear of her for so long. With its crappy digitized Eighties production and over-played MOR radio pop, it sold millions, boosted by massive hits such as "Love Resurrection" and "All Cried Out", but it just sounds polished and bland, a reminder what a sonic desert the mid-1980s were. The follow-up, Raindancing, is even glossier but Jimmy Iovine's production gives it a widescreen quality that renders it an improvement on its predecessor. Hoodoo was Moyet's first real step away from intrusive label A&Ring but is still overly smooth. It musters soul in places, when bombastic production doesn't tread all over things. In truth, while one can retrospectively see Moyet taking baby-steps towards artistic control, Raindancing still has better songs. By the time she reached Essex in 1994, she was riding a balance of record company requirements and her own muse, resulting in an album, led by guitar strummed orchestrated pop that's likeable in a Kirsty MacColl kind of way. The best of it has a longing lightness to it, as on songs such as "Whispering Your Name", "Dorothy" and "Ode to a Boy". It is theartsdesk on Vinyl's pick of the four, which all come with lyric inner sleeves.
Diron Animal Alone (Soundway)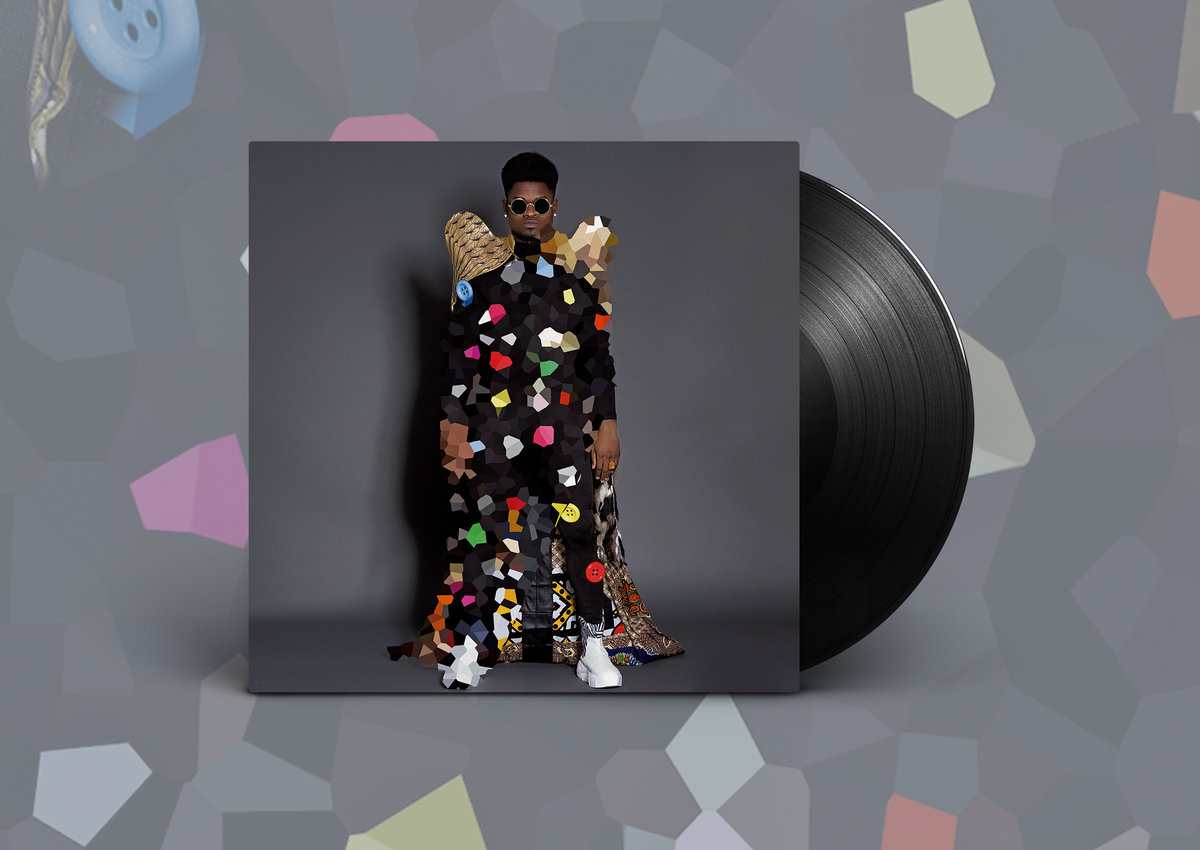 After their stunningly innovative recent album from Msafiri Zawose, Soundway Records return to the apparently deep well of African music that's having a love affair with electronic beats. Portugal-based Diron Animal grew up in the Angolan ghetto of Cazenga and his musical sensibility is marinated in kuduro, hip hop and capoeira, which he's fine-tuned into something poppier and more tuneful than Zawose, with sax solos and US funk basslines alongside Afro-beat grooves. Sometimes he veers close to the crossover world music pop one hears a lot of French radio (in a way that's quite appealing rather than cheesy) but at other times, as on tunes such as "Oxala Kuanboté", he's off and away with revolving hypnotic dancefloor rhythms that are nigh-on-impossible to argue with. Not sure about the cover art – seems a bit tacky – but who cares about that, it's the music inside that counts.
Alice Cooper Pretties For You + Love It To Death + Special Forces + Faces Ooh La La + The Grateful Dead The Best of the Grateful Dead Vol.2: 1977-1989 + Jane's Addiction Nothing's Shocking + Skid Row B-Side Ourselves + Testament The Legacy + The Velvet Underground Loaded + ZZ Top ZZ Top's First Album (Rhino)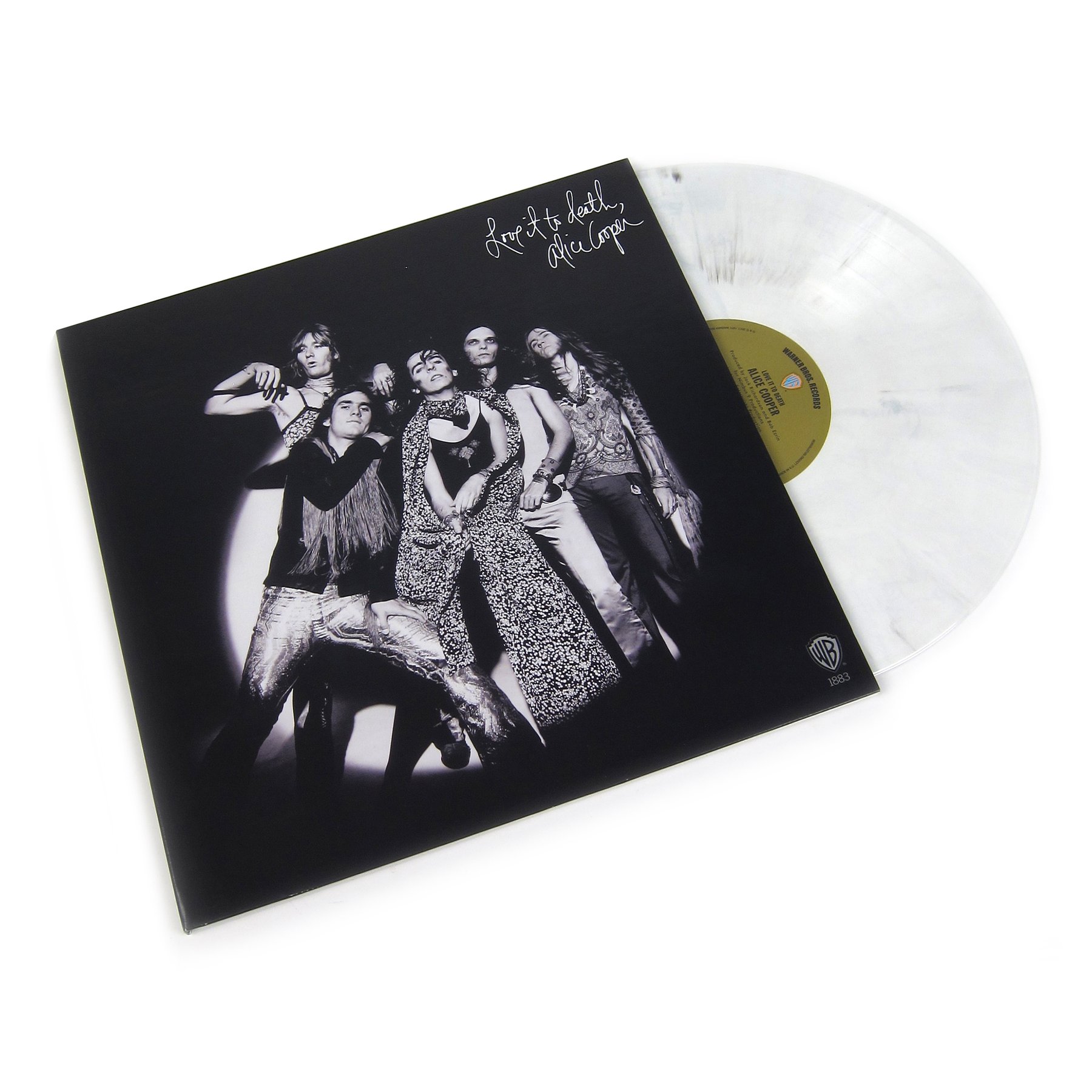 Fuck Sober October and Movember. Seriously. They're both completely naff. Just give some money to charity or, at the very least, do something cool for it. Sober October? Jaysus, it's only a couple of months until January when people insist on making the year's dullest month even duller by abstaining. If non-alcoholics must go on and on about not drinking, couldn't we just get it all over with in one go in January? And Movember? So crap I had to do away with a ten year old Tombstone-style upper lip epic, just so no-one would think I was anything to do with it. Facial hair has been ruined by hipsters and fucking Movember. However, ROCKTOBER, which is simply a marketing device for Rhino to shift some old albums, many on coloured vinyl; ROCKTOBER I like the sound of. Can't the charity-keen spend the whole of October rockin' out to Californian thrash metal outfit Testament's 1987 debut? Put that on every day and headbang to its punk-edged propulsion. I'd give some money to charity for that. ROCKTOBER is certainly not all gold. Sub-Bon Jovi rock outfit Skid Row's EP of B-side cover versions (Ramones/KISS/Judas Priest/Rush/Hendrix) is vaguely amusing but no more. As for Nickelback's back catalogue, we haven't even listed it above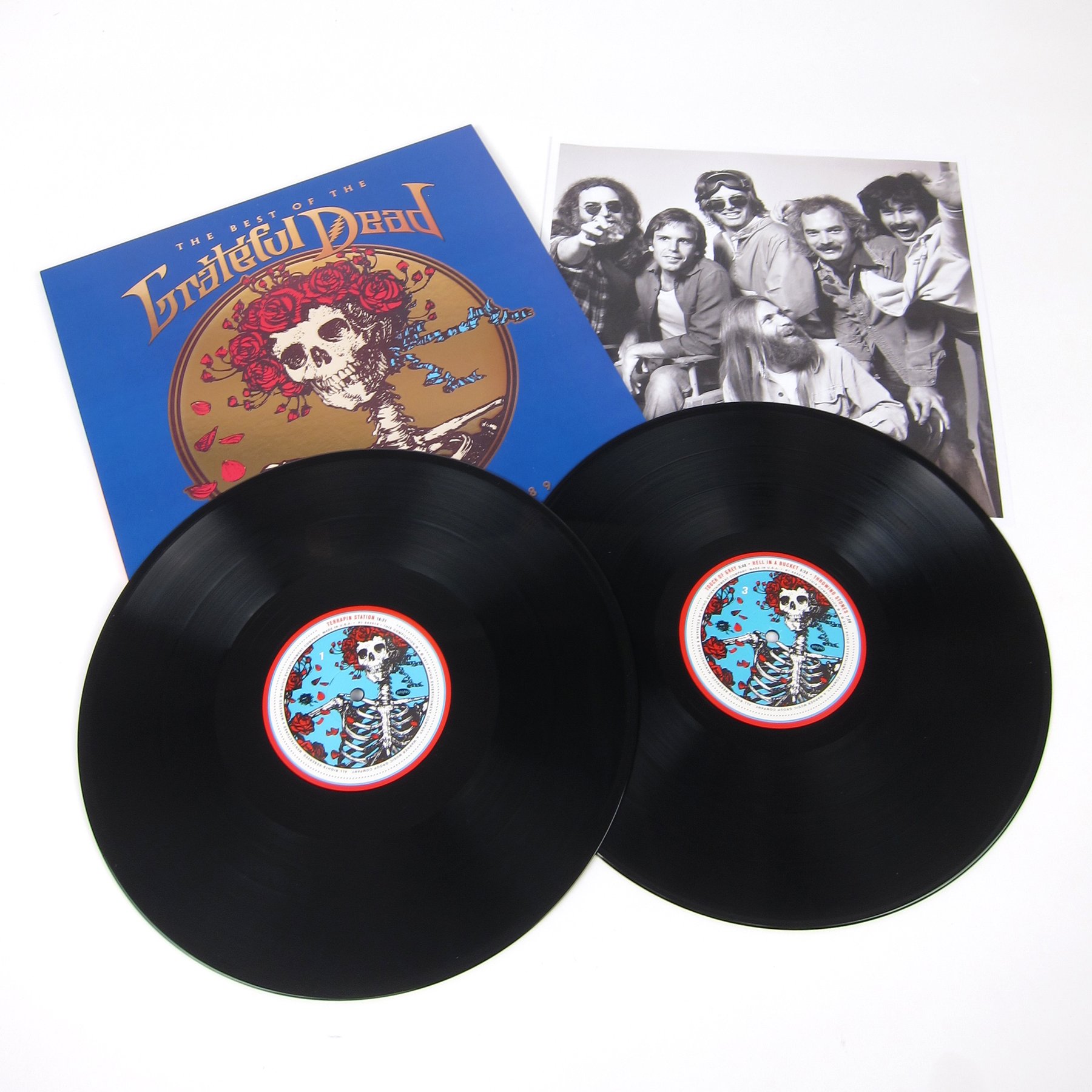 as you don't need to know about it. But, but, but The Velvet Underground's Loaded opens with "Who Loves the Sun", "Sweet Jane" and "Rock & Roll". Beat that, every indie rock band ever. All homes should own a copy of Loaded. And Jane's Addiction's debut album Nothing's Shocking, first released in 1988, opened the world of metal up, embraced eclecticism, demonstrated that the clichés which ruled the genre throughout the Eighties were there to be ignored. Alice Cooper knew a thing or two about metal by the end of the Eighties, when he made his comeback, but back when Special Forces came out in 1981, he was still experimenting with styles and, while it wasn't a commercial success, its post-punky mash-up is tuneful and appealing. Rewind a decade and "Alice Cooper" meant a band rather than a man, and they were just finding their sound, a sludgy post-Stooges guitar pop best exemplified by the single "Eighteen". Only two years before the same band had been trying their hand at Anglophile psychedelia on Pretties For You. The funny thing is that in 2017 the two flop albums sound more interesting than the successful one. ZZ Top's debut album is the best kind of southern US bar room boogie, sassy unreconstructed rock'n'roll blues with priapic intent overflowing on the likes of "Back Door Love Affair" and "Just Got Back From Baby's" while on "Bedroom Thang", incongruously, given this was made in sleazy old 1971, they tell an underage wannabe groupie to leave them alone. By 1977 The Grateful Dead were an acid cultural juggernaut annually trawling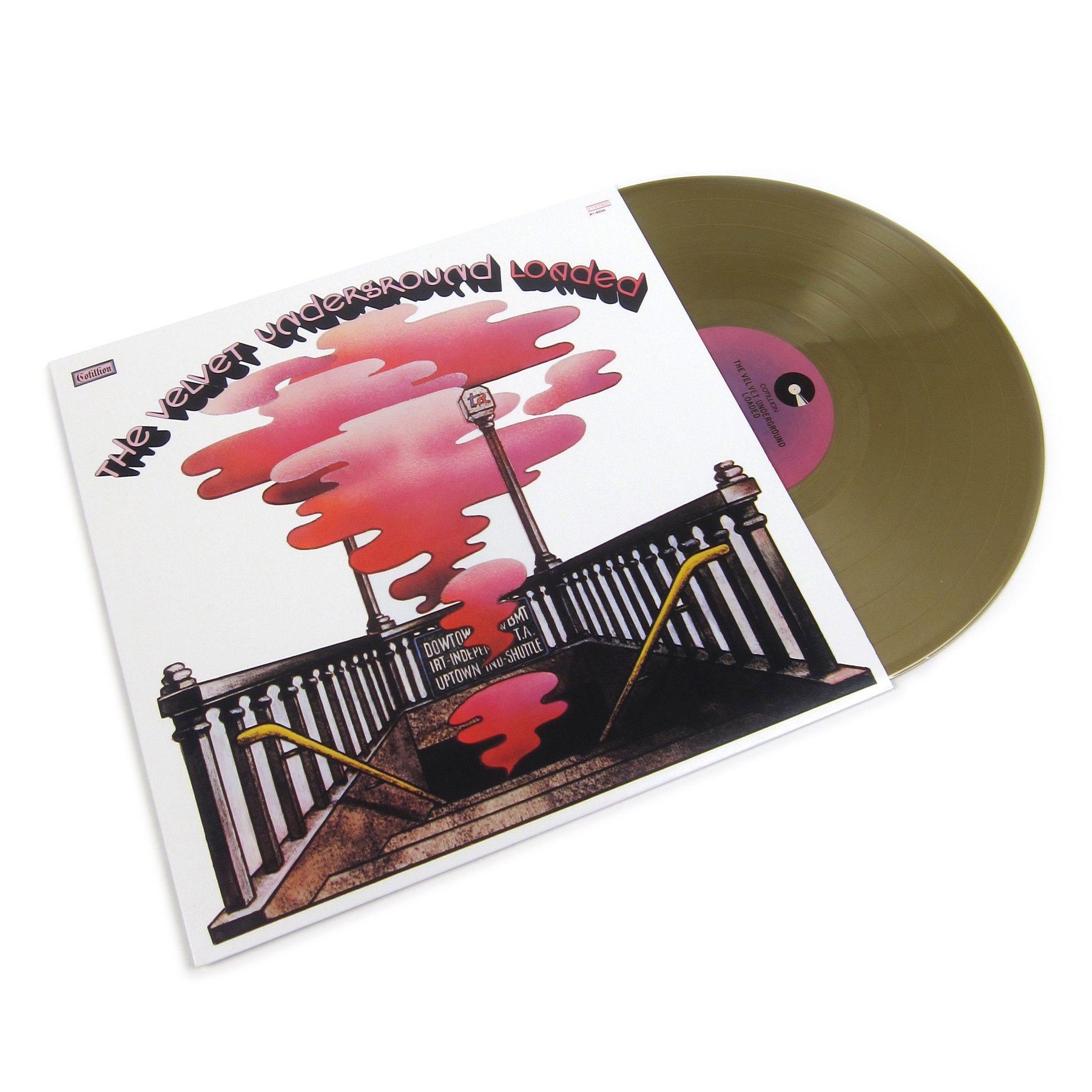 the stadiums of the United States, trailed by a gleeful narcotized carnival of Sixties refuges, young and old. Check out Jesse Jarnow's enjoyable book, Heads: A Biography of Psychedelic America for their full impact. However, the Dead's music, by the time of the period covered on this Vol.2 Best Of gives no real indication of their lysergic appeal and vast reach. Songs such as "Shakedown Street" and "Touch of Grey", listened to out of context, in their polished studio versions, are simply loose-limbed, idyllic, white-funkin', easy-listening guitar pop. Finally, Faces' Ooh La La was recorded when Rod Stewart's solo career was taking over from his career with them. Some regard its swiftly recorded, messy bar blues as a precursor of pub rock but my ears prefer their earlier, more joyously loose material. It is, however, impeccably packaged, replicating the original's fold-out sleeve and containing a poster. It's November now, clearly, but ROCKTOBER lasted all Octoberso we wanted to include the whole catalogue. If you just pick one, go for Loaded.
Benjamin Clementine I Tell A Fly (Behind)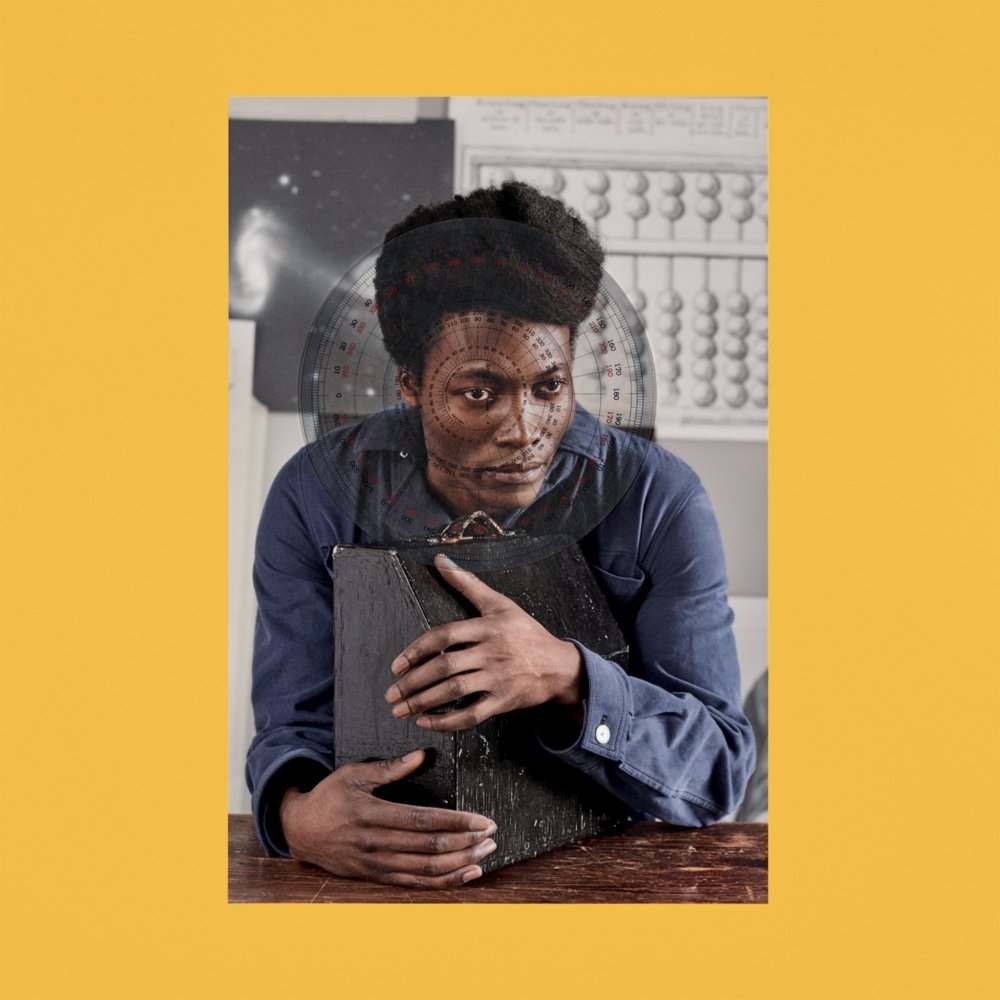 I thought I'd fallen out of love with Benjamin Clementine. When theartsdesk on Vinyl first heard the OTT piano-led freakery of his Mercury Music Prize-winning 2015 debut album At Least For Now it blew the house down. But then seeing him perform, his whispery theatrics seemed somehow affected, the weirdness I'd enjoyed transformed to a pretentiousness I didn't. With his new album, it's time for another about-turn. This time out Clementine is boosted by more instrumentation, bigger production, and the vibe is prog histrionics that give no quarter. He comes on like Nina Simone on a whimsical LSD trip, exorcising intellectual conceits in a Brechtian cabaret theatre on Paris's Left Bank. Which is to say, all manner of stompy music hall rhythms pop up, whoops and gurgles and strange voices and oddball themes ("Billy the Bully, it's alright, been forgiven, come on out Zacchaeus; come down from your sick amour tree"), interspersed with contemplative piano interludes. Yes, it is ridiculously pretentious, but better Benjamin Clementine pretending he's Marlene Dietrich and warbling weirdness than some gym ferret endlessly going on about sex. Comes in gatefold double with 12" x 12" lyric insert.
TOP FIVE MODERN CLASSICAL ALBUMS TO HIT theartsdesk on Vinyl THIS MONTH
5. Matt Emery Empire (Injazero)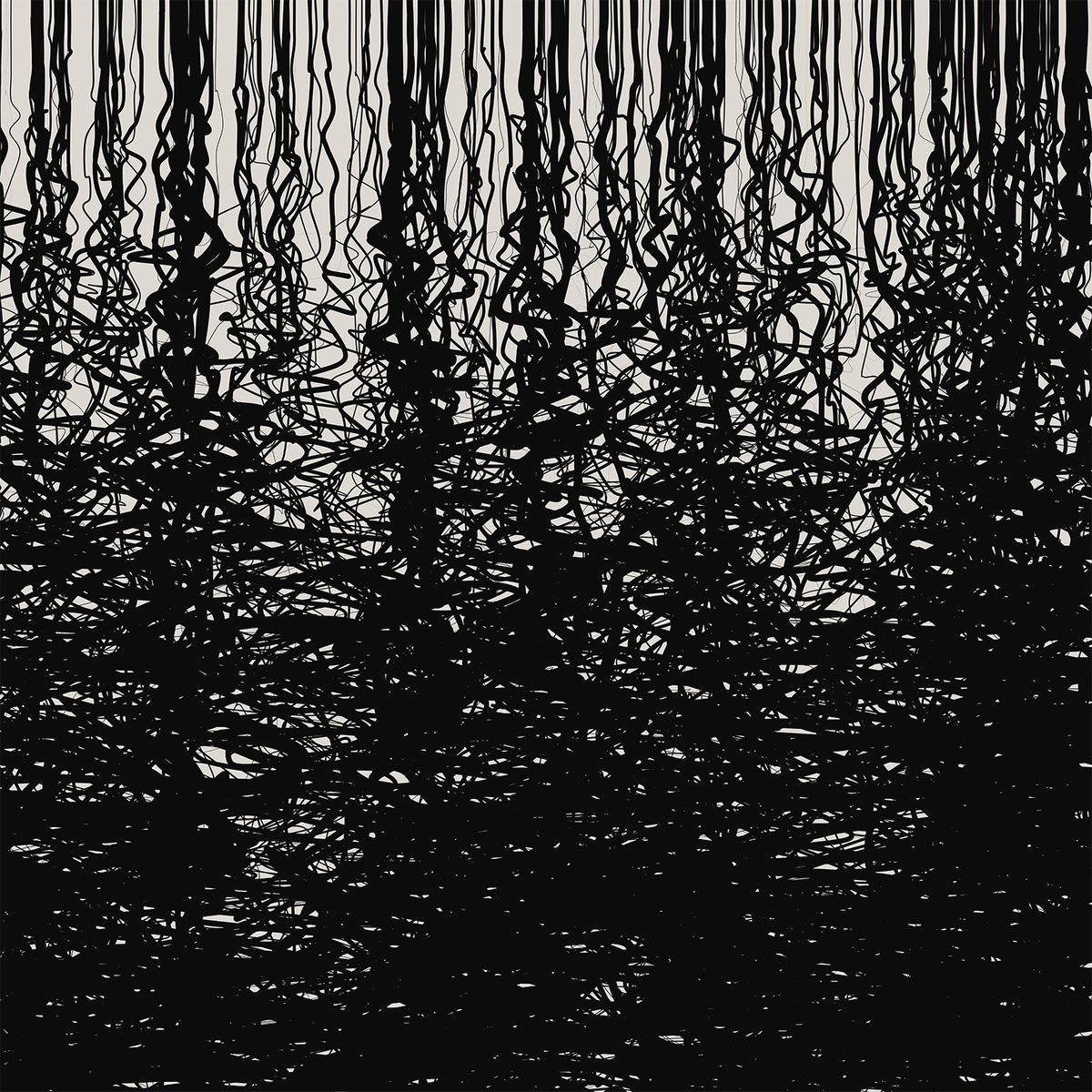 Debut album from a British talent who's accumulated millions of YouTube fans via the use of his music on a series of GoPro commercials. He plays piano but it's his string arrangements that boost the music on his debut album, the cello, violin and viola taking his romantic and carefully crafted pop-serialism somewhere emotive and easy on the ear. Emery's work is suited to soundtracking but, on its own, is warm and easily digestible rather than sending the mind off on strange, wonderful journeys.
4. Gareth Sager 88 Tuned Dreams (Freaks R Us)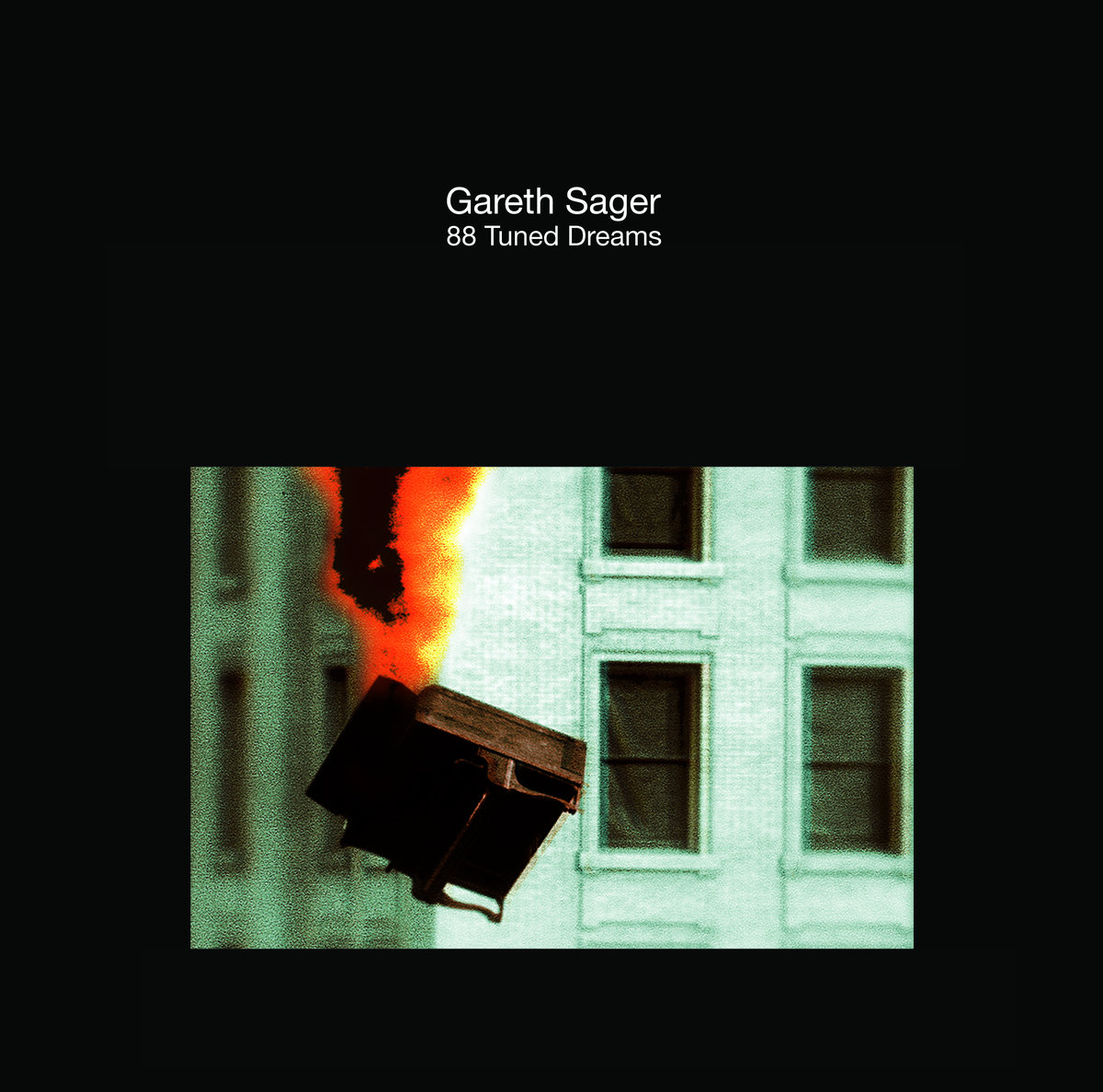 Gareth Sager is best-known as a key member of The Pop Group, a band whose avant-punk caterwauling has proved increasingly influential as the years pass. His debut as a solo pianist is many miles from that music, although these fourteen pieces of music are more BBC Radio 3 than Classic FM. There's a hint of Satie but Sager is bluer, his music plain but forthright, clipped rather than gushing, an old punk's inner melancholy let loose on an Abbey Road Studio One grand.
3. Angèle David-Guillou En Mouvement (Village Green)
Partly inspired by the power of repetition in Philip Glass's work and ideas of hypnotic mysticism propounded by Gurdjieff, London-based French composer Angèle David-Guillou has created a very complete-sounding work which, as its title suggests, keeps moving forward, revolving piano patterns at the low end reflected by the questing higher notes, ever-looking to resolve. It's her second album and she's well on the way to finding a distinctive voice in an increasingly crowded field.
2. Tim Mislock Now Is The Last Best Time (Eraclea)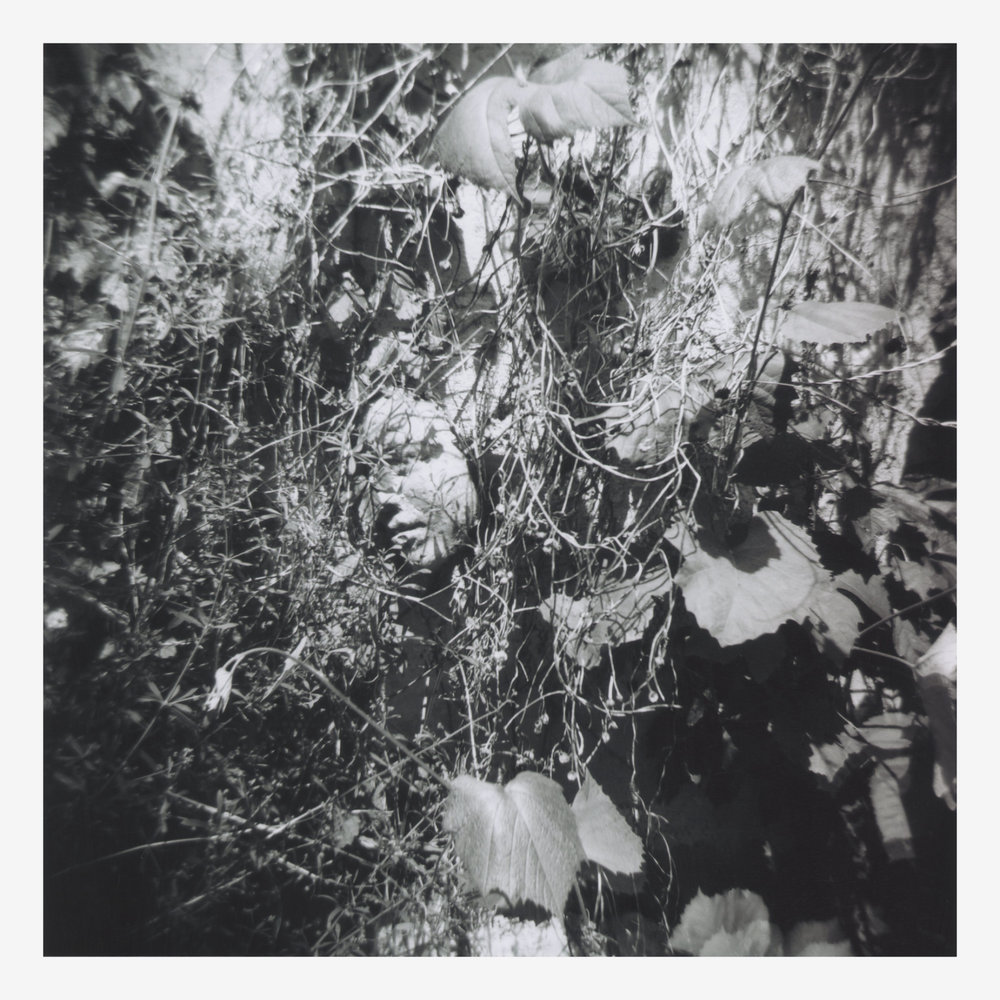 The press release on this one is pretty damn good. It's annoying when they do my job for me but theartsdesk on Vinyl can't do much better than "envelopes the listener in deep fog". This ambient guitar meditation on Alzheimer's does exactly that, placing the senses in a swirl of echoing, treated guitar and electronics. Written in honour of his father, who has been beset with the illness, and his mother who's become his carer, the US musician creates glimpses of beauty from disorientation. It's an album that would fit as easily into the electronic downtempo category as modern classical but all that does is illustrate how close the two have become lately.
1. Dmitry Evgrafov Comprehension of Light (130701)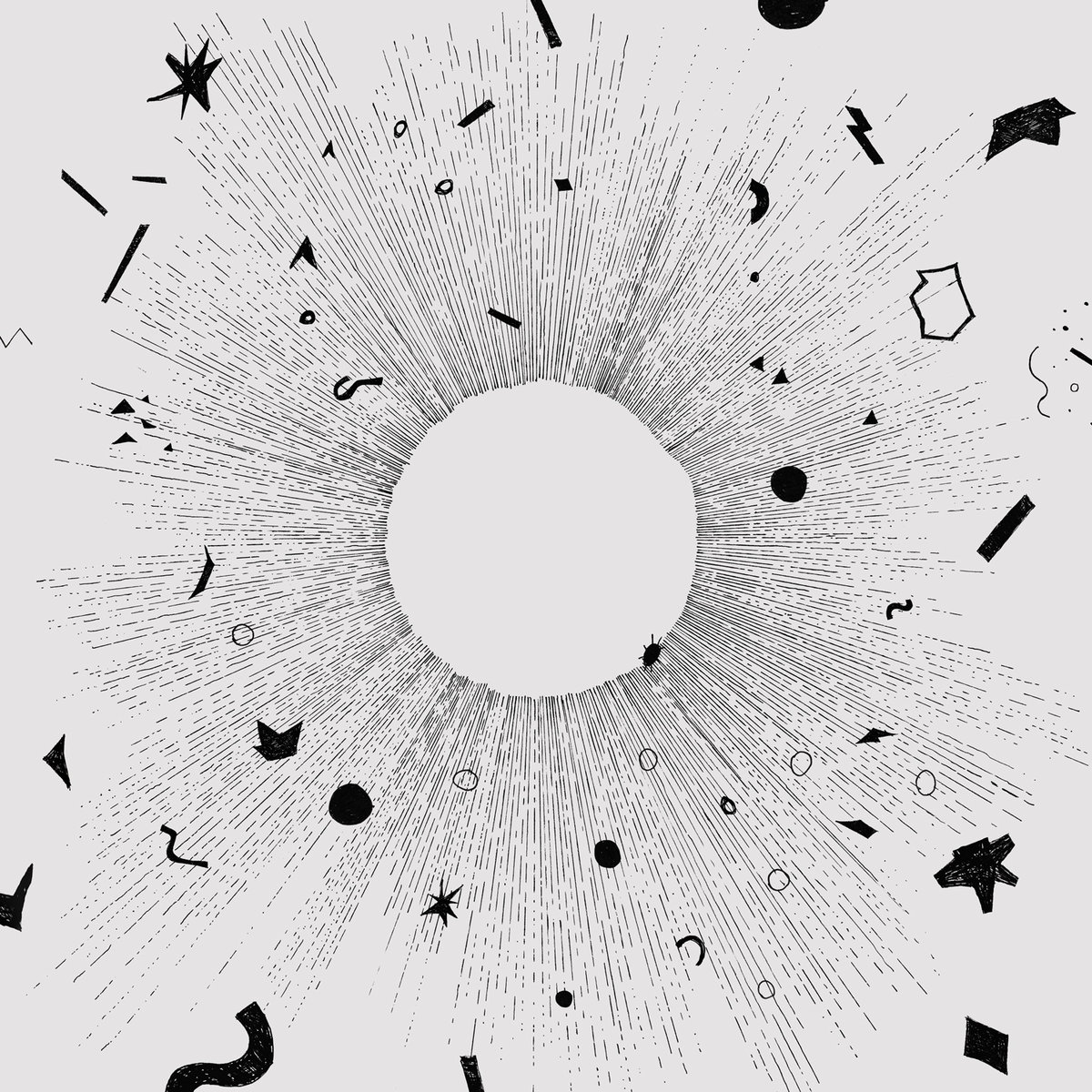 Fat Cat's reliable avant-classical sister label gives us a new album from Moscow sonic explorer and pianist Dmitry Evgrafov. Comprehension of Light starts out in familiar piano territory but with assistance from Radiohead/Olafur Arnalds/Johann Johannsson associates ISKRA Strings, Serbian septuagenarian Farfisa organ cosmonaut Abul Mogard and Black Acre Record's soundscaper Memotone, Evgrafov leads us off searching for the ethereal and there are moments on side one where he almost takes us right there.
ALSO WORTHY OF MENTION
Cristobel and the Sea Exitoca (City Slang): This lot should be gigantic. This is global pop, fuelled with joy and flavours from around the globe. Just listen to the bouncy, utterly catchy "Steal My Phone". It should be a monster hit but it probably won't be as it isn't flagged up on youth culty post-modern memes that are unamusing and meaningless. Cristobel and the Sea are a Spanish-British-Portuguese-Corsican four-piece whose music is pressed loud and lush and runs the gamut from the balladic bossa-nova of "Salsa Dude" to the rocking "Brimful of Asha"-esque "This Seed". Think a more ballsy Pink Martini. Comes on cadet blue vinyl with a photo inner sleeve that shows the band, but also a trousered male abdomen with the clothing cut away to reveal the underweared groin area and kinky stockings. Niiiiiice!
Pere Ubu 20 Years in a Montana Missile Silo (Cherry Red): David Thomas' perennial Cleveland pre-post-avant-punk outfit still have the power to thrill. They remain brilliantly unpredictable but 20 Years in a Montana Missile Silo is a good one. Thomas tells us that it was originally to be entitled Bruce Springsteen is an Asshole. He tells us it is the sound of "The James Gang teaming up with Tangerine Dream". It certainly rocks in a way that belies Thomas's 64 years. He's assisted by SWANS steel guitarist Kristof Hahn and synth whiz Gagarin as well as other regular Pere Ubu cohorts. Quite a few songs are short, around the two minute mark, while others, such as "The Healer", show a chatty, poetic, mellow side, even becoming touchingly heartfelt on "Cold Sweat". Noisiness-lovers need not fear, though, for there's still plenty of caustic attack on cuts such as "Funk 49". Comes with 11.5" x 11.5 band photo/art insert.
Kaleida Tear The Roots (LEX): An all-female electro-pop duo is not common. Certainly no classic synth pairing spring to mind. There's late-Eighties outfit Shakespears Sister, or maybe recent Aussie EDM sister act Nervo, but neither really fit the bill. London's Christina Wood and Cicely Goulder, however, do. They're a very 21st century proposition, in that there's none of that glacial let's-pretend-to-be-the-early-Human-League business. Kaleida make electropop for the post-Bat For Lashes era, with more than a smidgeon of La Roux's soprano stylings thrown in. Their album is sparse and melancholic in tone, as a much a classy late night piano/vocals/effects concoction as true electro-pop. Contains an ambient-pop version of "99 Red Balloons" and comes on grey vinyl in photo/info inner sleeve.
XOA Diaspora (Soundway): Nick Tyson is a busy London-based producer who's interested in bridging the worlds of clubland electronica and Afrobeat flavours. The Diaspora EP contains four tracks that revel in sunshine horns ("Mon Ecole") and flute patterns ("Mass"), but are grounded in old school funk keys and programmed electronic drums and percussion. The title track is more conspicuously housey, very much on the deep, soulful side of things, but nowhere does Tyson forget to leave plenty of space, and the closing cut, "Echoes" heads off into psychedelic electro-soul.
The Wedding Present George Best 30 (Scopitones)
It's not really fair, theartsdesk on Vinyl reviewing this album, as George Best represents a peak in a musical style that, when it was released thirty years ago, was about to be usurped by wave after wave of ecstatic electronic excitement that found more favour round these parts. Even at the time, George Best's jangling indie sounded wilfully Luddite when compared to, say, Butthole Surfers or Colourbox or any number of others. Leeds' The Wedding Present, led to this day by the affably spiky David Gedge, are admirable in their persistence of vision, and their fans truly stick by them. They had many more Top 40 hits than you probably imagine, their last one as recently as 2005. To these ears, George Best, their debut album, sounds like something the TV Personalities did better first, but with that in mind, its lo-fi tunefulness has an obdurateness that some will continue to love passionately.
The Great Discord The Rabbit Hole (Code 7/The Sign): Swedish band The Great Discord have been described as "death pop". What does that mean? I'd like to hear some death pop. The reason for such terminology is that their music doesn't easily fit ready categorization. They seem to be the vehicle for vocalist Sofia Kempe's peculiar gothic jazz-touched prog-metal take on life, yet there's also room for electronics and operatics. There's some sort of story arc going on here and Kempe exemplifies this in video and concert, white face-painted with all-black whole eye-covering contact lenses. It has a theatrical OTT power that's weirdly persuasive. Comes with lyric inner sleeve and my copy is signed by the band in silver pen; perhaps yours will be too?
B Boys Dada (Captured Tracks): B Boys are a young punkin' outfit from Brooklyn. Once upon a time, not that long ago, when the NME meant something, when they guarded the flame for any new guitar music that might offer a new source of zest and energy, they'd have been all over B Boys' unpretentious, punchy sound. It has a rough sort of funk at its heart, like Bloc Party pretending to be The Clash circa 1977, but it mostly sounds like they'd be more fun in the moshpit than on the turntable. The kernel of something.
The Necessaries Event Horizon (Be With): It's a strange thing that The Necessaries are not a better known proposition. They're a post-punk New York super-group containing members of the Modern Lovers and Red Krayola alongside increasingly revered cellist-composer Arthur Russell. For those who want to know more, the inner sleeve contains two sides of a vast, tightly printed history of the band. They existed for a couple of years at the dawn of the Eighties, culminating in this album's release in 1982, and Event Horizon is filled with a scratchy kind of power pop redolent of The Feelies, very early REM and Factory Records. It's an enjoyable curio.
Fink Resurgam (R'Coup'D): Once a man – Fin Greenall – and now a band, Fink plough their own unique furrow through popular music's undergrowth. Resgurgam is Fink's sixth album and, once again, they twist off in a new direction. This time the songs are built around loose-limbed percussive jams, usually sparse, always soul-powered, but riven with a sense on paranoia, especially on songs such as "This Isn't A Mistake" and "Covering Your Tracks" which echo with isolation and unease. This is very much music for the Trump/May era, the mood of Marvin Gaye's early Seventies albums by way of Radiohead and modern electronica. Comes in a gatefold which contains a 20 page lyric/info booklet attached, the whole thing sturdily rendered and well-pressed.
Simian Mobile Disco Attack Decay Sustain Release (Wichita): Tenth anniversary reissue for electronic dance music classic, which includes three extended mixes that have never been on vinyl before ("Sleep Deprivation", "Hustler" and "Wooden"). Coming on gatefold with SMD-logoed inner sleeves Attack Decay Sustain Release's reappearance recalls the sense of potential when the duo first appeared. In fact, they've mostly fulfilled this, just not on the same high profile stage as, say, The Chemical Brothers, with whom they bear obvious comparison. Later albums such as Whorl veered towards the esoteric rather than club-dance crossover. Mind you, that might be because dance music has increasingly turned to EDM/pop-grime shite or mid-paced house-disguised-as-techno for its kicks in recent years. Whatever the weather, pressed good'n'loud to vinyl, this album's combination of tweaky attitude, electro, catchy tunes, techno and the occasional vocal still holds the attention fast.
Jarrod Dickenson Ready the Horses (Decca): In photo gatefold and photo/lyric inner sleeve, Texan cowboy singer Jarrod Dickenson's second album and first for a major label elegantly assays old-fashioned country songwriting, but smears it liberally with southern soul. "Way Past Midnight", for instance, has the feel of a Memphis Hammond soul jam. It's an underexplored niche, at least to most British ears, and boasts both wit and solid songwriting chops.
Talk Talk The Party's Over + It's My Life (Parlophone): Talk Talk are oft-cited as hugely influential and it's true that they were one of the first units to render synthesizer technology, warm and human, rather than focusing on the Krafwerkian sci-fi/robot/punk possibilities. Bands from Tears For Fears to Coldplay have walked in their steps. Their first two albums (1982 and 1984, respectively) now reappear, replete with lyric inner sleeves, the pressings adequate rather than spectacular. Their airy, digi-pan pipey sound, with hints of jazz-funk deep down in the production, is an acquired taste which, it turns out, this writer no longer has, but only an idiot would claim they weren't ahead of the game.
Orchestre Les Mangalepa Last Band Standing (Strut): Back in the 1970s, if you went clubbing in East Africa Orchestre Les Mangalepa may well have been the live turn, strutting their very funky upbeat stuff. They even had a huge hit in Kenya - "Maindusa". Eventually going their separate ways, with some members passing away since those glory years, they've now reconvened as a multi-generational unit, and, during the last couple of years, made their first forays into Europe. Arriving on double with a 12" x 12" photo/info insert, their international debut is an effortlessly upbeat, horn-powered affair, marinated in Congolese rumba and sunshine jit guitar patterns. And they still have a club residency in Nairobi.
Phoebe Bridgers Stranger in the Alps (Dead Oceans): Weirdly, LA singer-songwriter Phoebe Bridgers has something of late-period Talk Talk about her production, that woozy, organic electronic thing. On rouge/pink vinyl with 11.5" x 11.5" lyric/photo insert, her debut album also recalls the work of Angelo Badalamenti in places but, out front, she demonstrates a sharp awareness of how to use a lyric, and draw the listener into her world. Sonically opaque but verbally precise, songs such as "Demi Moore" and the more guitar-led "Motion Sickness" are mellow but intriguing.
Pearl Jam Let's Play Two: Live at Wrigley Field (Universal): I met a bloke the other day who said that he hated Nirvana and loved Pearl Jam. He was one of those music-lovers who rates technical aptitude and traditional musical skills over verve, flare and punk explosiveness. He was also into metal. I have often been bemused by Pearl Jam's appeal but he summed it up. They're basically a classic US FM radio rock band who were lumped in with grunge. Sure, there's a smidgeon of Neil Young about their sound but mostly this is "Smokin' in the Boys Room"-style rawk, lyrically filtered through a more sensitive modern frontman. Let's Play Two is the soundtrack to the band's recent concert film and works its way up from acoustic sing-alongs to big blow-outs such as "Alive" and the like. I don't get it at all. In gatefold double
Misty Coast Misty Coast (Club AC30): Misty Coast is a break-away project by half of Norwegian noise outfit Megaphonic Thrift, but Linn Frøkedal and Richard Myklebus are more interested in digging sweet pop tunes from out of the cacophony, a la Galaxie 500. Owing a debt to Darklands-era Jesus & Mary Chain, Glasvegas and The Pastels, with woozy female vocals leading proceedings, the duo's self-titled debut is a sugared swimming pool of opium tincture crystalline. The sea-blue psychedelia image on the covers sprawls off the label onto vinyl which, in turn, imitates its speckled shading.
Bone Zeno Black Milk (Impression): Stepping out from a universe where Lux Interior is Justin Bieber and The Birthday Party have retained the top spot on the album charts since 1980, Bone Zeno's deranged, squawking post-punk garage party is welcome, looking for hoodoo voodoo amongst the floor-dirt of black-clad cellar bar nightclubs. The Portugal-based German fires out a convincing racket that, on songs such as the twang-funky "Äshn Skin" and swamp-rock'n'rollin' "Caroline", fuses sufficiently to create songs of more than cobweb-clearing quality.
We welcome any and all vinyl for review. Please hit thomash.green@theartsdesk.com for a postal address.
Fuck Sober October and Movember. Seriously. They're both completely naff
Share this article