theartsdesk in Cabo Verde: Sodade, Slaves and Syncopation |

reviews, news & interviews
theartsdesk in Cabo Verde: Sodade, Slaves and Syncopation
theartsdesk in Cabo Verde: Sodade, Slaves and Syncopation
Atlantic archipelago proves to be a musical powerhouse at the Kriol Jazz Festival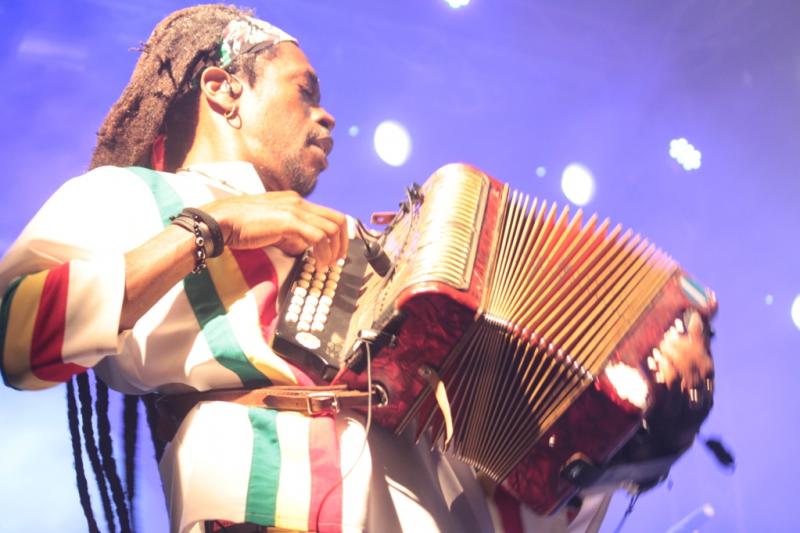 Ferro Gaita at AME: Accordions go crazy
My preconceived and somewhat misguided idea of the Cabo Verde islands (the official name for Cape Verde these days) was that they were basically a hotter version of the Canaries, with a spare and volcanic landscape that, being a Creole culture in the middle of nowhere, produced a few remarkably wistful singers, most famously the great Cesaria Evora. The islands seem to be a hothouse of tremendous female singers - other purveyors of nostalgic music being the likes of Sara Tavares, Lura and the more cosmopolitan Paris-based Mayra Andrade.
On my first proper night in Praia, the capital of the island of Santiago, I saw a much more upbeat local group, Ferro Gaita, at the Atlantic Music Expo (AME), which is an off-shoot of WOMEX, the annual assembly of world music professionals. AME is more focused on transatlantic music, and is in its second year. The name Ferro Gaita is derived from the ferrinha, the metal bar they use as percussion and the gaita, the accordion, brought in by missionaries. Their style is funana – a much more rhythmic, African style that really rocks, not dissimilar to Zydeco music. Funana was banned until as late as 1975 for its subversive lyrics. (Pictured below right, Sara Tavares. Photo by Jean Berry)
Unlike most showcase concerts, where the artists tend to be on stage slightly desperately wishing the audience would love them, Ferro Gaita exuded a fabulously cool aura. The accordion has never seemed so hip.They have been together 20 years and have a rare togetherness as a band. Part of the reason for AME was to promote Cabo Verdean music – and with representatives of both WOMAD and the Barbican Centre in the audience, who both raved about them, it's to be hoped that we will see Ferro Gaita touring Britain. If they do and become international stars as a result, AME is doing its job. They certainly deserve a global platform, even if they may need a new hand with recording and their cheapo record sleeves.
Other Cabo Verde styles impressed too including upbeat veteran saxophonist Totinho, the rap group Batchart and the laid-back Dino D'Santiago. What became clear is the Creole language differs from island to island, as does the music, with wistful Cesaria-type styles such as morna more prevalent in the northern islands and the more rhythmic African-derived music stronger in the South.
Foreign stars making a real impact included Manecas Costa's group from Guinea-Bissau. A decade ago, he released, to some fanfare a rather expensive album on the BBC's doomed own music label. At the time Manecas didn't seem really to want stardom – and partly as a result the record bombed. But he now has a super-hot band and is worth a second look. I'd met him a decade ago in Guinea-Bissau and it was great to run into him again in the street. Worth a mention in dispatches were a strong gnawa-based group from Morocco called Mehdi Nassouli, rapidly gaining fame and fortune (pictured below by Jean Berry).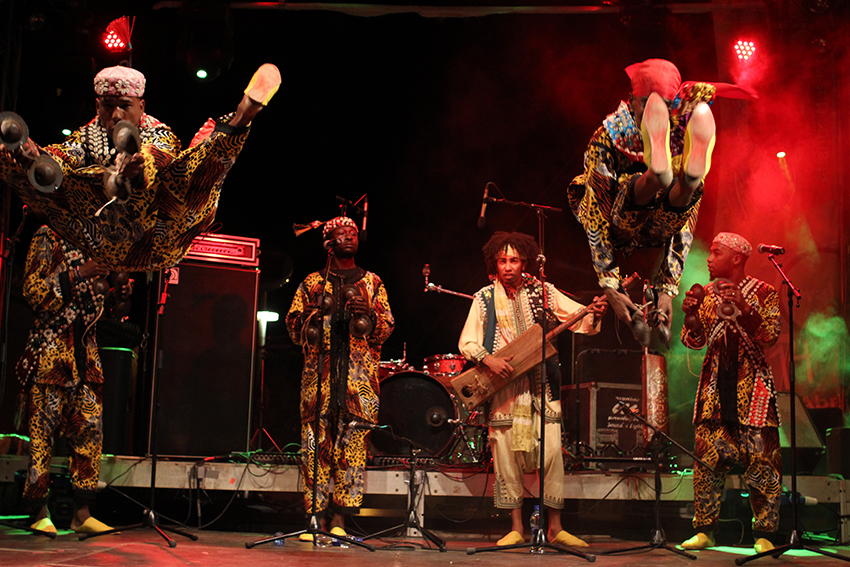 The centre of Praia has a pleasant colonial feel with its faded colours. It reminded me of other Creolised musical centres like Salvador in Brazil, Havana, even New Orleans. Comparing Cabo Verde to those music powerhouses is not entirely an exaggeration – everywhere there seems to be music. Rather than music being a decorative add-on to a culture, it is as though everything else is an extra to music – the way people walk or converse has a musical rhythm. In the streets, the villages and the cafés, someone usually has a guitar. The wonderfully atmospheric Quintal de Musica has scores of musicians' photos on the wall, and the night I went they had a group of women from a local village chanting and using wrapped-up pieces of cloth between their knees as percussion. The slaves were forbidden to use drums and this was an alternative (as the metal ferrinho was for Ferro Gaita).
The ghosts of the slave trade are never far in the islands – the pelourinho, the post where slaves were whipped - has been re-erected, having been previously taken down. We did a tour of the Cidade Velha (the old city) including the fort – nothing to see much but they do sit you down in front of a video to give you some history. Cabo Verde was uninhabited until the Portuguese landed in about 1456 and found it a useful staging post for the slave trade. Praia was a thriving town from slavery by the 16th century. The history, perhaps more than anywhere, is of broken families – even now, more Cabo Verdeans live outside the islands than on them. One night in the Quintal I heard a singer called Sandro perform a heartrending classic local song "Mae Querido" to his mother. He sang it into his phone – she was in the US. This, anyway, is one of the causes of that somewhat untranslatable word sodade – nostalgia, sadness, unrequited love, the pain of missing family and homeland are all bound up in it. The word and meaning exist in Portugal and Brazil, but here they got it bad – witness Cesaria Evora's version of the song of the same name (see video below)
.
The other version of the song I heard which almost reached Cesaria's level was by the Angolan singer Bonga. He headlined the first night of the Kriol Jazz Festival, which occupied the second half of the week. He has a splendidly lived-in voice, like a tuneful Tom Waits and when he sings you believe him. His performance rather overshadowed other artists on the same night who in comparison seemed to be going through the motions. One of the delights of this island is the strong Angola and Lusafrica connection – in plenty of the clubs and cabs, you could hear the amazing, sometimes brutally funky, kudoro beats. Perhaps the biggest star of the genre is a fabulous transsexual star called Titica (see video below).
There were after-parties in a new club called Freedom, where one of the delegates to AME, the debonair Samy who runs the wonderful Analog Africa label (which makes regular appearances on theartsdesk's radio show) was DJing and playing some of the Angola tracks from the 1970s his label put out. He was planning to stay longer in Cabo Verde to find old vinyl for a compilation of old music from the islands – of which there is a vast amount, from the much revered Ildo Lobo to the "godfather of funana" Bitori Nha Bebihna (see video overleaf), who went to Angola and got a job in a hairdresser to save up for his accordion. One of more adventurous delegates, Francis Gay, with Samy from Analog Africa managed to track down the musician, who must be in his late 70s by now, living in the centre of the island.
The final night of the Kriol Jazz Festival had some world-class acts like the peerless Kenny Garrett and the Jamaican jazzer Monty Alexander, and Cabo Verde's own Sara Tavares, whose sophisticated jazzy tunes might be a little too smooth for some tastes, although being in exile in Lisbon and as a child abandoned by her parents, she includes enough sodade to rescue her songs from being merely polite dinner-party music. The best place to catch the jazz, though, was at a jam session going late into the night, where the likes of Kenny Garrett's band and a group of ex-Berklee students got loose and steamed up the already humid Cabo Verdian night.
Overleaf: watch a video of Bitori Nha Bebihna, the godfather of funana
Subscribe to theartsdesk.com
Thank you for continuing to read our work on theartsdesk.com. For unlimited access to every article in its entirety, including our archive of more than 10,000 pieces, we're asking for £3.95 per month or £30 per year. We feel it's a very good deal, and hope you do too.
To take an annual subscription now simply click here.
And if you're looking for that extra gift for a friend or family member, why not treat them to a theartsdesk.com gift subscription?