Sacred Imaginations, Kings Place |

reviews, news & interviews
Sacred Imaginations, Kings Place
Sacred Imaginations, Kings Place
Ambitious reimagining of early Christian music is a triumph
Abeer Nehme: Sublime Aramaic singing
This was one of the most crazily ambitious music projects of the year so far. Co-curators Sam Mills and Susheela Raman, with generous sponsorship, assembled their favourite musicians in different styles from Greece, Lebanon, Ethiopia and Russia under the title of Sacred Imaginations: New and Ancient Music From the Near East.
What could have been a spiritual dog's breakfast was, even if the sense was the wheels might come off at any moment, a thrilling musical journey and a triumph.
The two singing revelations of the first half were the Russian five piece choir the Doros Male Vocal Ensemble, whose voices were moving in their rich spiritual power and the astonishing Abeer Nehme, who I had caught at the Fes Festival and raved about then. She also does do more popular material in her native Lebanon, but the beautiful Christian songs, sung in Aramaic, the language of Jesus, had the impression of plugging us into raw, intense early centuries of Christianity.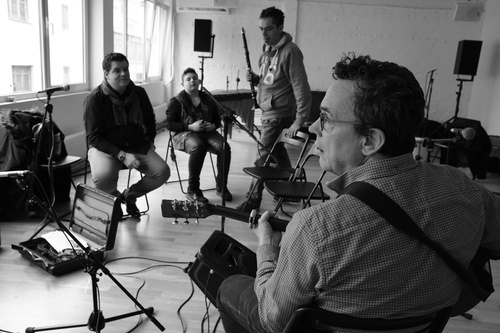 The first half was relatively pure, with some curious and slightly eccentric sounding marimba interludes, and some modernity from the sinuous electric bass from Julio Eid mixed with some gorgeous qanun (zither) playing, The second half changed gear, partly due to an episode of psychedelic electronic treatments from Sam Mills on ring modulators. This was when the great Ethiopian pianist Samuel Yirga and the Greek element came to the fore, notably the clarinetist Manos Achalinotopoulos, and strong voices from Christos Chalkias and Alexandros Parharides (pictured above, with Sam Mills on guitar).
Susheela Raman's singing also featured in the second half – her presence added some yang to the purity of Abeer Nehme's yin – some dirt and a suggestion of more pagan, shamanistic elements that were incorporated into the early religion. Mary was no longer virginal. The highlights of this section were a Syriac hymn and a Gnostic text "Thunder Perfect Mind" and "Leatos", a last rites song with the Greek singers and Raman with additional text by theosophist G R S Meade which had a filmic, end-of-days atmosphere and could and no doubt will be revved up to be even more apocalyptical in subsequent shows. Another spirited and moving number was "Sogandinium" an Aramaic hymn of the crucifixion where Raman was backed the Russian Doros singers to breathtaking effect.

The second half was more genuinely collaborative and went off into uncharted musical territory. While many of these artists you would be happy to listen to for a whole evening on their own, the episodic nature of the evening also was quite modern as it was in tune with how people consume music these days – short episodic listening through social media and downloads, then onto something else. If the event, a premiere to be repeated in Paris and Berlin and elsewhere, had some rough edges, that was more than made up for by the standard of performance and the slightly manic energy of the piece still cooling into a creative shape.
The evening felt more than a mere gig but evidence of a possible cultural shift. For the last century, adventurous liberals with a taste for the transcendent and the ecstatic or merely the exotic have tended to be drawn to Eastern faiths – whether theosophists, Beat poets embracing Zen, hippies going to India – the answers were to be found in the East. While black, especially soul, musicians have no trouble checking God or Jesus on their album covers and often came up through vibrant churches, for Western white hipsters the Christian tradition was somehow associated with either Victorian puritans, trendy Vicars with guitars or Cliff Richard.
Christianity was not founded in London, however much the Victorians liked to believe that God was an Englishman
Sam Mills, the director of last night's Sacred Imaginations has an impeccable and irreverent musical background – from post-punk cult band 23 Skidoo, to hits in Bangladesh and for the last 15 years his work with life and musical partner Susheela Raman has veered with wild eclecticism from Tamil "voodoo funk" to Afrobeat.
William Dalymple put in the big-picture introduction to last night's concert that "Christianity was not founded in London, however much the Victorians liked to believe that God was an Englishman" or in Rome, but in Jerusalem and received its "intellectual superstructure" in Antioch, Damascus and Constantinople and that at the Council of Nicea in 325AD "there were more bishops from India and Armenia than there were from Britain, France, Germany and Spain put together."
Such an introduction to a mere gig possibly added impossible weight to what was a great night of wonderful music, but somehow the sheer ambition of Sacred Imaginations, a profound tradition re-imagined, raises as many questions as answers about the culture of Christianity under threat in the Near East by extremists and empty churches in Europe. It opens up a new cultural arena with considerable and intriguing potential.
Follow Peter Culshaw on Twitter
What could have been a spiritual dog's breakfast was, even if the sense was the wheels might come off at any moment, a thrilling musical journey and a triumph
rating
Explore topics
Share this article