Music Reissues Weekly: Autonomy - The Productions of Martin Rushent |

reviews, news & interviews
Music Reissues Weekly: Autonomy - The Productions of Martin Rushent
Music Reissues Weekly: Autonomy - The Productions of Martin Rushent
Overdue tribute to the enabler of pivotal records by Buzzcocks, Human League, The Stranglers and more
In his element. Martin Rushent in the recording studio
Two producers named Martin worked with Buzzcocks and Joy Division. Martin Hannett was in the studio for Buzzcocks' debut release, the Spiral Scratch EP, issued in January 1977, and also for the bulk of the tracks spread across their last three United Artists singles in 1980. He also shaped every studio recording Joy Division made for Factory Records.
Martin Rushent (1948–2011) was teamed with Buzzcocks after they signed with United Artists in August 1977 and continued the relationship with the band's Pete Shelley following the band's split in 1981. In March 1979, he recorded four tracks with Joy Division at a demo session for his production enterprise. They stayed with Factory and Hannett though, and the tracks made with Rushent were first released in 1997.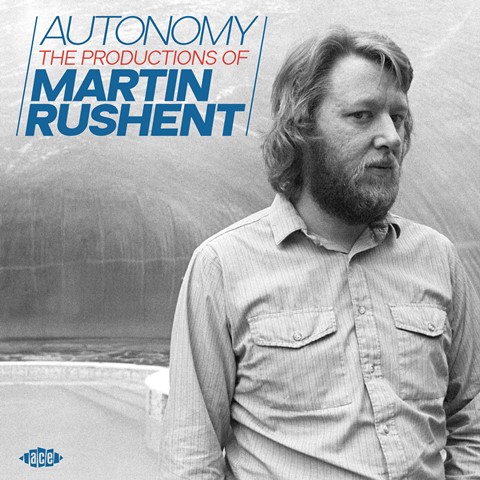 Martin Hannett and Martin Rushent's paths dovetailed through working with two of the UK's most consequential bands of the punk and post-punk eras, but they operated in very different contexts. Hannett began working as punk emerged and became locked-in with a particularly personal and impressionistic post-punk sonic innovation in which the producer was an identifiable element of the recording.
In contrast, Rushent was less instantly discernible and had a resumé stretching back to before punk. His credit first appeared on a record label in 1971. He was involved with records by Paul Anka, Fleetwood Mac, Gentle Giant, Groundhogs and The Sensational Alex Harvey Band. He was a tape operator at T. Rex sessions. His name became familiar in the punk era after his easy going though firm manner in the studio with Shirley Bassey was recognised as suitable for new United Artists signing The Stranglers. Punk and new wave gave this studio veteran his most visible platform. Buzzcocks, 999, Generation X, The Rezillos, The Boyfriends, Dr. Feelgood and more followed-on from The Stranglers.
As the Eighties began, Rushent's approach to being a producer proved to be as fast-moving as the times. Despite their differing situations, Hannett and Rushent had another connection beyond their relationships with Buzzcocks and Joy Division. Neither were luddites. Both were on board with evolving technology. Rushent was an early adopter of digital equipment, including for recording. In 1981, his work with Human League and on Pete Shelley's Homosapien LP became the earliest evidence of these fascinations. In 1982, his own studio Genetic was one of the first to be equipped with a LinnDrum. This used samples of actual drums rather than synthesised sounds.
Furthermore, Rushent also had – very early on – the ear and technical know-how for creating 12-inch versions of non-dance tracks. His extended takes of Altered Images' "I Could be Happy" and "See Those Eyes" were benchmark records. In 1982, he was behind Human League's remix album Love and Dancing. It is impossible to understate Martin Rushent's importance to the cutting-edge of British pop.
Autonomy - The Productions of Martin Rushent picks up the story in February 1977 with The Stranglers' first single "(Get a) Grip (on Yourself)." The final track is Then Jerico's "Big Sweep (Club Mix)," from 1985. In-between, in this eight-year sweep: Buzzcocks' "Autonomy," Generation X's "Kiss me Deadly," 999's "Homicide," Ian Gomm's "Hold on," Human League's "Hard Times (Instrumental)" (the earliest evidence here of embracing new technology), tracks by Intaferon, Go-Go's, Hazel O'Connor and more. Surprisingly, neither side of fine 1979 solo single "Give it All You Got" / "Why Bother to Fight" is included – the only release from the period with him credited as the artist. The single's A-side is soul-inclined: he was a great singer and had contributed backing vocals to Buzzcocks sessions. Its flip is new wave-ish. Nothing by the French band Téléphone, who he had a long relationship with, is heard. The story did not stop in 1985. He was later on board with dance music and a single along these lines was issued in 2007. He also ran a club, where his bookings included The Prodigy. He also DJed.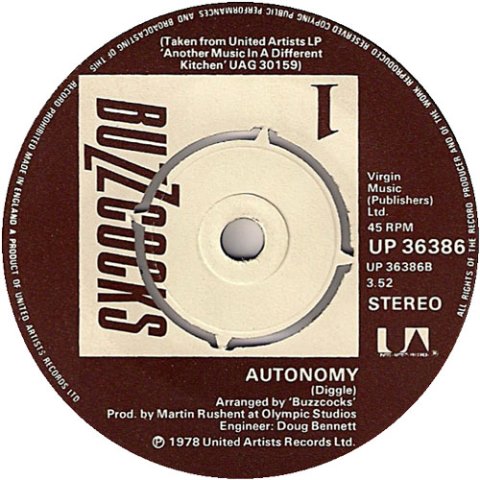 The set is compiled by broadcaster and grade-A music fan Gary Crowley who, in his liner notes, says "The first time I noticed Martin Rushent's name was on a single lent to me by my school pal Stephen Porter in early 1977. The single was by The Stranglers and was their debut '(Get a) Grip (on Yourself)' or 'Grip' as it was credited on its picture sleeve."
"Back in those days," he continues. "We would examine all the information on the labels and sleeve intently. I started to become interested not only in the bands who were exciting me but record producers. I began to notice Martin Rushent's name cropping up time and time again on a whole raft of other cool sounding records that I bought and enjoyed. Singles and albums by the likes of Buzzcocks, 999 and Generation X. Very quickly I came to associate a Martin Rushent production credit with quality and knew that if his name was on a piece of vinyl, it was usually a guarantee of something interesting."
Before he began reshaping tracks for the 12-inch format, the essence of a Rushent production – as evidenced by Autonomy – was about being as direct as possible. Not necessarily a live sound, it was about going for maximum impact. In the booklet, Buzzcocks' Steve Diggle is quoted as saying "Martin would just let the band play and capture the sound and he didn't want to change what we were doing and to me that is the mark of a great producer." Dissimilar to Martin Hannett's post-1978 interventionist approach, then.
Comparing XTC's "Are You Receiving me?" and The Rezillos' "Destination Venus" (both heard here) to each band's records with other producers from around this time reveals Rushent's approach. He brought a life which could be otherwise lacking. XTC's Andy Partridge says "He gave us a great brash, energy sparking sound, just like we were live. He found that in the sterility of the studio."
As the chronologically sequenced collection moves on, and as the technology evolves, he still found that essential spark. Human League's Jo Callis notes "Martin kept no 'studio secrets' of his techniques, because he knew that any competent recording engineer could copy those, but what they were perhaps unlikely to have had was Martin's feel for the entire studio and all of its connected equipment, as if it were an instrument that he could play and experiment with. Martin's attitude in the studio during production was almost like he were an extra member of the band." And it must have been this connection with who he was working with which made Rushent's 12-inch remixes so right for the songs and the bands he recorded.
Autonomy - The Productions of Martin Rushent is a long-overdue tribute to Martin Rushent, which also captures a crucial period for British popular music: the before, during and after of the arrival of digital technology. For Rushent, whatever the means of recording, it was about the band and the song. Everything else was subservient.
Next week: Glenda Collins, Heinz, David John & The Mood – the latest treasures from Joe Meek's Tea Chest Tapes
XTC's Andy Partridge says Martin Rushent 'gave us a great brash, energy sparking sound, just like we were live. He found that in the sterility of the studio'
Share this article