Manu Chao's La Ventura, Brixton Come Together Festival |

reviews, news & interviews
Manu Chao's La Ventura, Brixton Come Together Festival
Manu Chao's La Ventura, Brixton Come Together Festival
The Che Guevara of rock and pals play incendiary under-the-radar festival
'Post-European trickster' Manu Chao flies in to Brixton
Manu Chao is "backstage" in a little makeshift tent on the green outside Brixton's St Matthews Church (that's the one opposite the Ritzy Cinema) and he's certainly more at home than in some of the more conventional rock star places I've seen him in. Like Glastonbury, where he hated being in the VVIP area of the main stage with Amy Winehouse and Jay Z – all the fences and passes made him think of Palestine and he looked bored and dejected.
This event is more Manu's speed – befitting its name, the inaugural Brixton Come Together Festival was a small, friendly, positive community event that is hopefully to be repeated. There were a few food and charity and environmentalist stalls including Brixton Green and several hundred in the crowd. The spendidly named La Troba Kung Fu (pictured below), a band of Catalan rebels from the barrios of Barcelona, played a mestizaje of infernal cumbia, reggae and rumba which warmed up the audience nicely.
Manu's band, which he now calls La Ventura, had long-term sidekick Madjid Fahem on guitar and Phillippe Teboul on drums (Manu originally met him in the Eighties as part of Les Casses Pieds who used to play in the Paris Metro) with the accordionist from La Troba Kung Fu making up, busker-tyle, a strong quartet. a kid from the local Hill Mead school Manu had visited earlier joined in as guest percussionist.
The band, favouring flat caps last briefly fashionable with Gilbert O'Sullivan about 40 years ago, rattled through acoustic versions of some of Manu's greatest hits like "Desaparacido" and "La Vida Tombola" before ending with a scorching sing-along tune by 1980s Spanish bad boys Los Chunguitos.
Horseman's gruff, soaked-in-molasses larynx worked a treat with Cook's wonderfully melodic pop voice
On Sunday afternoon the Festival continued outside the church, before Sunday night's after party stepped up another gear at the Electric Brixton. Again, barely publicised (when Manu last properly promoted a London gig, he sold out three nights at the nearby Brixton Academy) it was rammed with around 1,500 people clearly thrilled to have found out about the show. After another sizzling set from La Troba Kung Fu, enter Prince Fatty, the brilliant (and, naturally, thin) Brighton-based producer heavily influenced by organic reggae from the 1970s. Initially the sound was terrible, but by the time veteran dreadlocked toaster Horseman came on to perform a few duets with Hollie Cook, daughter of Sex Pistol Paul Cook, everything had come into focus. Horseman's gruff, soaked-in-molasses larynx worked a treat with Cook's wonderfully melodic pop voice.
Manu's band, with the same line-up (pictured below right) as on the Saturday, eventually ambled on stage at nearly 11pm, After a quintet of acoustic songs, Madjid plugged in his electric guitar and suddenly we were into punk-thrash versions of timeless songs like "Bongo Bong" and "Me Gustas Tu", the majority from his two most successful albums, the multi-million selling Clandestino and Próxima Estación: Esperanza. The punkier versions sometimes lacked subtlety, but they certainly had an incendiary effect on the crowd, who pogoed like it was 1977. Some time after midnight the venue cut the electrics and the band played "Welcome to Tijiana" unplugged. If there was something missing it was the presence of gentle giant Gambeat, their usual bass player, who manages to somehow lift the band to another level. Not that this partisan audience could care less.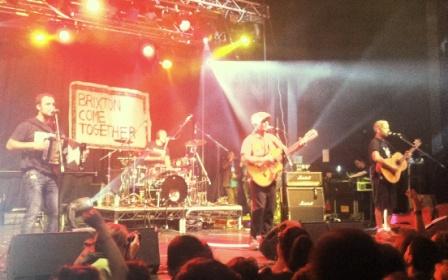 It's the kind of under-the-radar neighbourhood event Manu favours these days. The only gripe was the officious staff at the venue, who took great pleasure in informing audience members that if they left the club (for fresh air, a fag, to get some cash, to make some calls) they would be refused re-admittance.
The other criticism might be the fact that the majority of Manu's set came from albums released in 1998 and 2001. It's not that he hasn't got a wealth of new material. Backstage after the show he was singing a new one called "The Brixton Fox", and he has several excellent songs he recorded with Prince Fatty, not to mention at least an album's worth of Brazilian-influenced music and another album of rumbas. It's five years since his last album La Radiolina (which went to number one in 17 countries) – and as much as we love the old stuff, some new material in the live shows and preferably a new album or two is called for. It's about time, amigo.
Watch the version of "Clandestino" sung by Manu Chao with Madjid Fahem in Arizona last year
Some new material in the live shows and preferably a new album or two is called for
rating
Share this article