Lhasa de Sela 1972-2010 |

reviews, news & interviews
Lhasa de Sela 1972-2010
Lhasa de Sela 1972-2010
A tribute to an extraordinary talent who died too soon
The singer Lhasa de Sela passed away from breast cancer in her Montreal home on 1 January just before midnight, at the age of 37. Since this news emerged my email box has had numerous messages about this tragic loss, including from theartsdesk critic Robert Sandall who wrote about her "extraordinary talent, amazing life… a total original, a real artist", and adds a note below this article. Howard Male said, "The Living Road is one of the truly great albums in any genre, in my opinion."  While never forming a conventional career, her three albums La Llorona, The Living Road and the self-titled Lhasa managed to sell more than a million copies between them.
An old friend of Lhasa's, Jules Beckman, offered these words: "We have always heard something ancestral coming through her. She has always spoken from the threshold between the worlds, outside of time. She has always sung of human tragedy and triumph, estrangement and seeking with a witness's wisdom. She has placed her life at the feet of the Unseen."
I had a magical meeting with her in 2004 - a shorter version of the piece below was printed at that time in the Daily Telegraph.
A GREAT JOY in being a music writer is unexpectedly coming across an astonishing talent. I wandered in to the Jazz Café in London in April 2004 and saw singer Lhasa de Sela, who was born in America but is based in Montreal delivering the most compelling performance I'd seen all year. She and her band presented songs from her album The Living Road, mixing blues, French chanson, Mexican music and off-kilter percussion, singing in French, English and Spanish. Slight and elfin-like in appearance, she seemed to have an enormous inner strength and by the end of the evening, her first British performance, had the entire audience under her spell.
She brings you into her inner world, which includes both disconcerting dream-like imagery and searingly honest dissections of usually damaged relationships. Lyrics which lodged in my mind included: "My heart is breaking/ I cannot sleep/ I love a man who is afraid of me/ he believes if he doesn't stand guard with a knife/ I'll make him my slave/ for the rest of his life."
She's based in Montreal but as she's on tour in France where she's becoming increasingly well-known, I meet her in a Montmartre café in Paris, a block from the sleazy strip-joints of Pigalle. I tell her I'd probably be afraid to go out with her, if she's as direct with her partners as she is in her songs. "I'm always surprised when I'm scared of telling the truth and I think there will be a big explosion how well people usually take it," she says.
She says The Living Road was in part about the painful break-up of her last relationship. "I think if I work on my weaknesses now the next relationship I have will be perfect." I comment that the English are great believers in repression and not saying exactly what you mean.
"I think honesty is one of the most exciting things in the world, it's incredibly powerful and romantic," she says in her Québéquois-tinged accent. "We are all waiting for permission to be who we are, for someone to tell us we can be real. Go through that and there's an open road with nothing to stop you."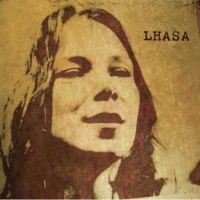 Lhasa was named because her "extreme hippy" parents were reading The Tibetan Book Of The Dead and thought Tibet's capital would make a good name. She was born in 1972 in a little cabin in Woodstock, and spent most of her childhood living a nomadic lifestyle in the US and Mexico in a converted school bus with her Mexican father and American mother and three sisters. "They took a lot of hallucinogenic drugs and took incredible risks, they were incapable of having a middle-class life. Their parents were well-off but they were the black sheep.
"We were very poor. We'd go through the garbage cans at the back of supermarkets and pick out rotten vegetables. We'd maybe stop for a month somewhere and my father would pick fruit. Other times we lived near the desert and then by the ocean – I remember getting stung by scorpions and jelly-fish, and I remember hurricanes and strange people."
She began singing as a child – there is a recording of her aged six singing about "lion kings, fairies and queens". She started jazz-singing lessons at the age of 13 in San Francisco, ending up in Montreal where she spent eight years singing, often Mexican songs. In bars "I learned how to reach people, even people who were there for a beer and a conversation."
In 1997 she made her first record, La Llorona, named after a mythic figure from Aztec mythology. The record became an unexpected hit in Canada and did well in France, but she didn't like becoming a star. "I got paranoid – it seemed there was no room to live, I lost my sense of dignity." She took "a very convoluted path" before she was ready to record The Living Road. In fact, she ran off to join a circus set up by her three sisters. "Sky is an amazing clown, Aime is a tightrope walker and Miriam is a contortionist, I used to sing with them."
Her singing heroes include Chavela Vargas and Cuco Sanchez from Mexico and the great flamenco singer Camarón. "I sometimes get sad wishing I was born into some tradition like flamenco, I mourn that sometimes. I read about the Aborigines and Dreamtime and their connection to the earth – then I remember I'm a disconnected white person." She says she "believes in everything – Buddha, Jesus Christ, Lao Tzu, astrology", but the real truth is "something you glimpse only sometimes from the corner of your eye." One of her favourite lines is from a Robert Browning poem: "Infinite passion and the pain of finite hearts that yearn."
She says a trap for artists is the idea that "For something to be modern it has to be full of anxiety or not beautiful. As though darkness was somehow more truthful than light." I tell her the only singer she slightly reminds me of is Bjørk. "I used to adore her, but recently she's become a little mannered and cold – still I admire her enormously." She hasn't got much time for "whiny" female singer-songwriters - "Let's pick at the wound and see how much it hurts, with all that self-analysis. People have forgotten how to tell stories."
The art on the cover, which she drew herself, is reminiscent of the world of Lewis Carroll or the surrealist Max Ernst, with mythical animals and alchemical symbols. "I grew up reading fairly tales and adventure stories. I was reading 1001 Nights while doing the album – there's so much action. Fifteen things happen on one page, whereas in a modern story one thing happens in the entire book." The fairy-story influence is there in her songs, she recites me a few lines from the last song on the record: "I'll put my foot on the living road/ and be carried from here to the heart of the world/ I'll be strong as a ship and wise as a whale/ and I'll say three words/ that will save us all".
Plenty of her comments like these are like her songs - they are deceptively simple, seemingly obvious, but when you unpack them are quite radical and profound and no-one else seems to be saying them. One song of hers, "Soon This Space Will Be Too Small", which seems to be about claustrophobia, and wishing to "go outside", came from a "dream about dying… my whole life is on that song." Just as the child in the womb hears noises from outside and what must seem like the most frightening moment or a death is in fact a birth to the world – we all hear noises, intimations from what is perhaps the next world. The simple phrase "Going outside" becomes a metaphor for death and rebirth.
She says, "It's wonderful to discover music that is luminous without being superficial." We talked about the mysteriousness of where songs come from, about Paul McCartney waking up with the tune of Yesterday fully formed in his head, assuming it must be some classic song, but finding, to his surprise, it was new. I tell her of a theory I was reading that this generation are the first to be plonked in front of cartoons from an early age and they never have had to develop their own imagination. "I'm amazed by people's lack of curiosity and lack of faith in life," she says. I tell her we probably need more misfits and weirdos. She laughs: "I'll take that as a compliment."
Seeing her magical performance at the Jazz Café, I was struck by how rare it is, in our increasingly standardised and packaged world, for an artist to be able to translate their inner world to songs, and paradoxically, it is precisely this highly personal vision that gives a universal appeal and creates an extraordinary energy. It is a natural, rather than self-conscious originality.
For several days I found myself going to bed with one of her songs in my head, only to wake with the same song in the morning, as though it were a soundtrack to all my unremembered dreams. In one interview she talks about a "secret language" like "the language of true faith", and says that "nothing is more exciting in life than finding out that other people understand what I am talking about".
I think honesty is one of the most exciting things in the world, it's incredibly powerful and romantic
Like other singular artists such as Tom Waits, Manu Chao, Bjørk or even Eminem, you couldn't call Lhasa a great technical singer but, she says, "It's the songs that dictate what kind of singer I am." She's also highly aware that even those brilliant artists can become parodies of themselves. "It's like those songs where the end is where the lovers get together, and that's the end of the story. That's really the beginning of the story – that's where the most courage is needed not to lose yourself".
It's her courageousness that is her strongest asset. That and an almost Yeatsian poetic intensity that combines a steely strength with a fascination with a mythic dreamworld. When she felt she was losing herself she disappeared, as in a fable, for seven years - and I wouldn't be surprised if she disappeared again.
"I got caught in the storm/ that's what happened to me/ so I didn't call/ And you didn't see me for a while"
Robert Sandall adds a note on how she fetched up in Montreal, where she died:
Tom Waits couldn't have made up the story of Lhasa's nomadic upbringing. When she was in her teens the family settled in San Francisco, where her three sisters hatched a plan to become circus performers. One was a would-be trapeze artist who had caught the bug from a friend in San Fran, the daughter of a family who owned a circus. Another liked acrobatics "because she's so small and easy to throw around." The third was a dancer grieving over the recent death of her dance teacher "so she decided to re-cycle herself into circus." They settled on Montreal as the place where they would refine their skills, since as well as being the base of the Cirque de Soleil, it also has the largest circus college in North America.
Llasa followed with no fixed plan other than a vague desire to hang out with her sisters, play music and paint. She was amazed, she says, to discover a city rocked more than most by economic recession. "Everyone was poor, and I mean living on nothing. But they were doing OK." She formed a duo with "an amazing guitarist", a jazzer called Yves Desrosiers, and six years later released an album, La Llorona, which went platinum in France.
Lhasa tried to record a follow-up in France, partly because her three sisters were by now working in a Big Top near Marseilles, "but it was clear that Montreal was better for me." Her coolly beautiful second album, The Living Road, finally appeared in 2004, sans Desrosiers, to a well-deserved round of critical applause. (Her third, Rising, appeared last year.) Sung in Spanish, English and French the songs' musical idioms likewise reflect Lhasa's stateless outlook: one minute she's on the trail of Kurt Weill, the next she's in a mariachi band. Sometimes her soft deep voice sounds introverted in a whispery Scandinavian way, at others she's more the flamenco diva.
If  three albums in 18 years seems like slow going, it's very much in keeping with the meticulously detailed quality of her music – and with the way things get done in Montreal generally. This is a city where musicians do not bother, or need, to hustle for fast bucks. "The amount of time my producers gave to the album they simply could not have afforded to spend in London or New York," says Lhasa, "They couldn't have survived."
She also thinks there's a spirit of "simplicity, generosity and openmindedness" on the part of her fellow musicians here "The creative process is more gentle. In other cities musicians are much more competitive, keen to show their style. Here they don't have to fight so hard."
Howard Male adds some thoughts about The Living Road:
When 'The Living Road' came out in 2003  I had no idea I was going to dabble in world music journalism. And now Lhasa is dead and I feel the need (I don't think that's too strong a word) to write about why I love this record so much, and why I think it's a fairly perfect work of art.
The first time I heard The Living Road was in a record shop called Concerto in Amsterdam. The world music D.J. Charlie Gillett had recommended the shop to me (although he had no idea if it would still be there.) It turned out to be only three minutes walk from our hotel, as I found out when I realised I could see it from the window of the Indonesian restaurant we dined at on our first night. So, the following morning, I couldn't wait to find out what treasures awaited me there.
But when I say that I heard The Living Road for the first time in Concerto that's not strictly true. I heard two minutes of the first track of The Living Road and that was enough to tell me I had found my treasure. Obviously I spent another hour going through the entire world music section, but I knew it was pointless; this was the one. It was on my CD Walkman later, lying on the bed in our hotel room, that Lhasa's world filled my head and became a thrilling counter-world to the one Marcia and I were looking forward to exploring in Amsterdam. For me, all the best records are worlds in themselves, and this one seemed just as vivid as the real city that awaited us.
There's nothing better than having a favourite album which, like a scent, takes you back to a particular time and place every time you listen to it. And Lhasa's music seems to be all about time and place, and longing and exploring, and fear and shadows, and light and darkness; about how all these different realms, different states, make up the human experience, and how they all have to be welcomed and embraced. And she seemed to capture all these ambiguities and paradoxes most perfectly with this, her second album. The arrangements are complex yet restraint, the melodies haunting and original, and then there's that reigned-in yet emotionally intense voice which, magically, sounds exactly the same whether she is singing in French, Spanish or English. It's as if language itself is an illusion, like when you forget you are reading subtitles if the foreign movie you are watching is sufficiently immersive.
So now, for the first time since I heard about her death, I've summoned up the guts to put The Living Road on the CD player to see if I can take it, and see where it will take me. No, 'guts' is probably not the right word. It just suddenly felt right today. Silence was no longer working for me as a way to contemplate her unique talent.
As the opening track 'Con Toda Palabra' slowly swelled into life, I was reminded of how much this album pulls you in and infolds you from the very beginning. And yet, for most of its duration there isn't much comfort in its embrace, and every now and then it will even push you away. And yet it's brimming over with passion, even if that passion often seems thwarted or stifled. But this is because Lhasa has more substance to her being than most of the waifish singer-songwriters that – according to Peter Culshaw's interview with the singer - she had as little patience for as I do (Oh how my heart always sinks when I see the words 'sensitive singer-songwriter' on a press release!) Lhasa's passion is focussed on the intangibles rather than the unfaithful boyfriend or the tight-assed could-be boyfriend. Lhasa's focus was on the soon to be explored city; the promise of a new world across a wind-swept border, and the depth of her own being.
'Anywhere on this Road' is the album's epic centre-piece and masterpiece. It's as much a sustained work of atmosphere as it is a song. It's a living, moving presence. It comes at you like a slowly, creeping fog, its clanging, clattering percussion getting louder and more insistent as it gathers momentum and intensity. It actually seems to get bigger as it progresses. Ibrahim Maalouf's sublime trumpet part slowly materialises out of the dawn gloom like a blood-red sun rising over the horizon. 'Anywhere on this Road' is as much a painting, a sculpture or a movie as it's a song.
But around this monolithic centre piece, every other track has its more modest place; each a sublime, sepia snapshot of a mood, a place, or a mood and a place.
Then there is Lhasa's voice. Mournfully resigned yet somehow tinged with heroism: The past can't be forgotten but it can be survived and moved on from. With 'J'Arrive a la Ville' Lhasa is doing just that; entering a new city which, for her, is both a place to get lost in, and a place to embrace for its promise of a new life. 'La Frontera' continues the same themes of arrival and transition but is, musically speaking, with its major chords and mariachi-style trumpet introduction, the album's first ray of sunshine, metaphorically warming our weary traveller's frost-bitten face. There is still a subtle undertow of melancholy in 'La Frontera' but it wouldn't be a Lhasa song if there wasn't.
I could go on and talk about every song on The Living Road with this same degree of involvement, but I realise that – if you've got this far - I'm probably already stretched your patience. So let's move on to the final track. When a silence finally descends as the last note of 'Soon this Space Will Be Too Small' fades, it's a silence swollen with the gravity of the music that preceded it, and the gravity of the fact that this remarkable artist is no longer with us. Lhasa has just intoned, "Soon this space will be too small, all my veins and bones will be burnt to dust," and one of my favourite albums of the last ten years has just taken on yet another layer of meaning.

The press release announcing her death ends: "It has snowed for more than 40 hours in Montreal since Lhasa's departure."