Lady Gaga: Back to the Future |

reviews, news & interviews
Lady Gaga: Back to the Future
Lady Gaga: Back to the Future
On the eve of her three UK shows, we revisit a revealing 2009 meeting with Ms Germanotta
Friday, 07 September 2012
Gaga: 'I'm going to show everybody what I can do'
Lady Gaga arrives in the UK this weekend to play two huge shows at Twickenham Stadium, before moving on to Manchester. Today, she is the biggest pop star in the world. Three years ago she was in the final stages of a highly orchestrated campaign intended to claim that position. What follows is an interview with her in Israel in the autumn of 2009, right around the time the world went Gaga gaga.
* * *
The armchair Glastonbury fan was spoilt for choice in 2009, what with Blur's teary disinterment of Brit Pop and Bruce Springsteen's long day's journey into the heart of the Somerset night. The lesser-spotted highlight, however, was the sight of a 23-year-old Italian-American perched on top of her piano stool, waggling her scantily clad derriere in the air while singing a wonderfully loose, louche version of "Poker Face". It was, indisputably, a Great Pop Moment.
Watch Gaga doing "Poker Face" at Glastonbury 2009 (starts at three minutes)

We've seen a lot, in every sense, of Lady Gaga in 2009. Just over a year ago Stefani Germanotta – her stage name derives from her love of Queen's "Radio Gaga" - was struggling to get her songs played on the radio. Twelve months later her debut album The Fame has sold in excess of three million copies and she's scored two British numbers ones with "Just Dance" and "Poker Face", the latter recently revealed to be the most downloaded song in UK history. Meanwhile, her "Fame Ball" tour has wound its way through America, Britain, mainland Europe, Asia and the Middle East, the venues growing from 2,000-seater clubs to arenas holding 13,000 people.
"That's just not normal," she says solemnly, but then very little about Lady Gaga is. Today she is in Tel Aviv, where later tonight she will play the final show of the tour, and has just returned to the hotel following a "spiritual" soak in the Dead Sea and a glimpse of Palestine - "one of the most amazing things I've ever seen" - beyond the separation wall. Just another strange day in the life of an upwardly mobile pop star.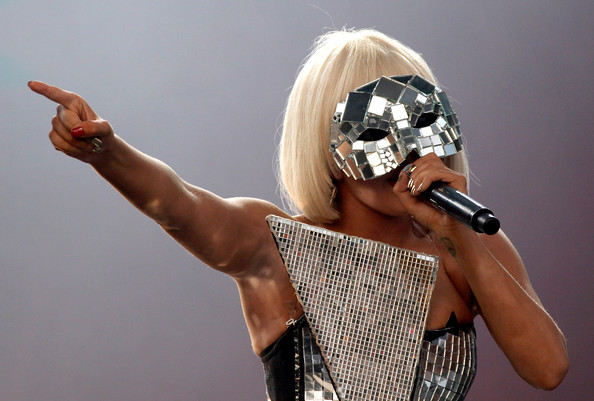 Given her success, you might expect Lady Gaga to be in lazily retrospective mood, but she clearly possesses the kind of drive that makes Madonna seem laidback. "It's been an amazing year, but I'm very passionate and if anything it has only made me more hungry," she says. "I'm so insatiable, I'm tortured by my work. Tortured! I'm growing and changing as I'm getting better. I'm turning into a new woman every day."
Born in Yonkers, New York, Lady Gaga grew up on the swish Upper West Side, just around the corner from the Dakota Building where John Lennon lived and died (she reveres Lennon; the peace sign tattoo on her left wrist in there in his honour). She attended the Convent of the Sacred Heart in Manhattan, a private Catholic school where Paris Hilton was a classmate. This is one pop star raised very much on the right side of the tracks.
At home she heard "lots of dramatic music, Sinatra, La Bohème. Until I was 11 years old I was always listening to classical music." Having played piano from the age of four, at 17 she enrolled at the prestigious Tisch School of the Arts to study music before dropping out to honour the cliché of the good-Catholic-girl-gone-bad. Signed and then dropped by Def Jam within the space of three months, she moved to the Lower East Side and threw herself at bars, bands and drugs, succumbing to a spiral of self-destructive behaviour.
"I was in such a dark space in New York," she says. "So sad, so depressed, always in a bar, always drinking. So many nightmares, so many parties and people who have hurt you and you have hurt." She recalls taking "bags and bags of cocaine" alone in her apartment. "At the time I didn't think there was anything wrong with me until my friends came over and said, 'Are you doing this alone?' Um, yes. Me and my mirror."
Her father eventually intervened. She has cleaned up her act, but admits to suffering from "a chronic sadness that recurs. I've been trained through my friends and my favourite writer, Rilke, to love my darkness. You have to embrace it or you can't make anything truthful. It's those times that made me who I am." Her punishing schedule ("three hour's sleep, seven hour plane ride, promo, radio, show…") seems more like a security blanket than a straightjacket. "I'm very focused now, very regimented, very strong and I work very hard, but I'm still the same person," she says. "The truth is, when I'm left alone for too long and I'm not working I do those same sorts of things."
All my friends in New York laugh and say, 'Gaga, thank you for fucking up pop music!'
Originally employed as a songwriter by Akon's Konvict label, she was eventually signed by Interscope and flew to Los Angeles in January 2008 to begin making her album. Her first hit, "Just Dance", "was make or break. I was given one shot to write a song that would change my life – and I did. I never went back. I left behind my boyfriend and I still haven't been back to my apartment. My mother went round and cleaned it out for me."
The rest of her story is a pop fairytale with a twist. Glance casually in Gaga's direction and she could easily pass for yet another synthetic pop puppet with a propensity for grating therapy speak – "inspired", "intense", "blessed" – and a rather grim determination to succeed at any cost. However, beneath the ruthlessly drilled dance routines and the chilly, robotic electro-pop there are all sorts of interesting things going on. She can belt 'em out like a true diva, play piano like a demon and write a truly cracking tune. She has some of Streisand's imperiousness, a healthy dose of Freddie Mercury's showmanship, a pinch of Bette Midler's bathhouse cabaret shtick and the young Madonna's sass and chutzpah in spades. The gay community adore her.
With her gaggle of "freaky" New York friends she has created the Haus of Gaga, essentially an updated version of Warhol's Factory, a trashy mash-up of pop culture and arthouse chic, sex, fashion, theatre and music. Indeed, the overarching theme of The Fame is very Warholian: everyone can be a celebrity in their own mind. "The philosophy of my music and the lifestyle of my friends is a continuous projection of who we want to become in the future," she says. "I am perpetually delusional. That's why everyone thinks I'm completely mental and a pain in the ass to work with."
Lady Gaga certainly irritates people, which is the sworn duty of all good pop stars. She also has a genius for creating controversy. "Poker Face", she reveals, is about sleeping with a man while thinking about being with a woman. Then there are the rumours – partially fuelled by Gaga herself - that she is a hermaphrodite. I have been explicitly warned off this topic by her record company, although at one point she says "I think I sing like a man, that's what I'm channelling when I'm on stage. I want people to feel afraid. It's very confrontational." Who knows what lies beneath?
Above all, with her outrageous comments and even more outrageous costumes, she is battling against "the noise of mediocrity. Showbiz must never be boring. I want to create a memorable moment, to burn the fucking cornea and optic nerve of some 12-year-old watching at home and change their life. Otherwise it's a waste of everybody's time."
She claims to have subversive aims, dressing up her often painfully honest songs of despair, personal liberation and sexual frankness in a glossy disguise and sending them out to wreak havoc in an oblivious pop marketplace. The apparent disposability of what she does is, she says, a cunning ploy. "It's a victory for us to get to number one," she says. "I'm not here to be a beauty or be the world's greatest singing supermodel, I want to make something invasive and haunting. A lot of pop performance art is not a commercial thing, it's very niche oriented, and my music requires an extra layer of thought and care so that it doesn't stay underground. All my friends in New York laugh and say, 'Gaga, thank you for fucking up pop music!'"
Not quite. Not yet. There's still some distance between what Lady Gaga wants her music to be and what it actually is. The Fame is more interesting than much mainstream pop music, but it's not nearly as interesting as her. All going to plan, that will change. "My history is already written," she says dreamily. "I'm on stage tonight in Tel Aviv, but for me it's already April of next year. I've designed everything I'm doing until then. It's done, already finished. I feel as though the past two years have been training, and now I'm going to show everybody what I can do." You have been warned.
I'm not here to be a beauty or be the world's greatest singing supermodel, I want to make something invasive and haunting
Explore topics
Share this article