Kasabian, Brighton Centre |

reviews, news & interviews
Kasabian, Brighton Centre
Kasabian, Brighton Centre
Leicester's finest may not be critical sweethearts but, in concert, they smash it
Thursday, 27 November 2014
Skeleton family: Kasabian
It has become a staunch tradition that Kasabian gigs end with their fourth single, 2004's "L.S.F. (Lost Souls Forever)". By the time they reach it, a good chunk of the Brighton Centre's capacity crowd, encouraged by guitarist Serge Pizzorno, have clambered on the shoulders of an associate.
The song was introduced by a funkin' stab at a cover of "Praise You", dedicated to its creator, local hero Fatboy Slim. Then the cavernous hall lights up, everyone suddenly visible as auditorium darkness is banished. "Ah, come on, we got our backs to the wall," sings Tom Meighan, as if it were a call to arms, over the song's pulsing Happy-Mondays-go electro rhythm section, but the real ceremony is the uproarious chanting of the backing vocals at its end, a sound that carries the whole place upwards and upwards, as the band build it, cut it and build again, combining football terrace boisterousness with rave culture's equally communal pulsations. It explodes to a climax and the crowd pours into the night, joyfully humming this same motif en masse, as they fill Kings Road on the seafront, its pavement glinting from the day's relentless rain.
It is, perhaps, this fan armada bellowing that has brought such opprobrium down on Kasabian from the UK (ie, London) music media. Sure, the trad rock press has to fawn about the Leicester four-piece because they're one of the only bands of their stature but, in truth, music journalists loathe them, regarding them as thick, macho oafs who leave in their wake an odour of herd mentality and arrogant belligerence. This is wholly bemusing. The tired retrogressive guitar pop gene that runs from Britpop through the Strokes to Arctic Monkeys and beyond is deemed worthy of praise, yet Kasabian's eponymous debut album, leagues more feisty, vim-filled and electronically dynamic, is relegated to the third division. Even supposedly more daring, critical darlings such as Vampire Weekend, Arcade Fire et al are no match for that album and the best of its successors. Ah, but this is turning into a rant, a polemic on behalf of Glastonbury 2014's most effective and ebullient Pyramid stage headliner.
Tonight, then, Kasabian deliver, in front of fashionista Aitor Throup's simple, effective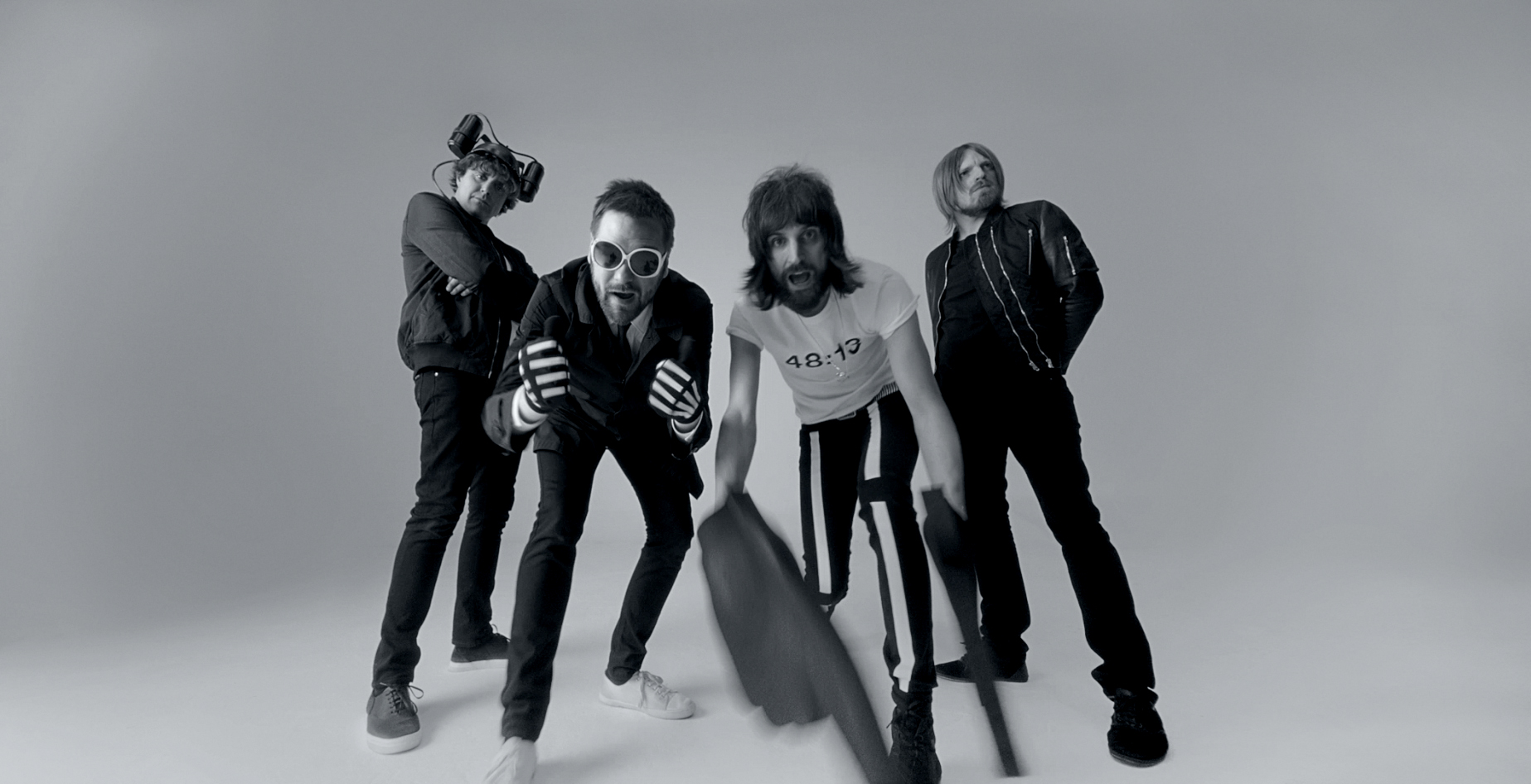 visuals, based around his work on their recent album 48:13. Pizzorno, who is slowly mutating into Noel Fielding, wears a white tee-shirt blaring "OKY" and has a fox-style tail hanging from his rear, while Meighan is dapper in velveteen jacket, tie and beard. Goatee'd bassist Chris Edwards stays in the shadows, heftily underpinning the band's dance/rock sound. They veer, in the first part of the set, between glam rock stomp, as on "Shoot the Runner", and synthesizer-embellished gorgeousness, such as the underrated "Days are Forgotten" from 2011's Velociraptor album.
The moshpit explodes during this year's single "Eez-Eh" (they did themselves no favours with their critics with that title!) while "I.D.", a decade old, sees lazers play over the stage as the music blossoms into Underworld-esque electronica. Pizzorno takes over the mic to strum and sing "Bow" in his reedy voice, blooming into a section redolent of Pink Floyd. The band cheekily dip into others' work, borrowing from The Doors on "Thick as Thieves" and, much more amusingly, from Cameo, when Pizzorno fires out the codpiece-tastic Eighties R&B classic "Word Up" amid the song "Re-Wired".
Kasabian certainly do enjoy bombast, as with their enormous tune "Stevie", extravagantly overblown, and featuring a female string quartet in skeleton bodysuits, but their set finely balances such O.T.T. moments with riffs, techno asides and quieter sections. One thing their critics should note is that there are lots of women and girls here, dancing, pirouetting,revelling, jumping about, all female parties and others with their boyfriends. This is not the bloke-fest of Kasabian media myth.
"See you on the other side," shouts Meighan during a raucous "Vlad the Impaler" in the encore and for a moment it seemed they might bypass "L.S.F.", perhaps having grown tired of its ritual. But no, it was present and correct, flabberghasting and euphoric. Kasabian will never be beloved of the press - at least, until they fall into the "retro-mania" category a few years from now - but they remain one of Britain's most enjoyable bands.
Overleaf: Watch the video for "Stevie"