Interview: 10 Questions for The Pierces |

reviews, news & interviews
Interview: 10 Questions for The Pierces
Interview: 10 Questions for The Pierces
Fourth time lucky for the singing siblings from Alabama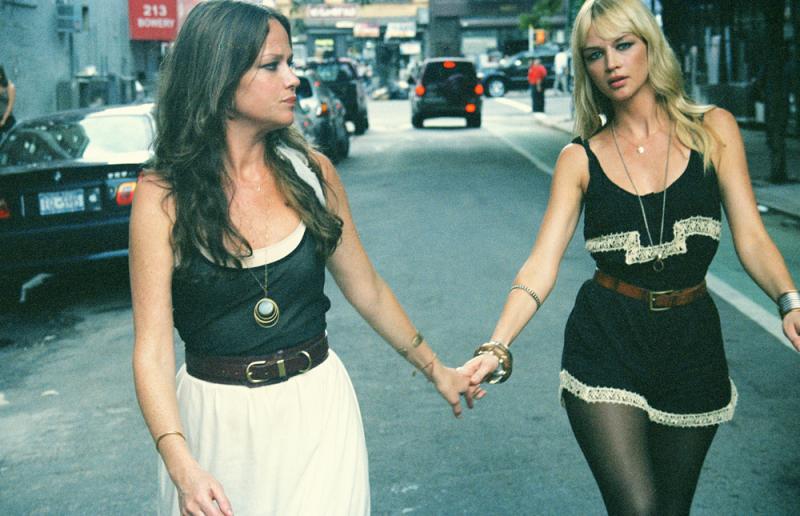 Allison and Catherine Pierce: 'We're kind of best friends, which sounds sickeningly cute...'
Formed in 2000 by thirtysomething sisters Catherine and Allison Pierce, Alabaman duo The Pierces have spent over a decade flitting from style to style and label to label, the nuggets of critical acclaim heavily outweighed by public indifference. Everything finally clicked, however, with their fourth album, You & I, which entered the UK charts at number four earlier this year.
Produced by Coldplay's bass player Guy Berryman (but really, don't let that put you off),
You & I
bears all the hallmarks of a band knuckling down and turning pro, but its atmospheric AOR and rootsy pop-rock has sufficient depth, charm and personality to keep things interesting.
Having flirted with ironic detachment and aloof minimalism on their previous album, Thirteen Tales of Love and Revenge, on You & I The Pierces are reincarnated as an altogether more earnest, heart-on-sleeve proposition. The music takes its cues from the dramatic minor-key melancholy and classic melodicism of Fleetwood Mac, The Mamas & the Papas and The Bangles, but in the end it's the sisters' washed-in-the-blood harmonies which provide the album with its moments of magical uplift.
Given that musicians will always gravitate towards audiences and airplay, it's no surprise that the Pierces have become, for the time being, adopted Brits. theartsdesk caught up with the tequila-tender younger sister Catherine (aka The Blonde One) before they embarked on their UK tour, which begins in Sheffield on Friday. As an opening gambit I resisted a question I once heard on no less a cultural bellwether than Blue Peter, when Sarah Green asked identical twins The Proclaimers where they had first met: "In ma mother's womb," came the reply. It didn't end well.
GRAEME THOMSON: The success of You & I must feel a little like a late escape from last chance saloon?
CATHERINE PIERCE: A little. After Thirteen Tales of Love and Revenge we thought, we've already had three record deals, no one is going to touch us again. We didn't really have an alternative plan. We talked about trying something without each other, because we thought maybe we were cursed as a duo or something, but there was no plan to go back to school or get a real job. I always thought I'd make music in some way. Luckily the back-up plan hasn't had to kick in yet. We were happily surprised when people kept having faith in us. Every album always feels like a whole new thing, but this one definitely feels different because of the way people have received it.
Did music play a big part in your upbringing?
Our father is a musician and a Beatles fanatic. We grew up on The Beatles, that's my main memory, dancing around to whatever Beatles record he had on, but there was also Joni Mitchell, Simon & Garfunkel, Dolly Parton, Johnny Cash. There was always something creative going on. Our mother is a painter and our oldest brother is a photographer, we were home-schooled and most of the curriculum involved arts and crafts and music! Very creative, definitely a slightly hippy environment.
Have you and Allison always sung together?
Since we were little girls our dad was always encouraging us to sing, so it seemed like a natural thing to do any time we were together. But we were both ballet dancers and we did make a conscious decision to stop doing that and start pursuing music as a career.
Watch "You'll Be Mine" by The Pierces
There's a quality to sibling harmonies that you don't hear anywhere else. Is yours an intuitive understanding?
I couldn't harmonise until I was about 10 and then it just clicked in my brain one day, and since then it's been the most natural, easy thing. As soon as Allison plays a song I know exactly where her voice is going to go, no question, and vice versa. We actually have to force ourselves to rehearse more, because it does come so easily we sometimes take it for granted. Like, "Ach, we got it!" But we do need to practise.
Which sibling relationship does yours more closely resemble: the Gallaghers' or Jedward's?
Ha! Well, I think it's probably more harmonious than most, at least from what I gather from other siblings. We do have our moments when we can't stand each other, but I think you have that with anyone you're really close with. We have a common goal and we've spent most of our lives together, so we've learned to love each other. Even when we do have breaks from the band we end up talking on the phone and meeting up for lunch. We have a younger sister, too, the three of us all live in New York and we're kind of best friends. We hang out and do everything together, which sounds sickeningly cute...
Do you write together?
We usually write separately. We're a little bit competitive when it comes to music and we're possessive of our own songs. Every now and again we'll get stuck on something and collaborate, but usually the songs are very personal, so it's not the kind of stuff that comes out of a writing session.
Several tracks on You & I seem to reflect on your break up with [Strokes guitarist] Albert Hammond Jr, in particular "I Put Your Records On" – "to see if you might sing my name". Do you ever worry about making these feelings public?
I don't really think about it. The songs feel kind of channelled, it's almost like you're in therapy and you just do it, then later you put it out there. When you're writing you're not thinking about people hearing these secrets. It doesn't bother me. Allison was saying the other day that part of her growing up was hearing Joni Mitchell confessing all her secrets, and that seemed like such a gift. It's nice to be able to do that.
Watch The Pierces perform "I Put Your Records On"
Thirteen Tales of Love and Revenge was quite sleek and electronic and European. This one is more rootsy, West Coasty and heartfelt. What changed?
Thirteen Tales of Love and Revenge was just us experimenting. We didn't have a record deal at the time and we made it with a friend who encouraged us to pursue any idea we thought of. We created this little world around each song, so it became really eclectic. In the end it all got stuck together on one album, but really we were just making individual songs. It got us some attention but the mainstream couldn't really figure out who we were, so this time we wanted to make something more focused. We sat down with Guy and weeded through all our songs and picked the ones that sounded the most like a complete thought. We saved the random, quirky ones for another day.
How did you become involved with Guy Berryman?
We had met him in New York years ago and I'd given him a demo of Thirteen Tales of Love and Revenge and he really liked it, he thought it was unique and cool. He played it to Chris [Martin] and they talked about us touring with them at some point, but at that time nobody really knew who we were. So that didn't happen, but we talked about working together and eventually Guy called us with a serious plan and that's how we made this record. It was basically done in London and New York in Coldplay's spare time, which there isn't a lot of! Guy has a really good balance of left and right brain. He's very creative but he's also very organised. We were really lucky that he chose us to be his first project.
It's been a long road to here - are you embarrassed by anything you've released in the past?
No, but the first two records feel like they were made by a different person. We had just moved out of Alabama and I just hear two sweet, naive girls. I love that we were in that place at that point but I don't know if I can relate to those songs anymore.
The Pierces are on UK tour until 21 October
We do have our moments when we can't stand each other, but I think you have that with anyone you're really close with
Share this article