CD: Godspeed You! Black Emperor - Luciferian Towers |

reviews, news & interviews
CD: Godspeed You! Black Emperor - Luciferian Towers
CD: Godspeed You! Black Emperor - Luciferian Towers
A fine album of defiantly uncommercial psychedelia from the Canadian oddballs
Tuesday, 19 September 2017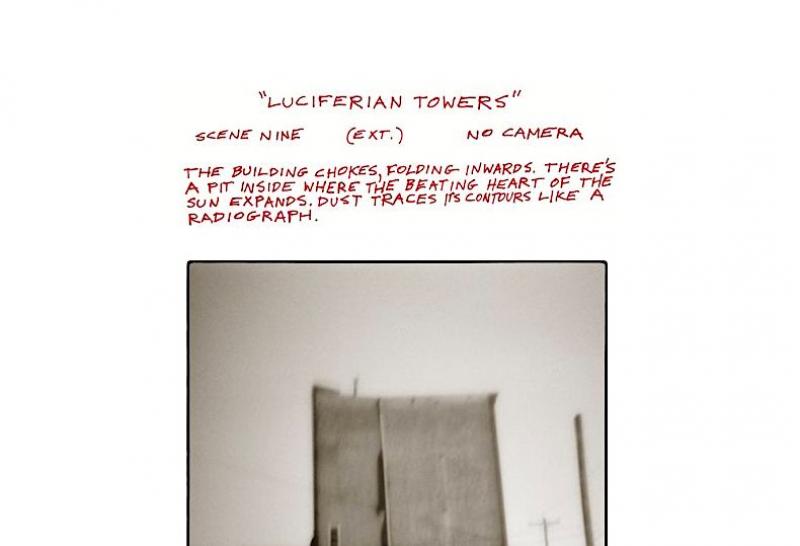 'Luciferian Towers' - a thing of great beauty
Luciferian Towers, the third album since Canadian oddballs Godspeed You! Black Emperor's 2011 reunion, is an instrumental psychedelic masterpiece that reflects our times without resorting to political bluster. Indeed, with two of its four tracks almost touching a quarter of an hour long, it's also an album to sink into and absorb rather than a likely source of any radio hits.
Godspeed You! Black Emperor are true sonic explorers, albeit with relatively traditional instruments, and in Luciferian Towers they take jazz, classical and electronica influences and wrap them in a post-rock blanket driven by a Sun Ra-type wonderlust to take their sound to interesting places without ever threatening to spin off into self-indulgent noodling.
The atmospheric and quietly pulsating soundscape of "Undoing A Luciferian Towers" is nudged along by an understated lament from Sophie Trudeau's whoozy violin and Craig Pedersen's trumpet that suggests cinematic desolation and a creeping dread. While "Bosses Hang" is initially mournful with shades of ambient-metalheads Earth, building and fading away again before bursting into a psychedelic drone of joyfulness that crashes through the speakers. This is 21st century prog rock that doesn't worship at the altar of musical excellence but deals with sonic textures and ideas that, in all honesty, have more in common with classical minimalism than anything that is likely to bother the pop charts.
"Fam/Famine" is a soothing, ethereal drone with Eastern flavours which sets up the magnificent finale of "Anthem For No State". Beginning delicate and mournful, it has shades of Jackie O'Motherfucker's spaced out and atmospheric vibes with wailing, understated feedback always threatening to burst through the Ennio Morricone stylings before Godspeed You! Black Emperor finally bring things to an end with a visceral psychedelic storm.
Luciferian Towers is without doubt a thing of great beauty that spans the chasm between Michael Gira's feral Swans and ambient minimalists Kuro at their most adventurous. Just don't expect it to encourage you to bust any moves whatsoever.
An instrumental psychedelic masterpiece that reflects our times without resorting to political bluster
rating
Explore topics
Share this article