Alison Moyet, Royal Festival Hall |

reviews, news & interviews
Alison Moyet, Royal Festival Hall
Alison Moyet, Royal Festival Hall
Big-voiced Eighties icon keeps looking to the future
Wednesday, 16 October 2013
You couldn't help marvelling at how good Alison Moyet looked. It wasn't just her dramatically slimmed-down physique, but also the sense of her being truly comfortable in her own skin. Partly, that may have just been a result of an increasingly optimistic outlook. But also it seemed to emanate from Moyet's confidence in her new material. Since its release in May, her new album, The Minutes, has been well received.
Could the songbird from Billericay also work that synth-heavy magic, live?
Certainly there were no complaints from the audience. Indeed, at times, it appeared as if Alf could have read the phone book and received an ovation. The capacity crowd – seemingly a mixture of mums, dads, and flamboyant clubbers of all ages - responded to her every move with a fervour that bordered on the fanatical. Yet, if the level of enthusiasm was surprising, it was not altogether unwarranted.
Frequently, spontaneous - and sometimes quite odd – dancing broke out
Moyet arrived on stage dressed in a black suit and sporting copper-dyed hair, looking a little like she could be an older cousin of Florence Welch. She then announced in a chirpy, deep Essex voice that we were going to treated to the new album and older material in equal measure. Remarkably, when she then sang the Yazoo number "Nobody's Diary" and her recent single "When I Was Your Girl" back to back, despite having been written 36 years apart they sounded like they might have come from the same album.
It helped that Moyet's honey-and-hurricane voice hasn't budged an inch over the years. There was also the fact that the musical setup onstage - consisting of Moyet flanked by John Garden and Sean McGhee on keyboards and laptop - had serious Yazoo overtones. But mainly it was the songs. Although not entirely consistent, the new album certainly contained flashes of brilliance.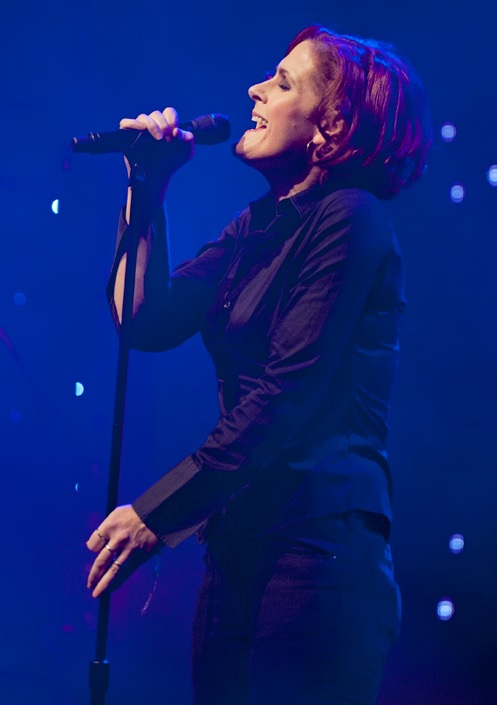 The best example was "Filigree", the story of an epiphany Moyet had received while sitting in an arthouse cinema in Amsterdam. Before Alf performed it, wrapped moodily around her microphone (pictured right), she explained how the experience had led her to accept that short, powerful moments of happiness, despite being transient, might be enough for her. Presumably such episodes, and the ability to process the experiences of middle age so poetically, also provide Moyet with her forward momentum. Despite all the Eighties music, this never felt like a nostalgic evening.
The big hits were mainly shunted to the back end of the concert. They started flooding in just after a slightly flat patch which ended with the rather lacklustre "Right as Rain". Then "Love Resurrection", "Situation", "All Cried Out" and "Don't Go" followed in quick succession. Frequently, spontaneous - and sometimes quite odd – dancing broke out. By the end, even Moyet, who had hitherto remained pretty static, was getting down.
Of course, such big hits have to be part of any such evening (although Moyet did insist on doing something a little strange to "Only You"), but equally her banter also betrayed a clear antipathy towards any backward-looking career moves. But there really doesn't seem any danger of her being sucked into anything retrograde. Last night Moyet wasn't just sporting a new look, she was also totally convincing about the next chapter in her career.
Overleaf: watch Alison Moyet perform "Nobody's Diary" at the Bush Hall earlier this year
rating
Explore topics
Share this article