Al Green & Michael McDonald, O2 Arena |

reviews, news & interviews
Al Green & Michael McDonald, O2 Arena
Al Green & Michael McDonald, O2 Arena
Two veteran soul men, but who really has the golden voice?
Looked at from a certain angle, Michael McDonald, who supported Al Green at the O2 on Sunday, couldn't be cooler. A key part of Steely Dan's notoriously virtuosic circle of session musicians, the man who turned the Doobie Brothers from hoary rockers to sophisticated R&B hit machine, and latterly the business partner of The Dude himself, Jeff Bridges – the Missouri-born McDonald epitomises a certain kind of laid-back but massively aspirational attitude. It's the attitude associated very much with 1980s Hollywood and mountains of cocaine, and is summed up in the phrase often used to describe his music: "yacht rock".


Onstage, that cool was fully intact: McDonald and his backing musicians – the best that Memphis and Nashville's studios have to offer – were the sort of guys who were born to age gracefully. McDonald is the original Silver Fox
(pictured right)
, and his band wore their long hair with the dignity of long-serving journeymen, not the over-coiffed desperation of ageing ego-rockers. The music was oddly ego-less as well: every sound was so clean and everything was played to such perfection that it felt like a wrong note or dropped beat was a simple impossibility. This was a man-machine band to rival Kraftwerk in terms of the erasure of personality in pursuit of the glossiest groove possible.
For someone of my age, who was at school in the 1980s, this stuff can be hard to take sometimes – the template of slick, saxophone-slathered rock-meets-R&B became so debased through that decade as it became the
de facto
soundtrack to every dubious US TV drama and cheesy advert that it felt like a constant unwanted intrusion on the musical landscape. And "yacht rock" can feel very empty; when McDonald drenched "Sweet Freedom" in gospel-inspired piano riffs early on, it was hard not to read it as a reworking of devotional music into something glibly, abstractedly aspirational with more than a whiff of cocaine-amplified materialism about it.
But McDonald is much more than the cliché he helped to create. His band may have been slick but when they clicked into gear, that slickness could be sublime: the way the 1983 hit "Yah Mo B There" subtly built and built in complexity was astounding, ending in a jazz fusion coda that would have been frankly ludicrous had it not been so awesomely concise and so perfectly slotted in to the song structure. British singer Jakki Grahame, taking Patti Labelle's role in the duet "On my Own" brought a nice touch of rawness, getting the audience up and moving for the first time, while a stripped-bare take on Ray Charles's small-hours classic "You Don't Know me" showed off McDonald's great strengths as pianist and singer.
McDonald has been called "blue-eyed soul" but really he is simply a great soul voice, full stop. Unlike so many white singers (stand up Van Morrison, Joe Cocker, Paul Weller...), he has never felt the need to relentlessly strain and bellow as a signifier of soulfulness, instead skirting the limits of his range expertly, closer to that other great 1980s smoothie Luther Vandross than to any more rockist contemporaries. That he carried off a straightforward cover of "Heard it Through the Grapevine" speaks volumes. And so by the time he reached the Doobie Brothers hits "Minute by Minute" and "What a Fool Believes", barely a punter was left seated, and a finale of the Doobies' "Takin' it to the Streets" with his impressively afroed backing singer coming forward to holler mightily was infused with far more red-blooded gospel spirit than "Sweet Freedom" had achieved.
The model of the cheesy backwoods preacher, a slightly portly 64-year-old in fancy three-piece suit with a vast sparkler on one finger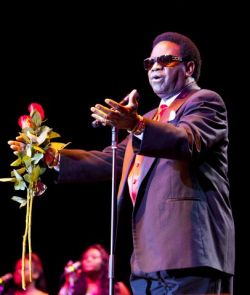 There need be no questions asked about the gospel spirit of the Reverend Al Green, though. I'd heard people rave over the years about Green performances, but nothing prepared me for the non-stop barrage of sheer bonhomie that spread from the stage through the crowd over the course of his set. There was none of McDonald's low-key dignity; as he walked on stage to the band's intro, he was the model of the cheesy backwoods preacher, a slightly portly 64-year-old in fancy three-piece suit with a vast sparkler (visible from across the arena) on one finger, handing out roses to ladies in the front row – but this persona was quickly amplified into something bigger, more inclusive: throughout the set, the roses just kept coming, flung into the crowd one at a time, and his constant repetitions of "I love you! I love you!" to the whole audience became an irresistible hypnotic mantra.
Everything was done with a natural, gloriously lazy countrified air of having all the time in the world, a gentler, churchier small-town parallel to the hyper-showmanship of James Brown. Green would mime along with a keyboard solo for a minute, clap for a few bars, elegantly shuffle through a few funky dance steps, definitely leading the band, but participating and enjoying it as he went. The band, too, felt laid back, with the classic country-soul lope of Green's best recordings, contrasting radically with McDonald's regimented sound which – bar for one brief section in "No Love to be Found" - had never really let in the air or actually broken down their massed intricacy to anything so simple as a groove.

And from the very beginning there was The Voice. Straight away in "Let's Get Married", the highest of high notes just glided out as if they were nothing – there was no histrionic building to crescendos, just a sense that each note came out as the melody deserved, with Green reacting with sheer delight to the feeling of the sound escaping him, whether that was the softest or most emphasised notes. Every word was a celebration, every exhalation was exulted, not in vainglorious pride but at points almost as if he could hardly believe the sound that emerged himself. And well he might boggle; there is no other sound on the planet quite like it.
No video screens, no fancy lighting, no encores and a band who knew when not to play

Of course much of this was theatrics – but it was the timeless theatrics of the church, honed and honed again over years of actual preaching for the pure purpose of engendering good feelings in the congregation. The endless repetitions of "I love you", the chuckles, the almost meaningless but somehow very funny patter (riffing on getting O2 and U2 mixed up, for example), the exclamations of surprise and delight: all were obvious and transparent showman's tricks, but they worked so very, very well it was impossible not to get swept up in the warmth and joy of it all. Unashamedly, he is the preacher and seducer all wrapped up in one - incidentally revealing how very similar those roles really are. When he conducted the audience in a singalong of a couple of verses of "Amazing Grace" they were willing but tentative, but by the time he reached "How can you Mend a Broken Heart", the crowd participation was spontaneous and really quite beautiful.


A medley is usually a sign for a toilet break in a retro soul show, but Green's and his band's slickness and good humour were enough to make even this completely, flummoxingly brilliant. Single verses of "My Girl", "You are Everything", "Sittin' on the Dock of the Bay" were delivered perfectly, stopped abruptly, on to the next with such impeccable timing that it became disorienting – so disorienting that when without warning they dropped into an uptempo rendition of Green's great "Tired of Being Alone" as if it was just another cover in the medley, the whole audience seemed to do a double-take as one, then erupted with applause and cheering.
And with that tricky move, he had us completely. "Tired of Being Alone", "Still in Love With You" then another great cheesy showman's trick, again like a more relaxed James Brown, where he pretended to be tired out and doddery before looking up, grinning and launching into a final glorious "Love and Happiness": this was as close to perfection as soul music gets. Carnal and spiritual, flippant and profound, earthy and lighter than air all at once – it was all done so simply, with no video screens, no fancy lighting, no encores and a band who knew when not to play, but the effect was more powerful than the greatest production pyrotechnics or conspicuous virtuosity could ever create. Ultimately just one old man and his voice was enough to create as great a show as any on earth.