2011: Anthemic Elbow, Iranian drama, and Fear and Loathing in Elsinore |

reviews, news & interviews
2011: Anthemic Elbow, Iranian drama, and Fear and Loathing in Elsinore
2011: Anthemic Elbow, Iranian drama, and Fear and Loathing in Elsinore
A transgressive Shakespeare and big-hearted Mancunians were among the year's highlights
Wednesday, 28 December 2011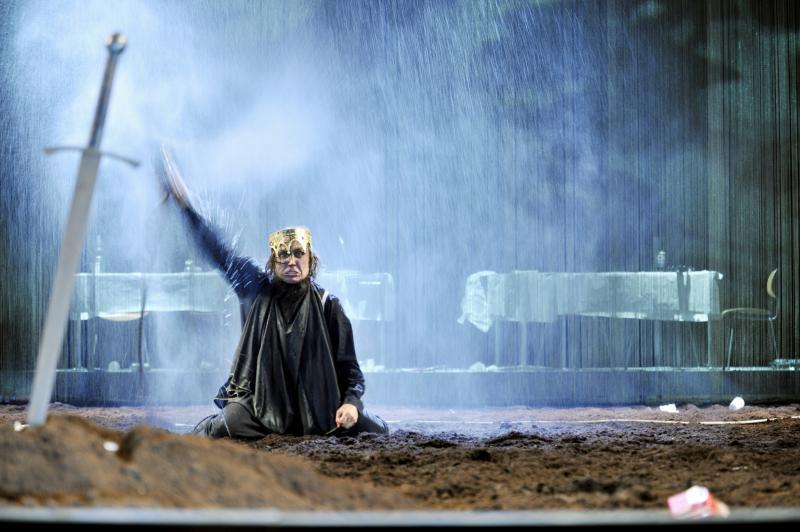 Schaubühne's Hamlet: a stylistic staging of terror, insanity and loathing
The Barbican has always led the way in London in international theatre programming. The year there ended on a high, with Thomas Ostermeier's Hamlet from the Schaubühne laying down new markers for transgressive commitment. I was sceptical about it when I saw the Berlin première in 2008, and our own critic was not, commendably enough, in a mood to be fooled around with.
Yet a production which stages, so stylistically, terror, insanity and loathing (all in Shakespeare) with six actors straining every sinew
without
entirely ridiculing the play has to be respected.
From the Bard to a big blast: Elbow had, until the 2008 Mercury for The Seldom Seen Kid, been a bit of an indie secret, cleverly matching over almost two decades lots of early 1970s progressive techniques with edgy millennial urban and personal concerns. Pretty mainstream now, the five-piece's two nights at the Dome (I was at the second) were nonetheless sumptuous, funny and inspiring, honey-voiced front man Guy Garvey proving himself a master raconteur – Mancunian patter, to say nothing of those big-hearted songs, brilliantly demolishing even the most knowing of critical defences. From Build a Rocket, Boys! "The Birds" (opening both album and gig) is my most-played singalong track of the year.
At another end of the musical spectrum, the Polish-based I, Culture Orchestra, made up of young east European musicians (and from even further east: Armenia, Azerbaijan), is modelled on Daniel Barenboim's West-Eastern Divan Orchestra (Jews and Arabs). On 9 November at the RFH, they were only seven concerts old and I was charmed. Prokofiev's Scythian Suite was played with immense gusto, ditto Szymanowski's Symphony No 4; seeing 89-year-old Neville Marriner then step briskly on to the podium for a zinging Tchaikovsky Symphony No 4 was one of the more refreshing high art experiences of the year.
2011's most unexpected film was Iranian Asghar Farhadi's A Separation (pictured above right) winner of the Berlinale's Golden Bear. Predictably – can't see 'em all – I missed it in Berlin, though there were some other pleasurable surprises both there and at its summer companion festival in Locarno. For some reason, Argentina is turning up trumps: El premio and Medianeras in Berlin, and the coolly complex El estudiante in Locarno, show in different ways, after a catastrophic thirty years, a compelling society trying to decipher itself. Farhadi's marital drama, meanwhile (it came to London) – set in a society suffering its own catastrophe since 1979 – has a Shakespearian gravitas and intensity.
Still from overseas, the Group of Seven will have been heard of by few in Britain. They were turn-of-the-century Canadian painters, headed up by outdoorsman Tom Thomson (Joe Creek, 1914, pictured left) – he died before reaching 40. A fascinating hang of his and his peers' paintings and drawings at the Dulwich Picture Gallery was an education, inevitably, but also a revelation. Rarer still are the El Lissitzky originals (amongst others) at the RA until mid-January in perhaps 2011's most original exhibition, "Building the Revolution", about Soviet art and architecture – but it's the early revolutionary art here, the Constructivists', that really matters.
2011 highlight: A small-scale Electra at the Gate Theatre, Notting Hill, was a study in precise, updated adaptation, passionate acting, and packed a punch with every line.
2011 letdown: Peter Brook's Une flûte enchantée, his fileted version of Mozart's The Magic Flute, was dismayingly bad: a reductio ad absurdum too far.
2012 recommendation: Edvard Munch: The Modern Eye (Tate Modern, 28 June to 14 October) will try and take the Norwegian painter out of his clichéd late-19th century posting into post-Expressionism and towards photography and film.