The Wedding Video |

reviews, news & interviews
The Wedding Video
The Wedding Video
Brit romcom brings an endearing Lucy Punch to the altar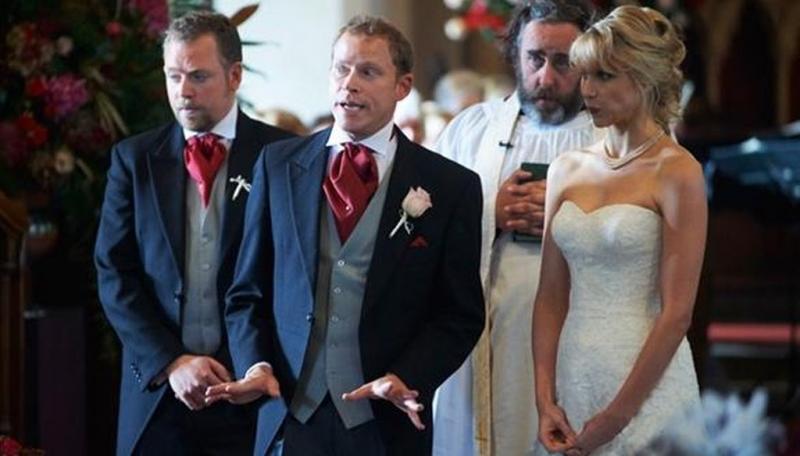 One wedding and two grooms? The Wedding Video puts a spin on modern-day marriage
The potential minefield that is the run-up to marriage brings filmgoers back to the altar once again courtesy The Wedding Video, an English romcom that is quite a bit better than one might at first expect.
A mixture of
pro forma
slob comedy (what, no Rhys Ifans?) possessed of a genuinely endearing twist, director Nigel Cole's latest feel-good venture actually does cheer the heart, even if there are ample passages of grimace-and-bear-it shenanigans that have to be got through along the way.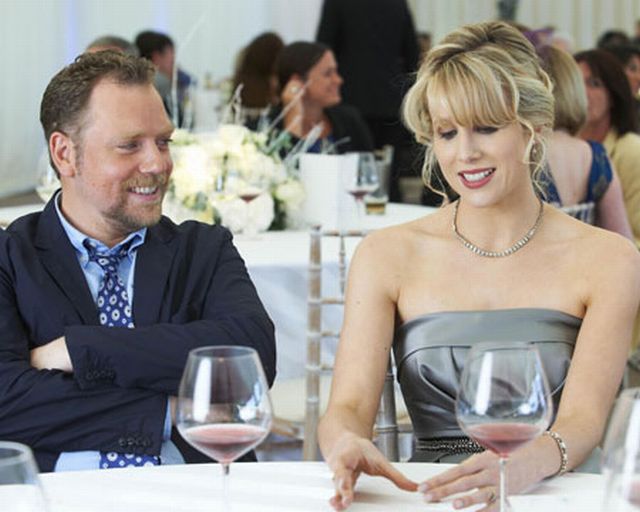 Rufus Hound (pictured right, with Lucy Punch) stars as Raif, devil-may-care brother and best man to the comparatively uptight Tim (Robert Webb), who is marrying society darling Saskia (Lucy Punch), whom Raif knew during her less salubrious schooldays. Keen to offer by way of a wedding gift a video chronicle of events leading up to and including the big day, Raif is in every way an outsider to the glammed-up, socially hyper-conscious assemblage of which he will soon be an extended part, Saskia's family featuring both a mother (Harriet Walter) and grandmother (Miriam Margolyes) who are grotesques.
At first, you may think you've seen this all before, not least because Webb can't effect much variation on the tight-lipped exasperation that has made him a small-screen star. Indeed, Tim Firth's script might have made clearer how it is that Tim and Saskia ever got together in the first place, though it's in keeping with the eventual spirit of the piece that Tim in fact knows as little about his bride as we know about him. The catalyst for disruption, and worse, arrives in the portly personage of Raif, a lord of misrule who before long is quizzing the twosome about their sex lives and raising Saska's mum's blood pressure to makeup-cracking bursting point and beyond: Walter's struggle to achieve something resembling grace under pressure is one of the sustained treats of the film, especially for those accustomed to the high-wire neurosis she often conveys on stage.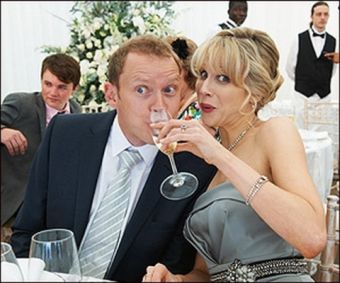 The narrative spin is best left discovered for oneself: suffice it to say that Raif turns out not to be quite the intruder from hell that his shambolic mien might suggest. And in a part one could easily imagine wedded to James Corden, Hound shows a comparable gift for conveying sensitivity beneath a loutish exterior, and he and Punch share a nicely judged soul-baring scene paving the way for an ending that can be said to invert The Graduate, the conclusion abetted by a vicar who is willing to be, well, flexible. (As regards Corden, it's no surprise to hear that Hound will be playing the Tony-winning actor's star part when the play One Man, Two Guvnors goes on its UK tour.)
Punch, too, impresses as one of those social gadflies whose psychic ache co-exists with some seriously flowing hair. It's easy to believe in the tearaway that Saskia once was as well as the good daughter and wife she now wants to be, even if, moving up the family tree, one can hardly blame Margolyes for allowing her sour-faced aspersions to amount to a prolonged sight gag. Among the rest, I could have done without Matt Berry as Raif's best mate, a songsmith along for a rather superfluous ride, though Green Wing's Michelle Gomez is a fiery-eyed hoot as a wedding planner who thinks nothing of supplying Koreans to do foot massages in the loo.
In the end, everyone's happy, except that the wedding bouquet knocks its recipient to the ground. Will she sue? I suppose we'll find out in the sequel.
Watch the trailer for The Wedding Video
It's easy to believe in the tearaway that Lucy Punch's Saskia once was as well as the good daughter and wife she now wants to be
rating
Explore topics
Share this article