Uncle Frank review - well-acted but painfully contrived |

reviews, news & interviews
Uncle Frank review - well-acted but painfully contrived
Uncle Frank review - well-acted but painfully contrived
Alan Ball's film largely wastes a wonderful cast
Saturday, 28 November 2020
Southern discomfort: Paul Bettany in 'Uncle Frank'
A top-rank cast swims against the tide in Uncle Frank, writer-director Alan Ball's well-intentioned but fatally contrived film that presumably contains more than a trace of the Oscar-winning filmmaker's own past.
Telling of a
gay
southerner called Frank (Paul Bettany) who is called back to his native (and bigoted) roots from the freedom he has found as a university professor in New York, Ball's narrative begins intriguingly before swerving towards implausibility and melodrama that not even the always-terrific Bettany and a distinguished cast can forestall.
The film begins as a memory story narrated by Betty, or Beth, Bledsoe (Sophia Lillis, a dead ringer for a young Amy Adams, and pictured below), a wide-eyed teenager who loves literature and has a soft spot for the one family member, her Uncle Frank, who has got away from the narrow intellectual and emotional confines of Creeksville, South Carolina. Dreaming of her own psychic liberation up north, Beth soon finds herself enrolling at NYU ca. 1973, notwithstanding the protestations of the blustering family patriarch, Daddy Mac (Stephen Root), whose convenient death draws Frank back south for a series of grim reckonings that try one's patience.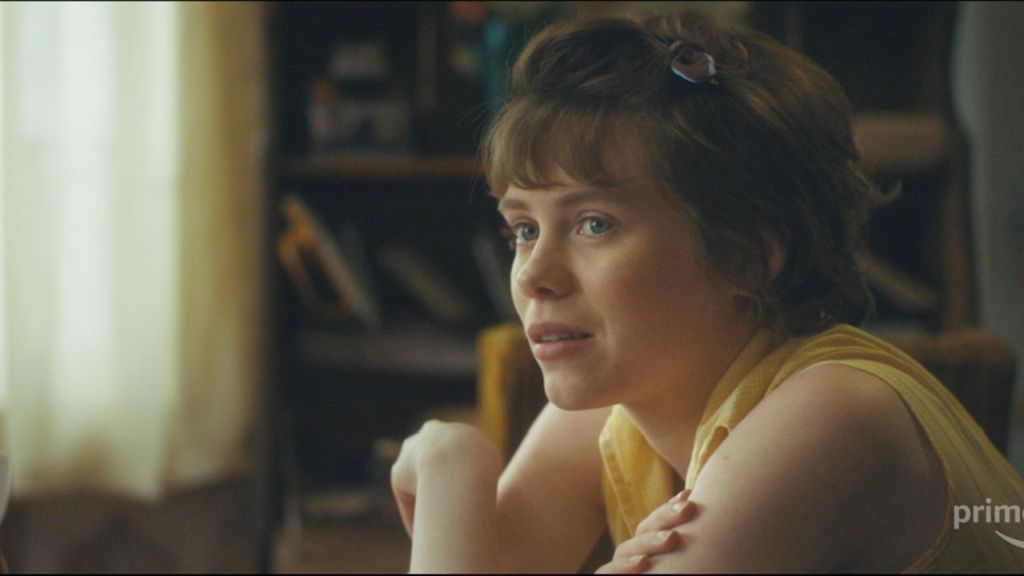 In between, we find Beth making her innocent abroad's way through Manhattan, where with unnerving speed she is briefly handed a boyfriend, Bruce (Colton Ryan), who is given to pronouncements on the order of, "My blow jobs are like poetry" - a line that might be assumed to pass speedily by but instead is here dwelled upon to risible effect. With ears like antennae, Bruce clocks a party happening at Frank's Greenwich Village apartment, to which he brings the similarly uninvited Beth. What they soon discover is a community of gay men and women in which Bruce himself proves more at home, sneaking away from Beth to make an (unreciprocated) pass at Frank on the fire escape.
Daddy Mac seems such a hateful creature that you might assume that news of his death would come as a relief and a release. Instead, amidst plenty of tears and hand-wringing, Bruce's family converges for a revelation-packed memorial accompanied by flashbacks that make plain the multiple scars Frank has experienced along the way to his own sexual awakening. A parallel coming of age exists in the person of Wally (Peter Macdissi, Ball's real-life partner), Frank's lover, a Saudi Arabian who knows a thing or two himself about repression and who won't let Frank's homecoming take place unaccompanied: you can guess the sentimental finale that lies in wait.
Ball's Oscar win for writing American Beauty was several decades ago now, and one wishes Uncle Frank possessed more of the sidelong wit and anarchic spirit of both that film and his subsequent and fondly remembered TV series, Six Feet Under. Instead, this latest film hits every emotional cue with a ponderousness only partially alleviated by a mighty cast headed by Bettany, who brings what restraint he can to the gathering overkill and who cuts an engaging, empathic presence throughout. Lillis does her best to enliven the rather drearily conceived role of the family naif who exists to have her world enlarged, and Frank's clan allows room for a starry array of talent that includes Steve Zahn and Judy Greer (pictured above) alongside two female near-legends in Margo Martindale and 2020 Tony Award nominee Lois Smith. They all deserve a reunion under happier circumstances, and soon.
Read more film reviews on theartsdesk