Total Recall |

reviews, news & interviews
Total Recall
Total Recall
This remake of the 90s classic would be a better science fiction thriller if it had another name
Wednesday, 29 August 2012
Colin Farrell: totally recalling how to work this thing
There's no Mars or Arnie, but the new Total Recall has science fiction goodness running through it. A mile of Blade Runner, a yard of Fifth Element, a furlong of Star Wars and an inch of RoboCop make up the distances in Len Wiseman's glossy, brooding take on Paul Verhoeven's beloved Nineties hit.
Production designer Patrick Tatopoulos must have been up for months watching the best science fiction films and deciding where their memorable bits would fit here. (He's not left out
I, Robot
or
Minority Report
, in case you like those too.) As if to honour the story that inspires it,
Total Recall
will remember other films for you, retail.
Neither film, however, is a slave to Philip K Dick's original: its hero is still not the mild clerk of We Can Remember It For You Wholesale. Total Recall 2012 starts out with the same puzzlement as before - a handsome, fit chap called Douglas Quaid (then Arnold Schwarzenegger, now Colin Farrell) is married to the gorgeous Lori (then Sharon Stone, now Kate Beckinsale, pictured below) and he's still not happy. Quaid works in a factory making androids. One nuance is that he and his co-workers commute via "The Fall", a skyscraper-sized lift that plummets through the centre of the Earth. (This takes 16 minutes and is basically a theme park ride, so it beats the bus.) Only the United Federation of Britain and The Colony (Australia) have survived the chemical warfare that has wrecked the environment.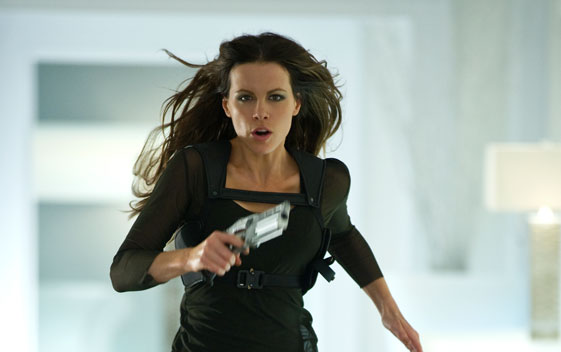 When Quaid doesn't get a promotion at work, he nurses his wounds at Rekall - a pricey place where they install new memories. His pal Harry (Bokeem Woodbine) warns him not to go. Sure enough, the procedure goes wonky because, voilà, Quaid is not Quaid. Now he's a kind of Jason Bourne, on the run from everybody because he's actually someone quite important. His wife is after him because she's really on the evil team of Chancellor Cohaagen (Bryan Cranston from TV's Breaking Bad). He's also wanted by members of the resistance, as portrayed by Jessica Biel and Bill Nighy. Neither actor is noted for a variety of facial expressions but that doesn't matter here: Total Recall's world is so grim that one face is plenty.
Slowly, Hollywood is learning a new golden rule: Do Not Remake Good Films. Wiseman, best known as the director of two Underworld films (with wife Beckinsale), unfortunately drinks from that poisoned chalice. To succeed, Total Recall would have had to be much much better than its predecessor. But the fight between films of the Nineties and now will always be unfair: for one, it's much harder to break as an event film. For those who recall its wilder, raucous ancestor, this year's Total Recall shares a name and a genre. With another title perhaps, this quite serviceable science fiction thriller could have been a contender. As it is, we may watch it again for the gadgets - the glowing hand-embedded telephones are pretty nifty - for the stunts, the visual homages and the beauty of its leading players. It may have a much sexier three-breasted street lady (Canadian actress Kaitlyn Leeb, what a good sport), but the new Total Recall doesn't have the laughs, the trickery or the surprises of the original. No, it isn't the wreck that fans expected, but even as a standalone film, it doesn't amaze or entertain us enough to win big in the high-stakes world of science fiction filmmaking.
Watch the trailer to Total Recall