A Thousand Kisses Deep |

reviews, news & interviews
A Thousand Kisses Deep
A Thousand Kisses Deep
Dana Lustig's time-travel thriller brings reconciliation to a troubled life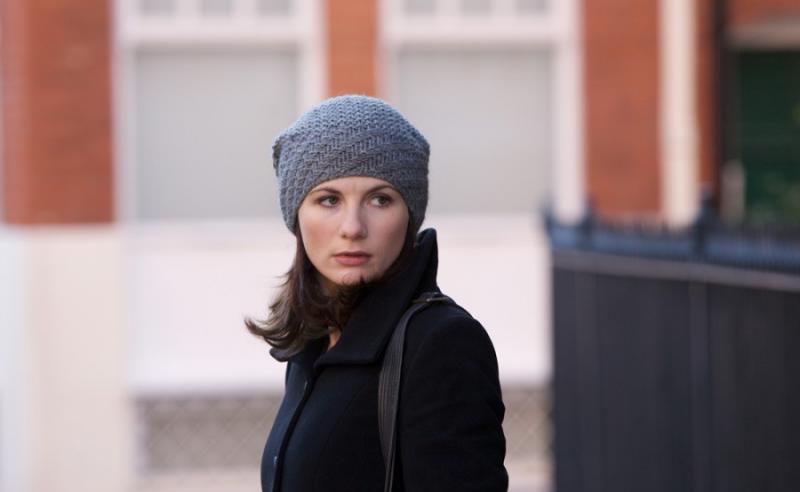 A lonely journey into the past: Jodie Whittaker finds out more about her life in 'A Thousand Kisses Deep'
The wish to go back into your past, and change things with the knowledge you have in the present, must be a universal one. It's the subject of Israeli-US director Dana Lustig's A Thousand Kisses Deep, which manages to make fantasy come alive for its heroine Mia (Jodie Whittaker, outstanding in the role). With the help of time travel.
Coming home from a nursing shift to her London mansion block home one morning, Mia witnesses an old lady leaping to her death from the same building, holding in her hands torn photographs, one of which Mia recognises as that of her former lover, jazz musician Ludwig (Dougray Scott, also powerful, playing elements of both destruction and self-destruction brilliantly).
That sends her on a journey of discovery, aided by the eternal caretaker of the building, Max (David Warner, who feels a little like he's been borrowed from Downton Abbey). When Mia enters the dead woman's flat she finds much that belongs to her past. It's her life.
It helps to know that the film's title from Leonard Cohen
It's at this point that elements of the psychological thriller come in, bringing echoes of Peter Howitt's Sliding Doors with its themes of parallel worlds and time continuums. In Lustig's film we see not sliding doors but descending elevators, managed by Max, who is something of a Tiresias figure.
This mysterious lift brings Mia back first to the time of her break-up with Ludwig, a jazz trumpeter of genius who is about to hit rock bottom at the end of a downward slide. Mia effectively plays the voyeur as she witnesses scenes from her own past, including their sexual liaisons, his anger and their breakup (Scott and Whittaker pictured below right).
Then the lift takes her back yet further, to her own early childhood, to witness her parents' marriage – not a happy one. Her mother Doris (Emilia Fox) has both hit the bottle and partakes of weed. There's a secret back there as well, which proves the crucial one in final reconciliation for Mia.
It helps to know that the film's title comes from Leonard Cohen (nor is it the first time the song has featured in film: Patrice Leconte also deploys it in La Fille sur le pont). The lyric tells of a relationship so close, so obsessional, so rich and so violent, that the break-up has to come. Its final lines say everything: "No turning from the threat of love/No transcendental leap/As witnessed here in time and blood/A thousand kisses deep."
Whether the time-travelling works is moot, but the drama in itself certainly convinces. It's from a script by Alex Kustanlovich and Vadim Moldovan, both New Yorkers, the latter a psychotherapist to boot. Production designer Alison Riva and costume designer Allison Wyldeck totally convince in their evocation of London life from the 1960s to the present day. The final melody from "For All We Know" catches the atmosphere of a complex and distinguished film that resounds on the heartstrings long after viewing: "We come and we go, like a river or a stream".
Watch the trailer to A Thousand Kisses Deep

In Lustig's film we not seeing sliding doors, but descending elevators
rating
Share this article