Spiderman: Far from Home review - a pleasant, if clichéd, tour |

reviews, news & interviews
Spiderman: Far from Home review - a pleasant, if clichéd, tour
Spiderman: Far from Home review - a pleasant, if clichéd, tour
Assorted European capitals are blessed with a visitation from the Marvel juggernaut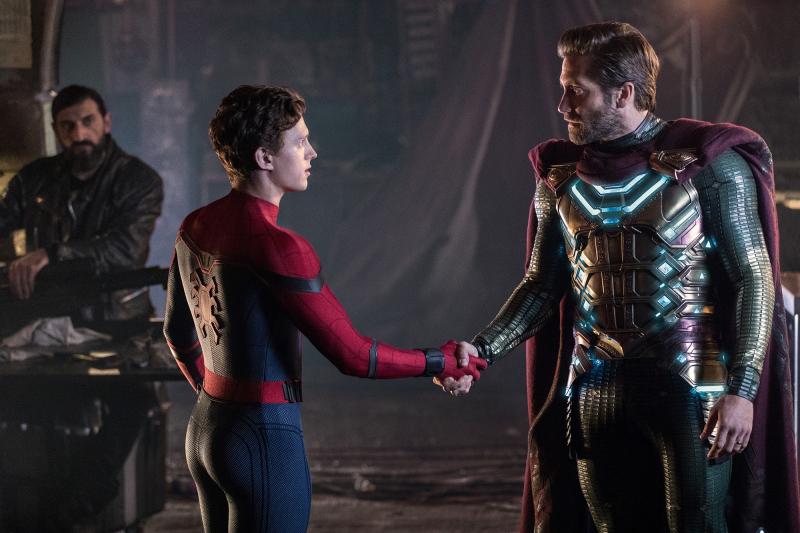 A mysterious new face: Peter Parker meets Jake Gyllenhaal's Mysterion
There's no rest for the webbed wonder in Spiderman: Far from Home. It's just a few months since Marvel wiped out Iron Man in Avengers: Endgame and his protégé Peter Parker is being hounded to fill Tony Stark's place. Iron Man didn't give the teenager his high-tech Spidey suit just for him to stuff it in the back of the wardrobe and get on with being a normal teenager, not when the planet is in danger (again).
Tom Holland, so endearing in 2017's Spiderman: Homecoming, is a little overwhelmed by the responsibilities thrust upon him. The young British actor is adept at swinging not just from tall buildings but from superhero to awkward teen. 'I didn't think I'd have to save the world this summer,' he just wants to be a regular kid, go on his class trip to Europe. He's plotting to tell the aloof Michelle/MJ how much he likes her, preferably up the Eiffel Tower with Paris twinkling below.
After the exhausting Avengers: Endgame, this new Marvel outing is relatively short and refreshingly comic with its high school romances, inept teachers and embarrassing aunt (Marisa Tomei). But it's not all YA gags, someone is conjuring up Elementals, phantasmagorical monsters who threaten to destroy Venice just as Peter and his pals pose for their selfies. A weary Nick Fury (Samuel L Jackson) is determined that young Spiderman does battle with the destructive vortices in Prague, Amsterdam, London and Berlin. It all makes a change from the skyscrapers of the US, even if the location choices are lazily clichéd – tulips and windmills, Tower Bridge and double decker buses, gondolas and carnivals.
Sitting through the endless end credits (obligatory if you want to see the two teaser scenes) indicates that all those foreign locations came in handy with helpful tax breaks. If the backdrops feel stale, at least there's spark to the romance between Spiderman and Michelle/MJ. Zendaya (pictured above) looks like a young, mixed-race Lauren Bacall and plays MJ as a woke contrarian with a tender heart and a dry wit. When Peter tells her she looks 'really pretty' she comes back with 'and therefore I have value? Just messing with you. You look really pretty too.' For those of us mourning the acerbic Black Widow (Scarlett Johannsson, killed off in Avengers: Endgame) it looks like Zendaya could step into her shoes.
But whether the new antagonist, Mysterio (Jake Gyllenhaal), who spends much of the film with his head encased in a fishbowl helmet filled with swirling smoke, will become as iconic as Thanos, is another question altogether. Ultimately Spiderman: Far from Home is a place-marker in the Marvel cosmos but it will doubtless help boost tourist dollars in assorted European cities.