Spider-Man: Into the Spider-Verse review - a new hope for the superhero genre |

reviews, news & interviews
Spider-Man: Into the Spider-Verse review - a new hope for the superhero genre
Spider-Man: Into the Spider-Verse review - a new hope for the superhero genre
An anarchic animated adventure with a psychedelic style and whip-smart voice cast
Tuesday, 11 December 2018
Superhero over-saturation? Spider-Man proves that sometimes more is better
After Sam Raimi's original mixed-bag trilogy, Andrew Garfield's all too familiar outing as the webslinger, and last year's Spider-Man: Homecoming, it would be fair to say we've had enough Spider-Man films. Despite the potential fatigue from yet-another-origins story, we now have Spider-Man: Into the Spider-Verse.
Whilst the cynic might see it as another attempt by
Sony
to tighten their grip on their IP before inevitably relinquishing it to Marvel, the reality is that, whatever the motivations, they've created something spectacular.
This should come as no surprise given the talent in charge of the project. In the producer role are the brains behind the Lego Movies, Phil Lord and Chris Miller, who boldly bring their anarchic sense of humour to the Spider-Verse. Meanwhile, first-timer Bob Persichetti, Rise of Guardian's Peter Ramsey, and 22 Jump Street writer Rodney Rothman show off their dexterity as directors. This powerhouse team rip apart the po-faced tone that has beleaguered recent superhero instalments, opting instead for a dazzling assortment of meta-jokes and post-modern quips, with a remarkable array of Spider-people from multiple universes. Set against a pop-art backdrop worthy of Lichtenstein, you'll feel as if you've fallen into the pages of a comic book for two hours.
At the heart of the story is Miles Morales (Shameik Moore) – a mixed-raced teen, coping with a new school. Unsurprisingly he's been bitten by a radioactive spider and must take on the mantle of Manhattan's webslinger. The joy of not having to see Uncle Ben murdered (again) or hear the now-tired line, "With great power comes great responsibility", immediately improves things. Instead we get a compelling backstory involving Miles' cop-father (Brian Tyree Henry) and his brother (Mahershala Ali), and a tale of a young boy trying to find his place in the world.
Meanwhile, Kingpin (Liev Schreiber), a cuboid behemoth in a suit, is grieving the loss of his wife and son. Desperate to get them back, he employs a scientist (Kathryn Hahn) to build a giant interdimensional collider to pluck his loved ones from another universe. Unfortunately, things don't go to plan and the machine ends up ripping a hole in the multi-verse, pulling multiple Spidies into this dimension.
The first web-crawlers Miles meets are a beer-bellied, sad-sack Peter Parker and the quick-quipping teen, Spider-Woman (Hailee Steinfeld). Then we encounter some less-familiar characters – an anime spider-hero, Peni Parker (Kimiko Glenn) and her cutesy Spider-Bot, Noir Spider-Man (gleefully voiced by Nicolas Cage doing his best Bogart impression), and Spider-Ham, voiced to perfection by John Mulaney. In suitable superhero fashion they must band together to restore order to the Spider-Verse.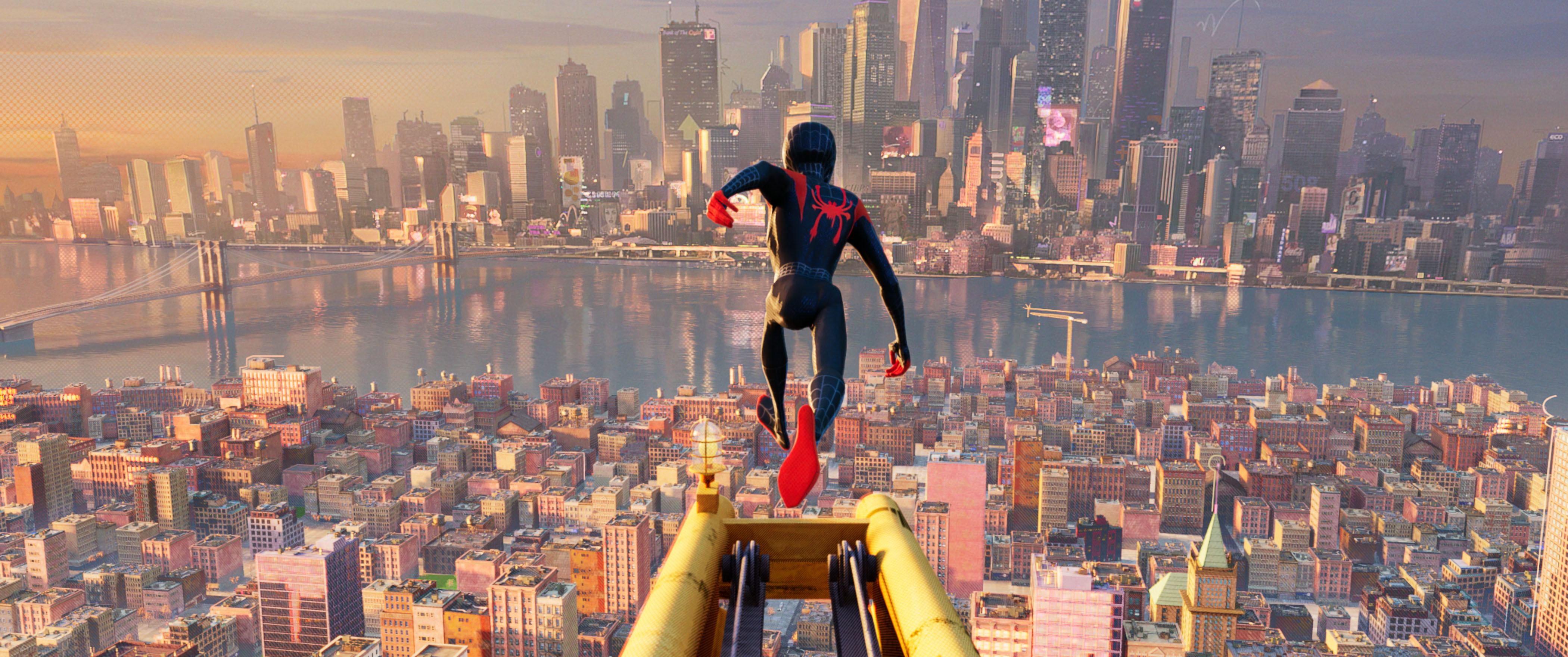 The plot might sound like familiar fare, but don't be fooled. Every beguiling frame is full of originality. Each character's animation style is unceremoniously slammed against the next, making for a frenzied, yet beautiful experience. The story, which on paper sounds flimsy, is treated with care, paying homage to the 54-year-old history of the heroes. With nods towards everything from 'Spider-popsicles' to the '67 animated series, the references will charm both old and new fans. But the film team aren't only concerned with making us laugh, and never forget to tell an entertaining story along the way.
The filmmakers give no quarter to canon, nor the rules that have recently been established by modern superhero films. Neither do they seem bothered about poking fun at themselves. At the film's heart there is Miles' story as the first mixed-raced Spider-Man, rendered with utter care and devotion. The message of the film – that it's not the mask but the man – is a heartfelt and fitting tribute to the legacy of Steve Ditko and Stan Lee.
Every beguiling frame is full of originality
rating
Share this article