Shorta review - Danish police drama |

reviews, news & interviews
Shorta review - Danish police drama
Shorta review - Danish police drama
First-time film-makers' ambitious tale of police trapped in the ghetto
Saturday, 11 September 2021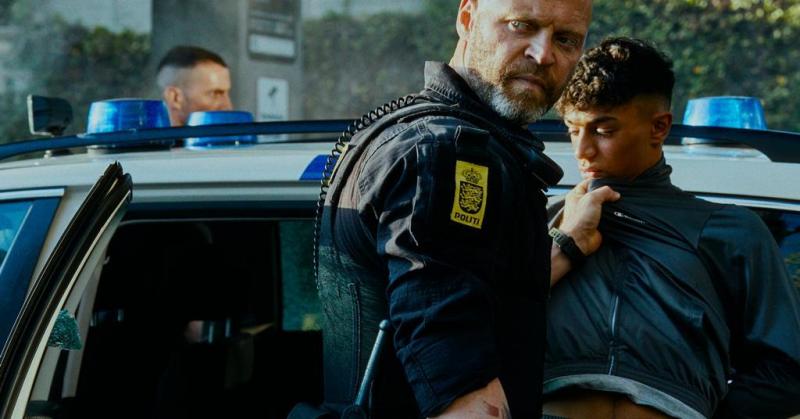 Cop with a grudge, Jacob Hauberg Lohmann as Mike Andersen
This Danish police drama attempts to tackle the country's uneasy relationship with the immigrants it's allowed into its cities over the last 30 years. The result is a somewhat clumsy attempt at fusing social commentary with the visceral thrills of an action movie, complete with car chases, shoot outs and muscle-bound fistfights.
The title is the Arabic word for police and Shorta opens with a close up of a black teenager, Talib Ben Hassi, shouting "I can't breathe" as he's held down on the floor by a white officer. It's a little cheap to reference a real-life atrocity for entertainment purposes but it heralds the clumsiness of the scriptwriting to come. The scene is followed by a body-armoured cop, machine gun at the ready, peering down from a helicopter at the sprawling housing estate below where immigrants from the Middle East are consigned. Meanwhile back at the station another policeman pumps iron in the gym and watches the news of Hassi's assault. Suspending the officers involved will not head off protests, so the precinct captain cancels all leave. The cops complain, none more so than embittered racist Mike Andersen (Jacob Hauberg Lohmann) who is paired up with the more taciturn Jens Hoyer (Simon Sears below left).
Told to keep clear of the (invented) ghetto of Svalegarden to avoid provoking further unrest, Andersen ignores instructions and pursues a known drug dealer's car into the estate itself. Thwarted in his desire to bust a real criminal, he then picks on a young Arab teenager, Amos (Tarek Zayat above right), and strip searches him for no good reason in full view of disaffected locals. It's hardly surprising that their patrol car is attacked and the two cops have to take to the streets, waiting for back up that doesn't come. How are they going to make it to safety when their fellow officers have abandoned them in a maze of high rises, looted shops and concrete courtyards?
Over 100 minutes Shorta plays something like a video game, with a series of challenges for Andersen and Hoyer to work through (deploy Amos as their prisoner-guide, find a change of clothes, stab a rottweiler, dodge not only gunfire but Molotov cocktails, contend with mobile phone footage relaying their every move). The heavy handed score, all urgent percussion and strings, adds to the impression that we're watching the narrative segments in a Grand Theft Auto rip off while waiting to move to the next level. Every now and then the movie slows down for a bit of dialogue about the central moral dilemmas – should cops defend each other in the name of trust or expose violent abuse, even if it means whistle-blowing on their partners?
Written and directed by two first time filmmakers, the film has so many loose ends and unlikely coincidences that one wonders if scenes have been cut or if enough drafts were written before filming began. If you want a tightly scripted, superbly performed portrait of a tormented Danish cop, 2019's The Guilty is a much better choice. But for those audiences not familiar with Denmark's anti-immigrant politics (Priti Patel would be very comfortable living there if they'd let her in), Shorta is enlightening. If you're in search of city thrills, better by far to check out a classic like Assault on Precinct 13 or the French cop movie, Les Misérables, which came out last year and tackled many of the same dilemmas with infinitely more style and nuance.
Over 100 minutes Shorta plays like a video game
rating
Explore topics
Share this article