She's Funny That Way |

reviews, news & interviews
She's Funny That Way
She's Funny That Way
Woody Allen haunts Peter Bogdanovich's putative comeback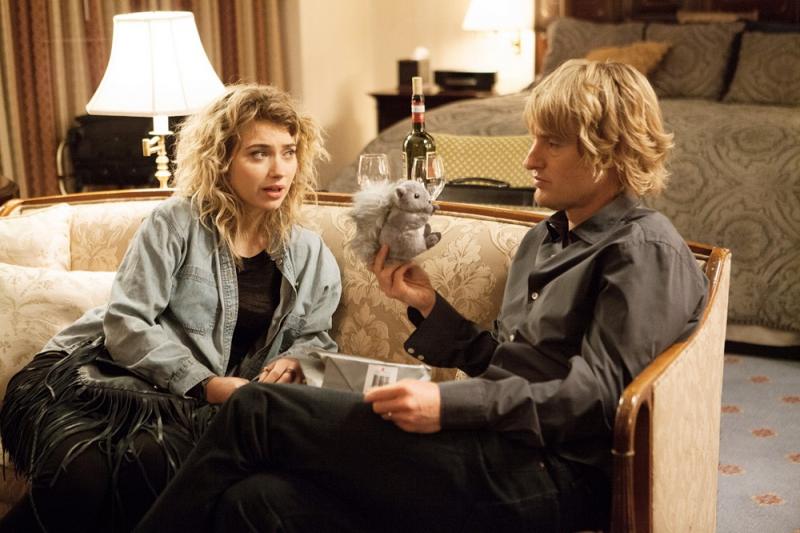 What's with the accent? Imogen Poots goes all Brooklyn on Broadway director Owen Wilson
If Peter Bogdanovich – remember him? – weren't there in the credits, Woody Allen would seem the unmistakable director of She's Funny That Way, the way too intermittently funny trifle that calls to mind such far superior Allen paeans to the New York stage as Bullets Over Broadway and finds leading man Owen Wilson adopting Allen's mannerisms throughout (as well Wilson might, having led the cast of Midnight in Paris).
Playing a Broadway director who can't keep his trouser belts buckled, a stammering Wilson is the supposed comic pivot of a slow-aborning film from the once-great Bogdanovich, that pioneer of 1970s celluloid whose Last Picture Show remains just one of the defining titles from his storied past to make one hope that this bagatelle isn't in fact the 75-year-old American auteur's, um, last picture.
Bogdanovich co-wrote the script with (now ex-wife) Louise Stratten, and one gets glimpses throughout of the comic soufflé that the project wanted to be. Narrated in flashbacks by shooting star Izzy (Imogen Poots) as she relates to a cynical showbiz journo (say it isn't so!) her call-girl past en route to Broadway renown, the film uses the career-minded Izzy to lead us into the tangled erotic weave that Arnold Albertson (Wilson) has made of his life. At that point, cue multiple opportunities for cameos from women in various states of rampaging distress, Kathryn Hahn as Wilson's wife reprising a variant on the role she played on Broadway in 2008 in the comparably libidinous Boeing-Boeing. If only this movie had half that play's breeziness and sense of fun.
Some may pass the time playing spot the cameo, whether it's a fleeting glimpse of onetime Bogdanovich paramour and artistic muse Cybill Shepherd or the fast-rising child actress Sydney Lucas, a Tony nominee this year for her performance in the Broadway musical Fun Home. There's a weird minute or two from Michael Shannon and scarcely even that from Joanna Lumley, the acting honours without a doubt going to Jennifer Aniston (pictured above) in genuinely amusing strung-out form as a feral shrink who doesn't hesitate to shriek to her patients – and the world in general – what she thinks at every turn.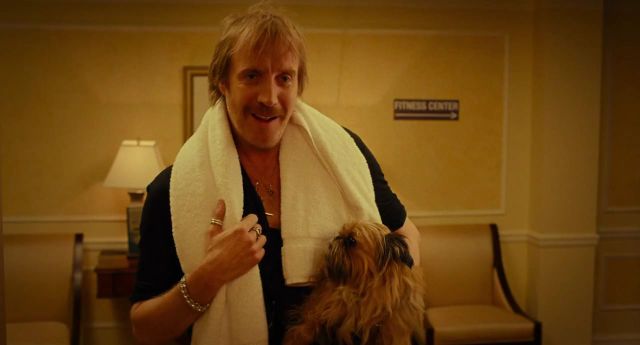 Ever the cineaste, Bogdanovich rather belabours a textual citation from the final film of Ernst Lubitsch, by which time one is scarcely surprised to see Quentin Tarantino pop up in the closing moments – Tarantino's status as the film buff extraordinaire the stuff of Hollywood legend. Legendary in less felicitous a sense is sure to be Poots's Brooklyn accent, which is so thick that you want to serve it up with mustard on rye. On the other hand, subtlety was clearly not the goal here, as Rhys Ifans's barnstorming performance as a vainglorious thesp further proves. (Ifans is pictured above.)
And like so many filmed depictions of Broadway, the play-within-the-film seems to go down a treat with the audience in the movie even as the rest of us can't begin to fathom its appeal. The success of Birdman notwithstanding, why can't movies more often get the theatre right? Hollywood, it's safe to say, is funny that way.
Overleaf: watch the trailer for She's Funny That Way