Sherlock Holmes: A Game of Shadows |

reviews, news & interviews
Sherlock Holmes: A Game of Shadows
Sherlock Holmes: A Game of Shadows
Robert Downey Jr's larking detective channels Chaplin and Freud and the spirit of Vinnie Jones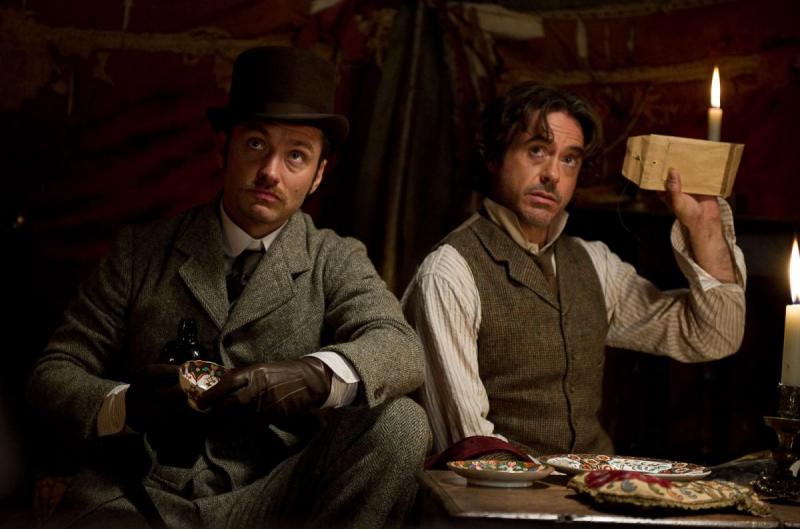 Not as we know them: Jude Law and Robert Downey Jr in 'Sherlock Holmes: A Game of Shadows'
So overt it's covert. That's how the famous detective explains away the crassness of his disguises. In this newest instalment of the latest cinematic incarnation of the Holmesian myth, the detective rummages through the dressing-up box for silly beards, false gnashers, stupid specs. This Holmes even wears a type of babygrow whose patterning comically blends into the decor. As with Sherlock Holmes, so with Sherlock Holmes: A Game of Shadows.
This is another film by Guy Ritchie disguised as a detective story by Arthur Conan Doyle. You couldn't ever mistake it for the real thing. It's so overt it's covert.
Ritchie's second stab at Holmes has just enough to commend it, not least a resumption of the likeable relationship between Downey's Holmes and Jude Law's spry Dr Watson. They are very good in a set-piece scrape, of which there are many hectic art-directed examples. The gaming house, the steam train, the opera house and the munitions factory all host shootouts and chase sequences in which Holmes and Watson attempt to foil the dastardly plans of Professor Moriarty (Jared Harris, pictured below). His aim is to provoke war between Germany and France through a series of crafty assassinations and thus profit by selling weapons to both aggressors. Holmes's job is to prevent one final climactic killing and avert diplomatic cataclysm. It's all a long way from rounding up a scary pooch on a foggy moor.
So what exactly is inauthentic (apart from all of it) about Ritchie's second stab at a made-up Holmes story? Like the first film, A Game of Shadows is at a disadvantage with British television viewers who marvelled at the quicksilver wit and sheer braininess of the BBC's recent version. That may have been cheekily updated to contemporary London, and substituted the Reichenbach Falls we visit here for municipal swimming baths. But while Benedict Cumberbatch's sociopath had a properly ruthless streak, Downey is somehow channelling the clownish spirit of his other iconic Edwardian, Charlie Chaplin: balletic, graceful, bent on currying audience favour.
Meanwhile, presumably abetted by Ritchie, the script by married couple Michele and Kieran Mulroney is eager to vaunt itself as some kind of intellectual artefact. The first murder victim is called Hoffmanstahl, after Richard Strauss's librettist, and multiple references to Mozart, Johann Strauss and Schubert's Trout Quintet all form part of the same figleaf. A concerted effort is made to cite psychoanalytic diagnoses, as if scattering cushions. Holmes, advises Watson at one point, is "manic verging on the psychotic", while Moriarty is said to suffer from "acute narcissism and moral insanity", and he himself argues that "the unsconscious hides an insatiable desire for conflict". As my old English teacher used to scribble in the margin, Put Away Your Penguin Freud.
The reality is that Ritchie's boat is not remotely floated by Holmes's ratiocinative powers. He does all his deducing in high-speed flick-book sequences as if to get the clever stuff done and dusted before returning to the real meat, in which our hero uncharacteristically dishes out slapstick beatings. This Holmes might as well have just got back from a workout with Vinnie Jones. Ritchie will only ease up to marvel and gawp at a bullet shaving the bark off a tree trunk in super-hi-def-slo-mo.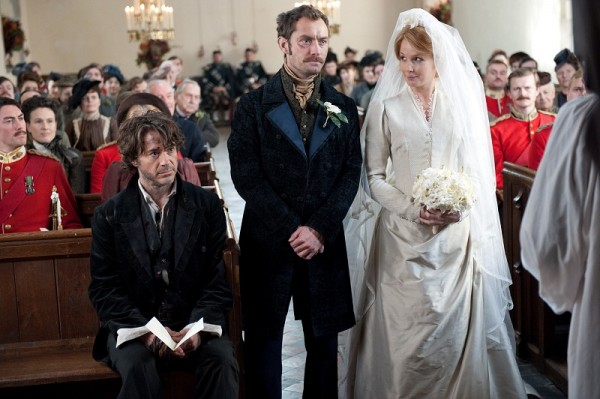 The other problem with this Holmes is a vacuum of supporting players. Eddie Marsan's Lestrade is barely in this one, while Rachel McAdams is poisoned off-screen before the credits. To fill the void we have Noomi Rapace as a tarot-reading gypsy of no discernible character and Kelly Reilly as Dr Watson's new bride (nuptials pictured above left), who is feisty but barely there: she is literally thrown out of both moving train and moving picture at one and the same time. But the biggest, oddest void is Harris, who opts to paint Moriarty as a softly spoken charisma-free technocrat, as if patricidally determined to erase all trace of his father Richard Harris's boozy theatricality.
As imagined for the second time, Downey's Hollywood Holmes doesn't quite know who he wants to be: a comedian or a magician or a superhero. One thing he's clearly not is a detective. Suitably for an adventure about armaments with a great deal of shooting, Ritchie gives it both smoking barrels. There's also Stephen Fry in the nude. It's highly watchable, if you like that sort of thing.
Watch the trailer to Sherlock Holmes: A Game of Shadows
This Sherlock Holmes doesn't quite know who he wants to be: a comedian or a magician or a superhero
rating
Explore topics
Share this article