The Second Best Exotic Marigold Hotel |

reviews, news & interviews
The Second Best Exotic Marigold Hotel
The Second Best Exotic Marigold Hotel
The expats are back in that rare sequel that betters its predecessor
Saturday, 28 February 2015
The oldies are back at Jaipur's Marigold Hotel and they're looking like goodies, too, thanks to a British dame or two and an Ol Parker script that knows when to leave off the breeziness and let the occasional intimation of mortality hold sway. And in a celluloid landscape plagued by sequelitis, the fact that a collective of British pensioners and their newfound Indian chums have been brought back for more is itself rather bracing compared to the usual spate of avengers, transformers or what not that keep most film franchises going.
The Second Best Exotic Marigold Hotel's 2012 predecessor chronicled how it is that so motley an array of UK retirees found themselves living the expat life, a change of pace that has so taken wing that this latest film finds the eager young hotel proprietor Sonny (Dev Patel) nursing expansionist plans of a second hostelry he can add to a burgeoning portfolio. And so it is that he heads to California to make a sales pitch, the peppery Muriel (Maggie Smith) by his side. The geographical displacement in itself allows Dame Maggie to occupy vinegary pride of place, not least when she is asked upon return to India how she found America. Her deadpan reply: "it made death more tempting." (Muriel's instructions while Stateside as to how to brew a proper English cuppa will strike a chord with many a Briton who has experienced what Americans serve as "tea".)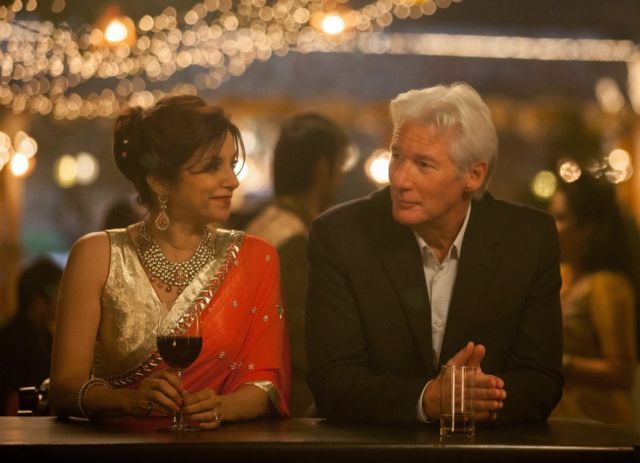 Much of the film's narrative embraces what the playwright Tony Kushner has called in another context "more life", whether one is referring to the cautious Evelyn (Judi Dench) deciding to make a go of it with the Tennyson-quoting Douglas (Bill Nighy) – "we're not not together," she explains when asked; or the irrepressible Madge (Celia Imrie) sizing up the available male talent, her copy of Fifty Shades of Grey a visual clue to the old gal's appetite. To widen the amorous possibilities still further, new arrivals include Richard Gere of all people as a visiting American – 64 and single! – who gets the hots for Sonny's standoffish mum (Lillete Dubey, pictured above with Gere) and Tamsin Greig as a mysterious lone traveler who .... well, perhaps best not to give the rest of what she is up to away.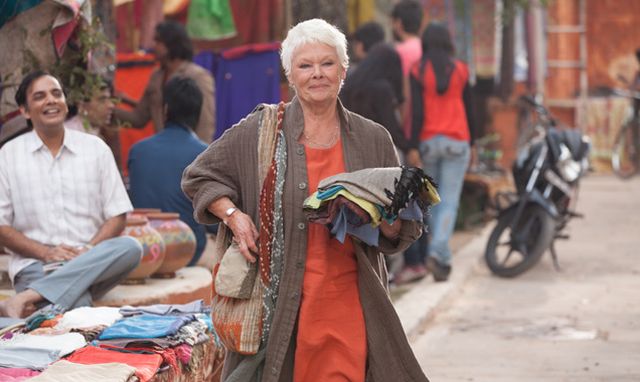 What's quietly appealing about the director John Madden's second go-round with this material is that these seniors are allowed not just to have a libido but also to be available for and desirous of work. Evelyn's keen eye, for instance, lands her a job sourcing fabrics, while Muriel takes to administering the hotel with the same take-no-prisoners acumen she brings to the rest of life. The actress is simply wonderful, allowing at one point that she proffers opinions, not advice, and there's a neat reference to the age difference between her and Dench's characters that mirrors the actual disparity in age (all of 19 days) between the two women, both of whom turned 80 late last year. (Dench pictured above)
Sure, one could complain that the onscreen India envisaged here is a tad too ceaselessly colourful and charm-filled for comfort and that these people are inhabiting a fantasy-land of their own devising that doesn't relate, say, to the India one sees filling the National Theatre stage in Behind the Beautiful Forevers. But that's like faulting the film Notting Hill for not being Nil by Mouth: the two come from an entirely different place. And you have to credit all concerned for granting this second – and better – Marigold Hotel an appropriately rueful conclusion that tempers the jollity of the Bollywood-style wedding that has come just before. Or as Smith's Muriel remarks with an unforced sagacity that doesn't need to call attention to itself, "there's no such thing as an ending – just a place where you leave the story."
Overleaf: watch the trailer for The Second Best Exotic Marigold Hotel
rating
Explore topics
Share this article