Rio+Film, Barbican |

reviews, news & interviews
Rio+Film, Barbican
Rio+Film, Barbican
Diverse films gave a glimpse beyond the tourist veneer of Brazil's cultural capital
Monday, 28 September 2015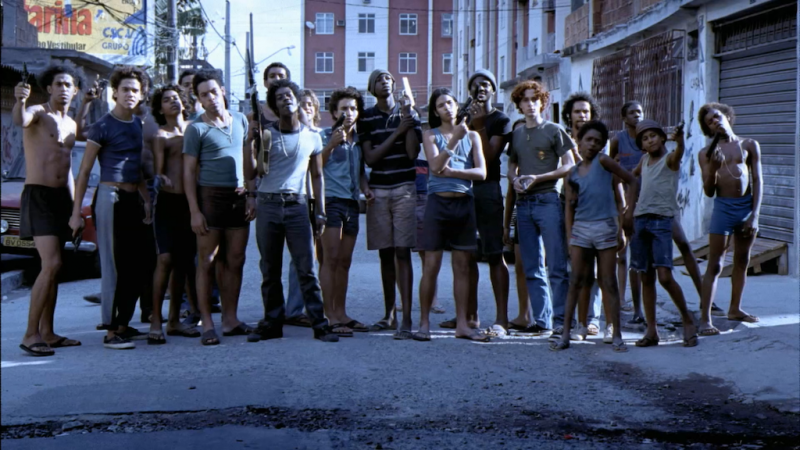 A shocking warning of a fractured society: 'City of God'
With eyes trained on sporty Rio de Janeiro once more for next year's Olympic Games, cultural portals on to the city are bound to be offered in all sorts of places around the world. One such is Rio+Film, a new film festival at the Barbican Centre focusing exclusively on the great Brazilian city by the sea. Rio+Film is likely to have further editions elsewhere.
Curator Adriana Rouanet says the "+" in the festival's name underlines that the chosen films burrow beneath the usual image of beach, football and carnival. In the Saturday-night hot spot was Fernando Meirelles' and Kátia Lund's 2002 Cidade de Deus (City of God). One of the most successful Brazilian films of the past 20 years, along with Walter Salles' Central do Brasil (Central Station), this favela nasty shows little of the Rio that most travellers to the games will be allowed to get close to.
City of God is basically about black slum kids killing each other over drugs. Thirteen years on, the film is still a shock warning of how fractured a society Rio is: one city for the fenced-off, frightened middle class, one for the hill-dwelling, dispossessed blacks – migrants, mainly, from Brazil's grindingly poor north-east. Fernando Coimbra's 2014 O lobo atrás da porta (A Wolf at the Door), which opened Rio+Film, is subtler. Again, there are glimpses of Rio's famous contours and forests. As in Cidade de Deus, we are in a marginal suburb, largely not black it seems this time, yet in a community seething with spite, secrets and sorrow.
Rosa (Leandra Leal), in her mid-20s, is picked up by the older Bernardo (Milhem Cortaz, pictured above left, with Leal), a rail and bus inspector. They have an affair, well after the film's crime starting-point: the abduction from primary school of Bernardo and his wife Sylvia's daughter Clarinha. There are, then, several flashbacks, the biggest being the arrested Rosa's confession to a police officer, which becomes the film's main narrative.
Rosa has taken Clarinha after a telephone trick with a local, extrovert woman-friend, but for obscure reasons. Coimbra's pace is agreeably slack – the older man-younger woman thing could go anywhere, but it'll most probably peter out – and brilliantly distracts us by allowing Rosa and Sylvia to develop a sinister friendship.
Bernardo finds himself up against a young woman of fierce amorous intensity and feminist enlightenment. What Rosa does, eventually, is practically as shocking as all those murderous scenes in Cidade de Deus put together. Up to a point, because of what's done to her, we are with her, but… O lobo atrás da porta is, in my view, a much more enjoyable film: taut, atmospheric, deeply unsettling.
Eduardo Coutinho was one of Brazil's signal documentary-makers. He was murdered by (it is thought) his paranoid-schizophrenic son in February 2014. He had filmed an odd assortment of interviews with teenage cariocas (natives of Rio) before his death, aged 80. More mad stuff from Rio? The opening 15 minutes of Últimas conversas (Last Conversations, pictured above) might suggest so: Coutinho in an unwitting, melancholy last stand, rambling on about his inability to live on without making films, followed by his interviews with dreamy, troubled youngsters. Yet the film – simple format, simple conversations in a bare room – works extraordinarily well. Coutinho had something, and ends his charming inquisition on a note that leaves you singing.
An older Rio, pre-fascist Brazil indeed, was on view in Bruno Barreto's Reaching for the Moon, a luscious, undemanding 2013 take on the love affair between architect Lota de Macedo Soares and the American poet Elizabeth Bishop. Miranda Otto, who plays the latter, puts in a beautiful and nuanced performance – the one thing that really recommends the film – opposite renowned TV-soap star Glória Pires, who is somewhat ridiculous. Perhaps Lota was. An even older Brazil is to be found in the 1931 silent Limite (pictured above), one of the most incomprehensible experimental films ever made, but now restored and, at the Barbican, superbly enhanced by John Sweeney's live piano accompaniment.
A música segundo Tom Jobim (The Music According to Antonio Carlos Jobim, the film's official English title) is a joy for lovers of the bossa nova and the genius – Jobim – who invented it, but a tough ask for anyone more glancingly interested in Brazil's most enduring international music idiom. This is a montage of footage of the man himself and many others (Sinatra, Sammy Davies, Garland, Gillespie: the cast is huge). There is no narrative and no subtitling. The story is as complex as that of rock'n'roll from The Beatles to Prince. So when Vinícius de Moraes and Nara Leão and Elis Regina also appear, the temptation is to leap up and beg Ms Rouanet and her team, or someone, to provide on-screen help with identifying these remarkable Brazilians. Luckily, the quality of the songs and playing speaks for itself.