Race |

reviews, news & interviews
Race
Race
Jesse Owens biopic lacks tension and is strewn with inaccuracies
False start: Stephan James as Jesse Owens in 'Race'
With the Olympic Games starting in three months, it's time to cash in with those inspiring stories of competition. Jesse Owens embodies the Olympic spirit, winning four track golds at the 1936 Berlin Olympics, comprehensively refuting Hitler's message of race hate. Owens's track medal tally remained unmatched until Carl Lewis, 48 years later. It's difficult to think of a more perfect Olympian.
Like buses, Race is the first of three Owens biopics to come along. Disney's adaptation of Jeremy Schaap's Triumph is in production, as is another starring Owens lookalike Anthony Mackie. While first out of the blocks, Race quickly slows. Director Stephen Hopkins, known for action productions like Predator 2 and TV series 24, sacrifices character development for "'action" or supposed situations of tension, but doesn't succeed in providing much of either.
Stephan James plays Owens as likeable, easy-going but ambitious, keen to make the Ohio State university team. James doesn't have much to work with in a clunky and expositional script. Things improve as Owens comes under the supervision of coach Larry Snyder (Jason Sudeikis), who uses modern training methods to get the best out of his young prodigy. A watchable bromance develops as Owens can't stop winning. At Ann Arbor in 1935, Owens wins four events, breaking three world records and equalling another in what Sports Illustrated calls "the greatest 45 minutes in sports".
Meanwhile, US participation in the Olympics is in doubt as news of increasing anti-semitism emerges from Germany. The progressive Jeremiah Mahoney (William Hurt) proposes a boycott of the Berlin Games and battles construction magnate Avery Brundage (Jeremy Irons, pictured above), for control of the Amateur Athletic Union and a decision on whether to go.
The inevitability of war looms over the drama and provides a compelling backdrop, but many of the events in the film don't ring true, because they're not. For example, at university Owens is presented as an unknown quantity to Snyder (himself an amalgam of two coaches: Snyder and Charles Riley who spotted Owens' talent as a youngster). In fact, Owens had been Ohio state champion for three consecutive years, held the world broad jump record, and tied the 100 yard dash world record. In athletic circles, Owens was already a celebrity.
Race later presents a scene where Owens grapples with his conscience over whether to attend Berlin following a visit by Water White, head of the NAACP (National Association for the Advancement of Colored People). White asks Owens not to go, in solidarity with the oppressed in Berlin. Owens then confronts Snyder. Neither meetings took place, and such dubious distortions litter the film.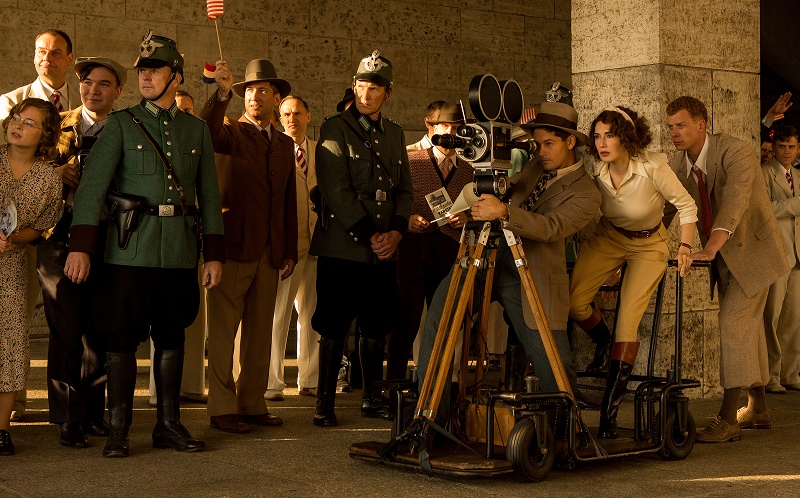 Meanwhile, the treatment of Avery Brundage and Leni Riefenstahl (Carice van Houten, pictured above behind the camera) might cause some to spill their popcorn. Schaap describes Brundage as a racist and "crypto-fascist", but in Race his motivations are far more ambiguous. Riefenstahl is portrayed sympathetically: a great filmmaker, but a great admirer of Hitler, directing his most important works of propaganda. Both are given an easy ride.
The first-class art direction creates a compelling 1930s feel, spoilt by errors such as a modern water jug in frame. Exterior locations shot in Berlin and Montreal, doubling for US cities, are ruined by clumsy CGI adding crowds and period detail. Even the final competition is disappointing. The tension drains as the result is never in doubt, even if you happen not to know the outcome beforehand.
The film has goodwill and the support of Owens's descendents, but that's not enough to carry it over the finishing line. Jesse Owens was a real hero, but Racedoesn't honour his memory or give a full picture of the events that made him a hero. Oddly, the coda carries greater emotional impact, in which Owens returns a hero but remains a second-class citizen because of his colour, his future mapped out in a few chilling captions. With two more films coming, the baton now passes to them to do Owens justice.
Overleaf: watch the trailer to Race