Pompeii |

reviews, news & interviews
Pompeii
Pompeii
Strong performances, dynamic action and a natural cataclysm make Pompeii a superior B movie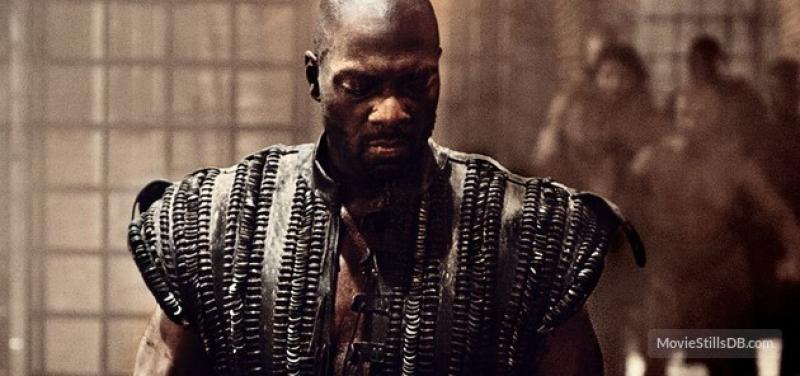 Adewale Akinnuoye-Agbaje steals the show as Atticus, a gladiator and real hero of Pompeii
Best known for the Mortal Kombat twosome, the Resident Evil franchise (one of the DVD extras noted how the zombie dogs constantly ate off their zombie makeup) and big, bulging swipes at other genres with Event Horizon, AVP: Alien vs Predator and The Three Musketeers, director Paul W S Anderson's Pompeii has been neither a critical nor box office hit in America. It is not, however, without charm.
Call him old fashioned but Anderson knows how to stage a fight and pace a story. We may well be seeing his work decades on, shown in museum retrospectives.
Kit Harington (Game of Thrones) is "The Celt". Named Milo, he is the last of a tribe of horsemasters slaughtered by the Romans. Watching his father and mother die at the hands of nasty Roman senator Corvus (Kiefer Sutherland), he has promised to avenge their deaths, little knowing that Nature has Other Plans. Meanwhile, Carrie-Anne Moss (The Matrix) and Jared Harris (Mad Men) are the noble parents of Cassia (Emily Browning) who left Rome, we learn, because of the lecherous Corvus. Milo's skill with an injured carthorse wins her heart: slave and noblewoman fall into forbidden love.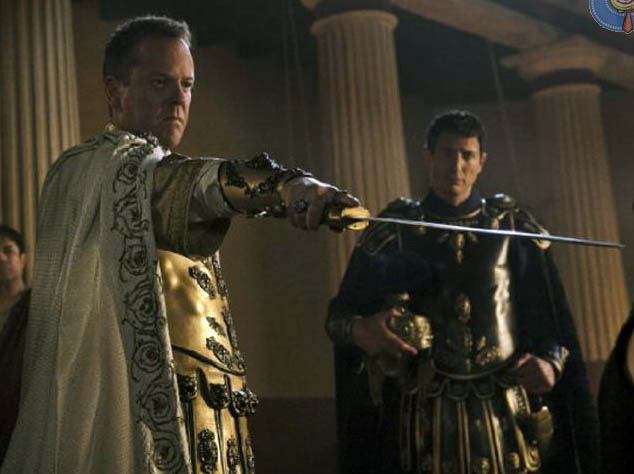 Shot from a script by Janet Scott Batchler and Lee Batchler (Batman Forever) and Michael Robert Johnson (Sherlock Holmes), Pompeii is a modern B-movie, rife with anachronistic detail and emotional on-the-nose truthing. Like Titanic, it is hard to resist when romance flourishes amid great disaster that provides evildoers and heroes the best dramatic backdrop. Anderson has a gift for superb action sequences, filmed sans shaky-cam and quick-cut. Here, he's carved a marvel at the heart of Pompeii with a gladiatorial centerpiece blooming with cleanly designed stunts, snappy fight choreography, deft horse mastery and effects.
Pompeii's excellence extends to its actors. Kiefer Sutherland (pictured above) is delicious as the evil senator with a credible English clip to his voice. While Harington is a bit slight to be a hero (despite the eight-pack abs), he does well enough, diving on and off horses as per his character's backstory. Harris and Moss play pivotal supporting roles with elegance and ease. Browning portrays Cassia as more than a poor little rich girl, sharing camera time with the capable Jessica Lucas as Ariadne, her handmaiden. The big discovery of Pompeii is, without doubt, Adewale Akinnuoye-Agbaje (Lost, Thor, Bourne Identity, Strike Back). As Atticus, the champion gladiator with nerves of steel and a heart of gold, his need to fight one last battle to gain his freedom means his story is much more interesting than that of the lovers: we know how they'll end up.
As with some 3D, Pompeii tends to be a little murky, and some say that Anderson's favourite DOP Glen MacPherson likes things dark. Naturally, the visual effects are extensive, covering everything from tidal wave to earthquake and volcanic rain to fatal clouds of ash. Yet, as Anderson said in a recent interview, the idea for these characters comes from the genuine Pompeii plaster casts, including the lovers and the gladiator. Framed with quotes from Pliny, Pompeii is both OTT B-movie and a touching reminder of lives, as they may have been, snuffed out in terror on August 24, 79AD.