Minding the Gap review – profound musings on life |

reviews, news & interviews
Minding the Gap review – profound musings on life
Minding the Gap review – profound musings on life
Don't be deceived, this skateboarding documentary is a heartbreaking classic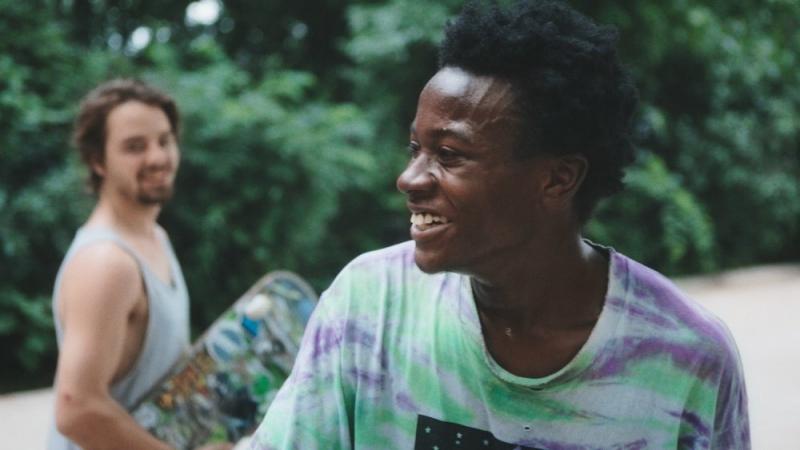 From left to right: Zack and Keire, director Liu's friends and stars of Minding the Gap
Where would you go for a devastating study on the human condition? The home movies of teenage skaters would be very low down on that list. But most of those movies aren't filmed, compiled and analysed by Bing Liu, the director of Minding the Gap.
Perfectly balancing perspective and curiosity, it's perhaps the most unexpected achievement on the year.
Liu has apparently always been the one behind the camera. From his early teens, he's been pointing the lens towards his friends, primarily Zack and Keire. They're both friends we recognise: Zack is the joker, always up for partying hard, and Keire is the quieter one, a bit messy with a short fuse. In their youth, they became brothers, escaping broken homes to skate the streets and forget their woes. It's where most stories could end, but in Minding the Gap, it's where we begin.
Filmed over a decade, we follow these comrades as they reach major milestones: moving out, getting jobs, having kids. Responsibilities start to change their relationship. Who has time to skate when you've got mouths to feed? The years of footage start to build complex portraits of these individuals, tracking how those charming quirks become major character flaws, or early traumas build real character. It's an insight that you just don't get from other documentaries; it's an insight only afforded to those long friendships.
Liu's approach is disarmingly simple. He will let his friends talk, rarely asking a question unless it needs asking. Even when he does approach a difficult subject, his gentle style garners some fascinating responses. There's a trust built with everyone he interviews, whether it's his friends, their partners or parents, and this remains even when fractions build between the group. He has the ability to see past his personal relationships, and find the poetic order in their chaotic lives.
Poetic order might sound grandiose, but it's impossible to watch Minding the Gap and not be mesmerised by what it achieves. Domestic violence, race issues, toxic masculinity, rising inequality, the cycle of trauma, alcoholism, parenthood - any of these issues can have a dozen documentaries made about them and not enlighten half as much as this film does. All topics are present in the make-up of Liu's unique friendship group. Advertising boards are often spotted carrying traditional messages of family values and the American dream. They counterpoint lives of struggle and survival.
The film is unflinching, especially on the subject of abuse. Liu himself was subjected to a violent upbringing – his stepfather would regularly beat him and his brother behind his mother's back. It's a subject he approaches with the same frankness as his friends, sitting his mother down in front of the camera and carefully finding out why she let it happen. It's difficult, and offers no easy answers, but it's a testament to his friendships that he's just as willing to tackle his own trauma for the film.
Despite a lovely soundtrack and cinematography, Minding the Gap isn't flash. You don't recognise when it grabs you. But it does. It starts as a sweet little ode to friendship, and ends as a tapestry on how we grow, how we change, and how our decisions shape who we become. That beautiful, chaotic thing called humanity. Truly, an unmissable film.
It's impossible to watch Minding the Gap and not be mesmerised by what it achieves
rating
Share this article