Manglehorn |

reviews, news & interviews
Manglehorn
Manglehorn
Pacino is back to his low-key, simmering best as a lonely locksmith who resists one last chance at happiness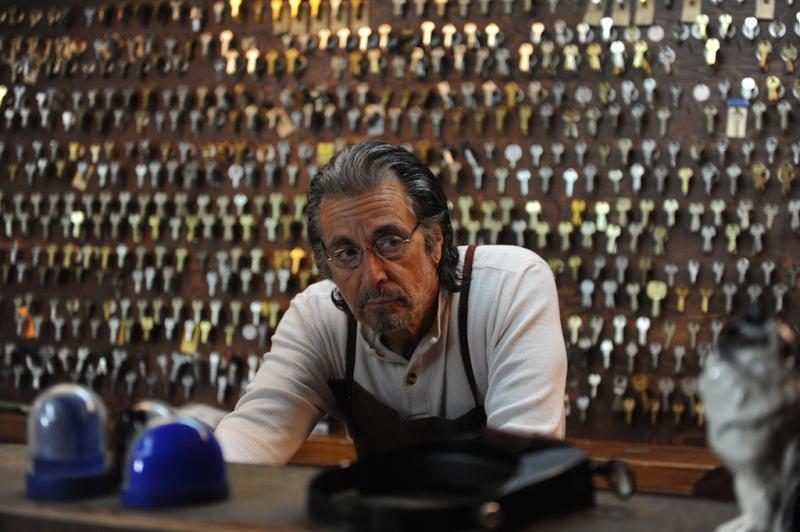 Just lock me up and throw away the keys: Al Pacino is Manglehorn
When Al Pacino burst into the spotlight as Michael Corleone in The Godfather, his celebrated co-star was Marlon Brando, who for years had been giving eccentric performances and making a mockery of his talent, but was about to offer audiences a reminder of the innately consummate actor he was.
Pacino's always been much more committed to his work than Brando, and yet for too long now he's not been kind to his reputation, resorting so often to exaggeration and ham that it was getting hard to recall him in his prime. Scent of a Woman's Frank Slade has a lot to answer for.
But his recent portrait of an ageing pop star in Danny Collins contained moments that suggested that the old self was reasserting itself. And now we have Manglehorn.
This no-thrills character-driven drama is no Godfather, but Pacino has recognised and grabbed an opportunity to remind us just how great he can be when he bores into a character's inner life, then slowly, painstakingly reveals it back to us, just as he did with Corleone. The Pacino who values restraint over excess is once again mesmerising.
Not that his character gives us an easy ride. Manglehorn is a small-town locksmith and loner, whose disappointments – especially his regret at pushing away the love of his life – have left him bitter and, with a few exceptions, misanthropic. Working alone, living alone with just a cat for company, and with only intermittent, fractious communication with his son (Chris Messina), he's a man locked into routine, whose depressions might even spiral out of control.
The only glimmer of hope, it seems, is the growing friendship with Dawn (Holly Hunter, pictured below with Pacino) a woman working in his local bank. Yet her attentions highlight the extent to which Manglehorn's obsession with his lost love has a stranglehold on his heart. Even his name sounds little a contortion of frustrated emotion.
Director David Gordon Green and screenwriter Paul Logan keep the focus narrow: on Manglehorn and the very few people in his life, including an oddball local who holds the older man in slightly unnerving esteem (Harmony Korine, offering the one false note). Very little happens; perhaps the most dramatic, and certainly the most amusing moment is the discovery of what's been ailing Manglehorn's cat.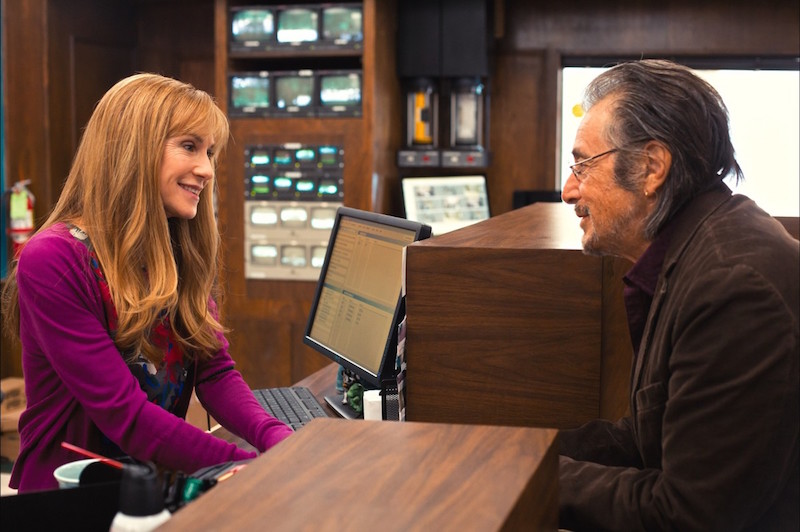 For this approach to work, you need an actor who can hold the attention, and make us care even when his character is unlikeable – and the miserable Manglehorn certainly has his moments. You've got to admire a man who keeps a bee hive under his letter box to ensure that no-one steals his mail.
Pacino offers this. At 75 one detects a little, excusable vanity (surely his hair would be greyer?), yet he doesn't flinch from presenting a scruffy, bowed, potbellied old man, whose better qualities – there's a sense that he was once an inspirational figure – have been eroded by despair. While the filmmakers labour too much with voiceover (Manglehorn's spoken letters to his lost love), with Pacino in the flesh it's all nuance: from dialogue that feels spontaneous, in the moment, to the deep well of despair in his eyes, then the surprising, kindly assurance with his granddaughter that keeps us on our toes, and on the rare occasions that he's amused – not the Cheshire Cat crease of De Niro, but a twinkle and a barely perceptible turn in his mouth that we find ourselves willing on.
Gordon Green is another who one might say strolled too far off the path. Having started out with powerful, intimate, location-specific, independent character pieces (George Washington, All The Real Girls, Undertow) the director flashed a talent for mainstream comedy that may have brought success but side-tracked an interesting sensibility. Prince Avalanche in 2013 stalled the rot. And while Manglehorn feels, like its namesake, flawed and a little creaky, it also suggests a director again searching for truth and resonance in his scenarios – here, a reminder that whatever your age, it's always more productive to look forward, than back.
And as for Pacino, well as Frank Slade would say, "Hoo ah".
Overleaf: watch the trailer for Manglehorn