Lourdes |

reviews, news & interviews
Lourdes
Lourdes
Sylvie Testud shines as a hopeful pilgrim in this witty passion play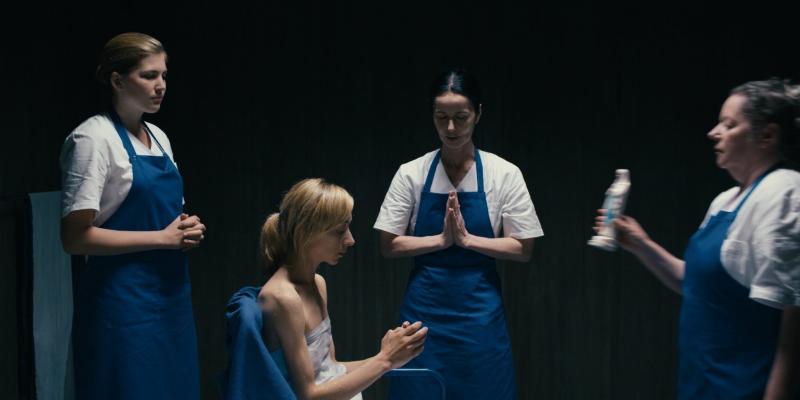 A fascination with ritual and performance: Jessica Hausner's Lourdes
Is there a God, and if so is He malevolent, and what's on the menu for dessert? Like one of her characters, Jessica Hausner, the relatively unknown, but startlingly talented director of Lourdes, doesn't shy away from asking the really important questions.
Her witty, visually thrilling film is about,
inter alia
, miracles, faith and the thirst for grace; about sexual desire, base envy and the dynamics of a tight-knit group; about ritual and performance, and the very meaning of existence. Plenty to think about there then.
From the exquisitely choreographed opening sequence, you know you're in a safe pair of hands here, the hands of a film-maker who knows just what she's doing. An overhead shot of an empty hotel dining room silently observes the serving trolleys clanking down the aisles till, as Ave Maria soars on the soundtrack, a phalanx of people in wheelchairs and walkers, attended by nuns and nurses, swarm in and take their places in a sort of strange ghostly dance. The camera zooms in slowly, picking out the key figures. Then one, a young blonde woman, turns her head towards us to flash an enigmatic smile.


This is Christine, who's immobilised by multiple sclerosis. Not especially devout, she makes it clear that for her this jaunt to Saint Bernadette's grotto is just a way to get out and see a bit of the world. Her cool blue gaze takes in the gossip and rivalries, and the way the young female volunteers flirt with the male aides as their handicapped charges - always referred to as "pilgrims" with a hint of condescension - sit by unnoticed.

Hausner captures the pageantry and magnificence of Lourdes, with its majestic mountain backdrop, in a stylised palette of rich ecclesiastical reds and blues. Yes, there are images of kitsch souvenir shops and virgins with neon halos; the dreaming spires remind you at times of Disneyland. But Hausner, who secured official permission to shoot in the city (and brilliantly integrates her actors with the hoards of real visitors) isn't out to score obvious points about the commercialisation of religion. On the contrary, aided by a glorious selection of music sacred and profane (Bach, Schubert, Gino De Stefani), she treats it with agnostic respect.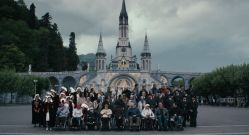 Around the midway mark, something extraordinary occurs: Christine gradually regains the use of her limbs. A miracle? Who knows? (The film hints that it may be only temporary.) From being a quiet observer of other people, she suddenly becomes the cynosure of all eyes. The good-looking male attendant from the Order of Malta, who had barely noticed her existence, suddenly starts to show an interest; the elderly woman with whom she shares a room, is bewildered by the potential loss of her companion. Others make no attempt to hide their resentment. "Why her and not me?" they mutter. The kindly priest struggles as hard as everyone else to make sense of it all.

Hausner's previous films - Hotel, Lovely Rita and the medium-length feature Inter-View - had a baleful quality that reminded me of her sinister fellow-Austrians, Ulrich Seidl and Michael Haneke. Lourdes, too, has elements in common with their work, especially Seidl's Jesus, You Know, a sardonic documentary about people's relationship to Catholicism. But, set in France and shot in French, this has a lighter touch, a more indulgent view of human absurdity and above all a stellar central performance from Sylvie Testud. Rarely has acting from the neck up been more utterly compelling.