Listed: Freudian Analysis |

reviews, news & interviews
Listed: Freudian Analysis
Listed: Freudian Analysis
The father of psychoanalysis has a long CV as an entertainer. Enjoy these fantasy Freuds shrunk to fit stage and screen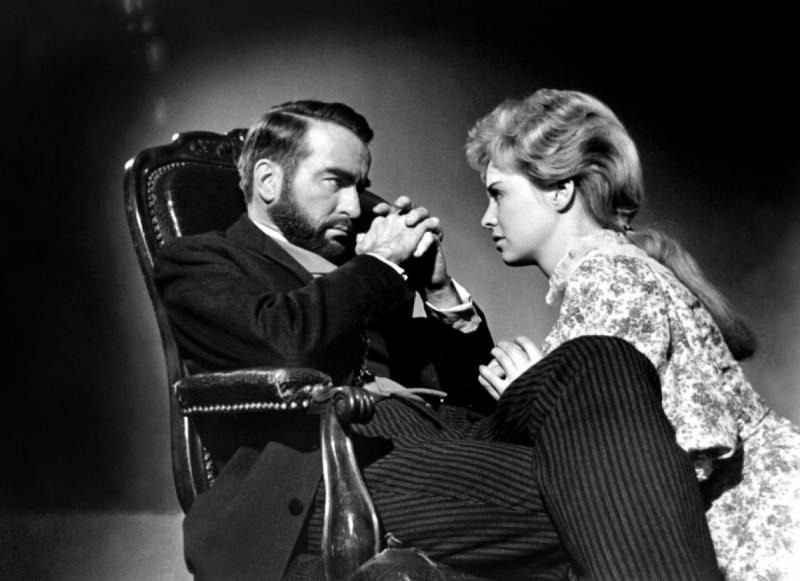 Bad dreams? Montgomery Clift and Susannah York in 'Freud' (1962)
Hysteria is back. Terry Johnson's comedy was written for the Royal Court in 1993, and for its 20th anniversary it is being revived at Hampstead Theatre. It is a homecoming in a sense: the play is set in the Hampstead home of Sigmund Freud, where he receives unexpected visits from Salvador Dalí and a young woman who cannot keep her clothes on. Freud will be played by Antony Sher.
The intimate nature of a psychoanalytical exchange would seem to make Doctor Freud an ideal subject for theatre. In fact he has many more screen than stage credits. Indeed, if you scroll through this edition of Listed, it will become apparent that no other giant of the 20th century has had quite such an eclectic CV as a fictionalised character. And we don't even include some of his slighter cameos in Sabrina the Teenage Witch and Bewitched, Frasier and Saturday Night Live, not to mention countless chin-stroking dramatisations in German. Anyway, lie back on the couch and marvel at the bizarre fantasies inspired by writers and casting directors seeking to slip Freud into their dramas.
Freud (1962)
Cinema's first serious treatment was the work of several basket cases. The original script by Sartre would have run to five hours. When John Huston asked him to cut it, he submitted one of eight hours. Montgomery Clift plays Freud developing his theories over a five-year period in the late 1890s (Susannah York is his richly intriguing patient). The film's award nominations included none for Clift, who was sued by Universal for his frequent absences from set. Increasingly ill from alcohol and painkillers after a 1956 car crash, it was his penultimate role.
Lovesick (1983)
Not Freudian analysis's finest hour. Dudley Moore vehicle post-Arthur finds the shrimpy sex symbol playing a shrink who moons after his patient (Elizabeth McGovern). Alec Guinness (pictured right with Moore) assists as the (one hopes well-remunerated) ghost of Freud. "A fetishist and an obsessive: you'll be very happy together," he advises. Written and directed by Woody Allen's collaborator Marshall Brickman.
Freud: The Life of a Dream (1984)
Six-hour drama written by Carey (son of Rex) Harrison. David Suchet (pictured below left) ages up across the series to play the ambitious young neurologist and the cancer-ridden old man. Ticks all the boxes: the unconscious mind, sexual desire, dream interpretation, scrapping with Jung, fancying his own sister-in-law. Try and imagine the BBC making it now: such a pitch would be dismissed as the wildest fantasy.
Nineteen Nineteen (1985)
Hugh Brody and Michael Ignatieff's script told of the last surviving patients of Freud, who meet up again 65 years on to recall their treatment. Flashbacks find Paul Schofield morphing into a young Colin Firth. We never actually see Frank Finlay's disembodied Freud waiting couchside, just hear his voice. For once analysis isn't shrunk to fit the size of the screen.
Bill & Ted's Excellent Adventure (1989)
"Ted's father's own fear of failure has caused him to make his son the emobidiment of all of his own deepest anxieties about himself." Slacker dude Keanu Reeves gets totally psychoanalysed by bodacious shrink played by Ray Loomis (pictured below).
Star Trek: The Next Generation (1993)
"Dr Freud, I'm curious, what do my nightmares mean?" Data – who is an android - books a session on the couch to find out what's making him tick. The doctor (Bernard Kates) diagnoses an unconscious desire to possess his own mother. "But I do not have a mother." Spock would be rolling in his… whatever it is they bury Klingons in.
The Young Indiana Jones Chronicles (1993)
Freud and Jung re-enact their everlasting spat in this TV prequel of the adventure franchise. Little Indie joins in. From this clip, starring Max Von Sydow as Freud, you can see why a show expensively produced by George Lucas was cancelled after one season. "All love is derived from the need for sexual gratification," Freud explains, "even this boy's love of his mother." It's hardly snakes and bullwhips.
Freud's Last Session, 2009
Stage play by Mark St Germain was a long runner off Broadway. Imagines a fictional encounter in London on the brink of war between dying atheist Freud and young Christian CS Lewis. (Pictured below: Judd Hirsch and Tom Cavanagh)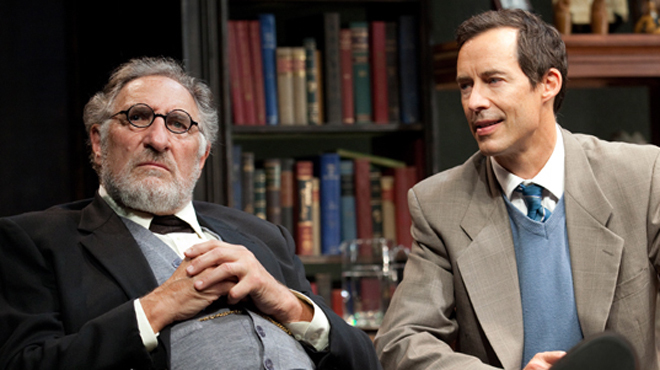 A Dangerous Method (2011)
Generally received as a sleep inducement, David Cronenberg's account of Freud and Jung falling out finds Viggo Mortensen (Freud), Michael Fassbender (Jung) and Keira Knightley as a young Russian masochist dutifully thrashing out Christopher Hampton's adaptation of his play The Talking Cure.
A Liar's Autobiography (2012)
The film life of Python Graham Chapman features a cartoon cameo from the good doctor. For reasons best known to the creators, it was thought appropriate to give this shrink the voice of Cameron Diaz. A Freudian slip?