Jurassic World Dominion review - extinction event |

reviews, news & interviews
Jurassic World Dominion review - extinction event
Jurassic World Dominion review - extinction event
Ponderous, redundant franchise flame-out gives the Jurassic gang one last job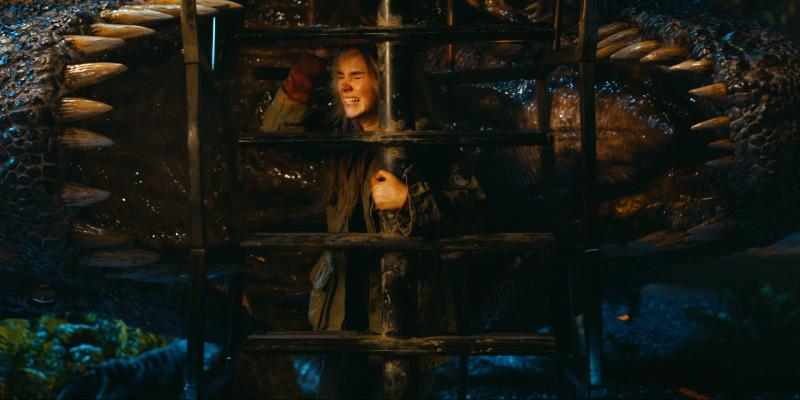 Cage fight: Maisie (Isabella Sermon) meets jaws
Franchise burnout continues apace, in this asteroid strike of a finale. Doctor Strange in the Multiverse of Madness showed the previously agile and humane Marvel machine weighed down by plot mechanics and fan service, and this Jurassic Park/World trilogy unification bout proves a pointless, often ponderous 146 minutes. As post-pandemic cinema moves to total dependence on such sequels, their creative entropy could be an extinction event for filmgoing itself.
Mainstream cinema has long been based on childhood nostalgia, and is now aimed at adults weened on Jurassic Park, the Star Wars prequels and Harry Potter. Spielberg's Jurassic Park (1993) was, though, already nostalgic, turning Michael Crichton's high-concept novel into a CGI-pioneering tribute to Ray Harryhausen's stop-motion creature features, and saving a functional script with his sense of wonder at seeing dinosaurs walk amongst us. "You never get used to it," the returning Dr Ellie Sattler (Laura Dern) breathes here, spying another extinct critter. But after six films, you do.
An online news montage of dinosaurs encroaching on human habitats – Pteranodons snatching romantic wedding doves from horrified spouses, and Allosauruses chomping campervans – is a pithy prologue, borrowed from director Colin Trevorrow's short Battle at Big Rock (2019). Jurassic World now no longer describes an island theme park, but a planet changed by the dinosaurs' return, the main idea Trevorrow has developed since he began this second trilogy.
Swarms of genetically engineered, crop-devouring Cretaceous locusts linked to dodgy corporation Biosyn are more of a threat than T Rexes this time. Ellie and Jurassic Park's Alan Grant (Sam Neill) are soon re-meeting cute to tackle the problem, accepting an offer to meet Biosyn boss Dr Lewis Dodgson (Campbell Scott) at his Bond villain mountain lair, where dinosaurs roam a secret valley, and Dr Henry Wu (BD Wong), the geneticist who first cloned them for Richard Attenborough's Jurassic visionary, is once again tampering with nature. Dr Ian Malcolm (Jeff Goldblum) is also earning big bucks as Biosyn's resident charismatic philosopher.
There's a comfortable, screwball appeal to Dern, Neill and Goldblum's reunion, with Dern's Howard Hawks-style heroine romantically trailed after by Neill's diffident Indy Jones. Goldblum meanwhile sounds like he's improvising a lighter, wittier movie of his own, with a performance style now as personal as Nicolas Cage's, combining outrageous vanity and swiftly murmured, sardonic wit.
Meanwhile, out in the Sierra Nevada mountains, Jurassic World's Owen Grady (Chris Pratt) is corralling prehistoric herds while his girlfriend Claire (Bryce Dallas Howard) takes direct action freeing abused dinosaurs, and keeps an eye on adopted English clone girl Maisie (Isabella Sermon). When this genetically valuable kid is kidnapped by Biosyn, Owen and Claire pursue her to Malta.
There's been a rangy adventure charm to all this till, in Malta, Trevorrow goes for sub-Bond amd sub-Indy exotic locations and thrills, as bikes and Raptors race through the streets. By the time Han Solo-esque rogue pilot Kayla (DeWanda Wise, making a strong impression) flicks her beloved plane's controls to escape, Millennium Falcon-style, the film has become an Alladin's cave of second-hand franchise goods.
Over at Biosyn, where everyone's now heading, Campbell Scott's Doc meanwhile proves a remarkably ineffectual and unthreatening villain. Taken purely as a kids' film, maybe this works.
When Spielberg got bored making his sequel The Lost World: Jurassic Park (1997), he could still build Hitchcockian scenes of sweaty suspense around his monsters. Here, a stygian, flaming cave where dinosaurs roar into view is horror Harryhausen, while burning locusts battering against glass, and a dinosaur's breath rippling the water where hiding Claire holds hers (pictured above), also show Trevorrow's style.
Beyond that lies nothing much. Like most franchise films now, Jurassic World Dominion is only so long because there's so much history to get through, and so many fan service sweet spots to hit.
Marvel, and latterly Bond, showed for a while that franchise cinema can be intricate, emotional and daring. Jurassic Park was, though, quickly stretched thin, and unravels altogether here. The exception is the very last minute, which recaptures the wonder which was the first film's sole point, with a memorable, ecological vision. The hours that preceded it are left even more redundant.