Journeyman review - Paddy Considine wins on points |

reviews, news & interviews
Journeyman review - Paddy Considine wins on points
Journeyman review - Paddy Considine wins on points
Fictional story of a brain-damaged boxer has a soft centre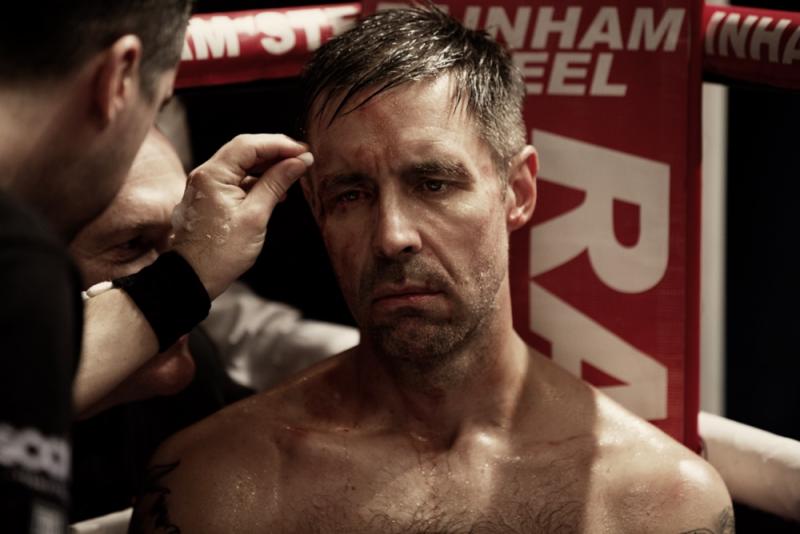 Boxing clever? Paddy Considine in 'Journeyman'
Boxing movies are often about redemption in the ring. From Somebody Up There Likes Me to last year's Bleed for This via Rocky, the story stays the same: boxer seeks peace though punching. In Journeyman, Paddy Considine travels along a different path.
The
sporting action
happens towards the start, but the heart of the story is in its aftermath.
The clue lurks in that title. As a professional, Matty Burton is no journeyman – he's a world champion – but as a result of his final fight he is a man on a journey. Quite how challenging a journey it will be is indicated in heavy hints as Matty prepares to defend his title against Andre Bryte (Anthony Welsh), a pretender who dubs himself "The Future" and whose pre-fight trash-talking bristles with deadly imagery. There is a grim sense of foreboding in glimpses of Matty's contented life in a smart home he shares with his wife Emma (Jodie Whittaker) and their daughter Mia. When the fight happens you fear the worst, only for anxiety to be temporarily subverted: Matty is thwacked about a bit, including a couple of heavy blows to the head, but he comes home brandishing the winner's belt.
Then he collapses in a heap on the coffee table. When he walks up, half his brain has gone, and suddenly Emma has to care for two people with poor motor skills and limited vocabulary. Thus begins the journey. Matty's head is shaved next to the surgical scar above his ear. His forearms are permanently raised in a pathetic parody of a boxer's default defence, but all he can do is scratch his chin as if in puzzlement. Occupational therapy gets him shuffling up and down stairs, and he and Emma even manage to have sex – Matty's hydraulics are still functional. But the threat of frustration lurks and, beyond it, escalating horrors.
One of Matty's memory-restoring therapies is to browse old pictures. "Whozim?" he asks, over and over. When the men in his corner are named, he asks where they are. "That's a good question," replies Emma. Not in his corner any more, that's for sure. But they have to resume their place in it for the second phrase of Matty's recuperation.
Considine's script consciously strips out all extraneous distractions that might pull focus away from Matty's isolating ordeal. There are no consultations with doctors, and no relatives or friends to take up the slack – Matty's beloved father has died before the start of the story. He even seems to drive himself straight home after the bout, because he certainly has no entourage. The parsimonious storytelling begs the odd question. It doesn't feel plausible that Matty's cornermen (Tony Pitts and Paul Popplewell) would simply abandon him in shame and embarrassment. And it seems unlikely that a man with a brain injury would be strapped into padded gloves for a sparring partner to smash.
This study of the perils of boxing gives the pulpit a wide berth. In one of the film's most moving scenes, The Future visits Matty and is given absolution. "I don't blame boxing," says Matty when he can string a proper sentence together. In another, the gym scenes featuring loads of sparring kids don't simply pat the sport on the back for keeping youth off the streets.
This is Considine's follw-up to his debut Tyrannosaur, and you'd be entitled to expect similar levels of unrestorative grimness. He doesn't stint in the ring. In fact, it's much more soft-hearted and even allows itself to tug sentimentally at the heart strings. Considine's detailed performance features much mumbling and staring into space while, like Michelangelo with a chisel, he works to sculpt a copy of his lost self. He looks quite a good boxer too, if rather old with his white chest hair and grizzled stubble. Whittaker is also reliably moving as a woman in love with a ghost. At times it's intensely moving, but a bit like Matty's brain, it feels as if a bit is missing.
This study of the perils of boxing gives the pulpit a wide berth
rating
Explore topics
Share this article