It's Complicated |

reviews, news & interviews
It's Complicated
It's Complicated
Meryl gives being a screen foodie a second go
Wednesday, 06 January 2010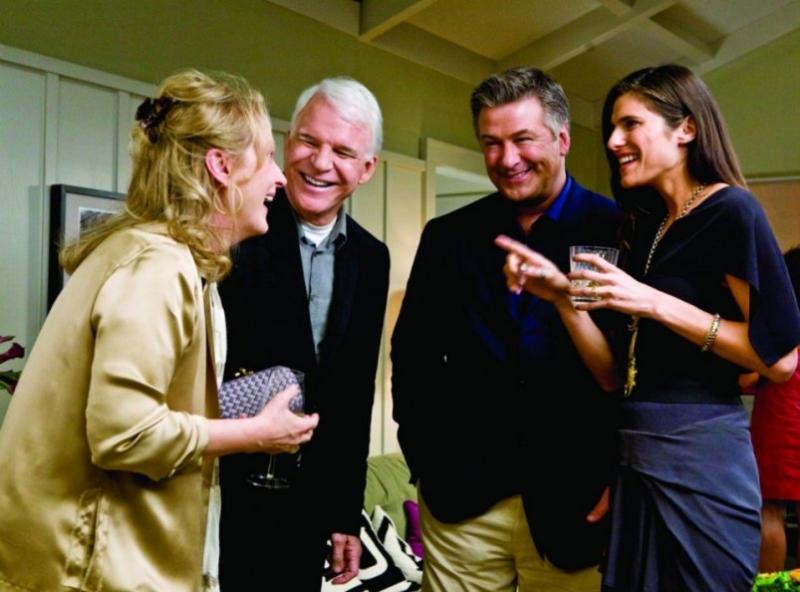 Meryl-ly we roll along in Nancy Meyers' latest adult chick flick
Meryl Streep feasts once again at the shrine of foodie-ism in It's Complicated, this time playing a California caterer who juggles two men - one of them her ex-husband - in between rolling pastry dough. "Complicated"? Perhaps in terms of decision-making: what to bake? whom to bed?
But the abiding fact of writer-director Nancy Meyers' latest foray into the world of adult chick flicks is how far from complex the worlds of her characters often are. These are people who want it all, from a new kitchen to perfect teeth, and generally get it. The result is hugely entertaining if as much a fantasy at heart as, say,
Avatar
.
That said, Meyers's films are usually too compulsively watchable to leave undue amounts of time for chewing over implausibilities, which in It's Complicated include the startlingly sunny, unstressful relationship that Streep's divorced mother-of-three, Jane, seems to have with her now grown (and deeply boring) children. Or maybe that's a sly director's joke: so keen is Meyers to devote screen time to an all-but-vanished sector of celluloid society, the over-50s, that her characters in middle age possess all the charm, good humour, and healthy libidos.
The young 'uns, by contrast, are toned and tanned and dull, John Krasinski's watchful boyfriend of Jane's oldest daughter the welcome exception. And in the case of Jane's ex's new wife, Agness (Lake Bell), they're mean, to boot. The narrative (and, let's face it, this movie's audience demographic) wouldn't have it any other way.
Agness's scorched-earth body is there posing an immediate front to our heroine from the film's very start, which finds Jane back in the company of the paunchy lawyer, Jake (Alec Baldwin), to whom she was married for 19 years and whose chat-up skills have clearly not been affected by his expanding girth. A New York rendezvous for the sake of the kids finds the two exes knocking back ample shares of booze before making for the bedroom anew, a scenario complicated (yes) further by the news that Jake and Agness have a five-year-old son. (And a tearaway at that, from what one can tell.) Worse yet: Agness would like another kid.
Back at the Southern California ranch, an ever-questing Jane has to set this latest romantic wrinkle against her burgeoning attraction to the very architect, Adam (Steve Martin), who has come to enlarge a kitchen already big enough to accommodate the sorts of effortless family dinners many of us would fret over for months. When not feeding her brood, Jane is tending to her upscale catering gig and reminiscing about years in Paris learning to make croque monsieur. Perhaps she studied with Julia Child?
The gal pal quotient - think Sex and the City's quartet aged a decade or more - includes Rita Wilson and the wonderful Mary Kay Place (once of The Big Chill) and gives Streep a chance to let her hair down when not sizing up Adam against Jake and vice-versa. One of the men is fed homemade lavendar ice cream even as the other is fondly called "big guy", prompting this observer to wonder why Jane can't simply juggle the two, Bloomsbury style, for the rest of her days.
Along the way, Streep gets to utter the word "semen" and to further mine for all its seriocomic value an enquiry into sexual relations among the post-adolescent brigade that the American cinema, in particular, tends to leave out. (Small wonder Jake at one point remarks casually that the turn of events has become "very French".) Looking fabulous, her Jane joins Diane Keaton's Oscar-nominated turn in Meyers' previous Something's Gotta Give as a reminder of how many superb American actresses are under-utilised as they get older - Streep far less so, of course, than most of her colleagues as this, Mamma Mia!, and Julie and Julia collectively show. (What, one might well ask, has happened to Keaton of late?)
Meanwhile, Jane's anxiety about having a "brow lift" comes into sharper relief upon our first sight of Martin, whose own, uh, improved-upon visage is there to be seen around the eyes. The actor is sweet if a tad recessive in a film that is all but stolen by Baldwin, who lets it all hang out in a scene involving Skype that is destined to become a classic; the 30 Rock star has it in him to become romcom's new Jack Nicholson should he wish to go there. If you ask me, Jane's decision seems an open-and-shut case, though others may feel differently, and it is Adam, not Jake, who is allowed to join in a crucial sequence involving chocolate croissants.
And after all, since the world so clearly - and correctly - loves Meryl Streep, why shouldn't both these men, as well? She's frank, funny, sexy, and she can cook, too. That's not so much complicated as it is almost wondrous. She's Almost Wondrous? Now there's a title - and it's true.
Explore topics
Share this article